What it's Really Like Living in Medellin: An Insider's Perspective
We often get asked, 'is it safe to travel to Colombia?'
Although for a long time Colombia has been successfully shaking off its chequered past, recent interest and stigma surrounding Colombia's safety has surfaced again thanks to popular shows like Narcos.
However, if you're planning to visit Colombia you needn't worry.
If you really want to know what it's like living in Colombia, growing up in Medellin (Escobar's hometown), finding out whether Colombia is safe to travel, and what it has to offer then read on.
Santiago Jaramillo Gil, the brother of our co-founder, Marcela, grew up in Medellin during in the 90s – during times of deep conflict between cartel gangs and the government.
He took the time to share his experiences of the vast social and political change and explain how tourists can travel safely and responsibly.
Colombian Perspective Series
Colombian Perspective is a collection of Q & A interviews with everyday Colombians on topics that we at Other Way Round believe will be of interest to anyone looking to get a genuine insight into what it's really like to live and travel in Colombia.
These are their personal stories and opinions, based on their own life experiences in Colombia, and we hope they can provide you valuable insight into Colombia from the  very people who know it best.
In this interview we will cover the following topics:-
Living in Colombia
Advice for Travellers
I was born in Medellin 24 years ago (December 1993, just two days after Pablo Escobar death) and I have lived in this city all my life.
I graduated as a Civil Engineer from the National University (the biggest state-run university of Colombia and one of the top 10 in Latin America) and now I'm studying a Master's in Earth Sciences at the same University while working in the "Early Alert System" of the city, a project from the local environmental agency where we monitor and predict the weather, climate and air quality of Medellin and its surrounding cities.
I like to be informed about the political actuality of my country and the world so I invest much of my time reading news.
I also like to spend my time watching sports like football, tennis and cycling. I have practiced swimming since I was a child and I also enjoy hiking discovering the amazing landscapes that can be found everywhere in Colombia.
I try to be a sustainable citizen, riding my bicycle rather than my car everyday, avoiding eating beef… things like those, and I try to help creating more  consciousness about environmental and social sustainability.
How was it growing up in Medellin during the 1990s and 2000s ?
1990s and 2000s were hard years for the city and the country.
When I was born, drug cartels were not a big violence source anymore (at least not in a national scale), they had already lost much of their influence and destruction power, but there was much violence and danger because of guerrillas and paramilitary, also fueled by drug market, but it was mainly focused in the rural areas and in some specific zones of the cities, so actually, I didn't have to deal that much with those problems in my childhood and teen years.
I remember that as a child our family was afraid of going to our uncles' farm or other places in the rural area because armed groups used to be present in the far roads and kidnapped or steal people on the route.
The other memory I have, related to the conflict, is from 15 years ago; I lived very close to "Comuna 13", a zone of Medellin with presence of many armed groups.
It was one of the most dangerous places of the city by that time.
From my house I could hear the shootings between armed groups, usually at night. It was a little scary of course, but nothing bad ever happened to us.
The government once decided to occupy militarily Comuna 13, and for at least one week the shootings were massive, it really felt like a war just a couple of kilometers from our house.
Even a war tank from the military was once parked just in front of my flats complex.
My parents decided me and my sister should move to our grandma's house for some days to keep us safe from the danger.
But yeah, apart from that week near Comuna 13 and the fear of going to the countryside in my early childhood, I didn't feel my life was particularly affected by the conflict with guerillas and the drug market.
Foreigners may think that because cocaine is produced here there are a lot of consumers also, but actually I have never tried it, I have not even seen it, and I don't have friends who consume it (that I know), neither friends involved in anyway in cartels or drug market.
I have lived 24 years in Medellin, and almost all I have learned about drug cartels is from TV series, not from real life.
In your eyes, how has Colombia changed over the last 10 years ?
Peak of Colombia violence was from mid 1980's to mid 2000's.
10 years ago Colombia was already a much safer country.
In the last 10 years however the county has been in a process to be more modern and to bring opportunities to those who were more affected by the violence (people from the countryside and cities suburbs).
The main change in the last decade is the ongoing peace agreement that allowed to end the 60 years conflict between government and extreme-"lefty" guerillas groups, a conflict that was the main cause of the violence in Colombia.
This process is bringing hope for many forgotten communities and victims, and is also allowing the country to focus on other big problems like corruption and drug market.
How has the peace process impacted Colombia? Have you felt any tangible differences in your own day-to-day life ?
As I say before the conflict didn't affect directly my daily life in a hard way, so the peace process has not either.
I would say that in my day-to-day life the main impact has been to feel more likely to get involved in politics.
That's because with the peace process many progressive and alternative political groups have earn more relevance.
In the past those kind of political tendencies were stigmatised, peoples used to hate all the lefties parties because they associated them with the leftist guerrillas even though they never supported each other.
Now the parties are more diverse and new political groups are having more space.
However, the peace process has had a big impact in the country.
Although there is big  political controversy about how good was the agreement, after it lots of lives have been saved, especially in rural areas, and regions that used to be isolated by the conflict are now being attended by the government.
A special attention is being paid on the thousands of victims of the conflict and on discovering the truth behind so many crimes committed by guerrillas, military and paramilitary.
In your opinion, what are the biggest challenges facing Colombia today ?
Now that the nonsense war is finally ending, some other big problems are being more visible.
I'd say that corruption and inequality are the biggest challenges right now.
They both help to explain the lack of opportunities and poverty of most of the Colombians, and why many end up on illegal business like drug market.
Have you seen the Netflix TV series Narcos? Do you think it's an accurate portrayal ?
I didn't watch it (people here love the Netflix Series but for some reason I don't).
I watched a similar one called "Escobar, the Drug Lord", made in Colombia some years before Narcos, and based on what I heard from Narcos, it seems that it was very similar to the Colombian version (that is also available on Netflix now).
I think it was good when the local version was on TV.
It helped many Colombians like me to understand that part of our history, to see how drug cartels infiltrated and corrupted politicians, and how they brought so much fear, violence and moral crisis to our society.
It portrayed as heroes (as it should be) the politicians who were killed fighting against drug cartels.
But I feel that Narcos and its international success didn't have a positive effect for Medellin and Colombia.
After years of trying to surpass our international image of being home of big drug cartels and to show us to the world as a miracle city transformed by innovation and social development, Narcos strengthened our old stigmas and again the world was talking about us for reasons we didn't wish to be known anymore.
Many foreigners only know Colombia for its negative stereotypes like drugs, kidnappings & war – how does that make you feel ?
And many of them also think we all live in a jungle, they would not believe how modern our Colombian cities are.
Those stereotypes usually are nasty and uncomfortable.
Colombians living abroad have to deal with that kind of comments always, and most of the time they are not funny.
In particular it's quite outrageous when Europeans and people from USA portray us as drug consumers when the reality is that the big cocaine consumers (and hence, complicits of all the violence we face here) are in those countries (this recent article by The Guardian in the UK explains it really well).
We'd rather be known for our paradise landscapes, our wonderful weather or the nice charisma of our people, but shamefully (and understandably) those good things are still clearly overshadowed by the violence we suffered in the past.
Tourism in Colombia is increasing at a rapid rate – do you think that's good for Colombia ?
I think it's a good opportunity and a big challenge.
It could be good for our economy and for our international image, and if it is well managed can be also a way to protect our natural wealth and bring more opportunities to people from far regions of the country.
What can tourists do to have a positive influence in Colombia ?
That's easy.
You just have to come and enjoy the inner and real Colombia.
If you do that you will love the country and will destroy the stereotypes, so when you come back home you can't help talking about how awesome and surprising it was in getting to know Colombia.
What are the top 3 things you would like tourists to learn about Colombia when they visit ?
The great natural wealth we have.
The charisma and happiness of Colombians.
The diversity of cultures in the country.
Outside of the more well known places like Medellin, Cartagena and Bogota – where in Colombia would you recommend tourists visit ?
There are many, but the best for me is "Caño Cristales" aka "The river of the seven colors".
It's a little expensive to get there because is far from all the main cities and the only way to arrive is by plane, but it is awesome.
The word "paradise" is just not good enough to describe how pleasurable and wonderful it feels to be there.
Another cool place is the coffee triangle, a region in the Andes, close to Medellin and Bogotá, known for its coffee-growings and all the culture that has developed around them.
Actually, this "Coffee Cultural Landscape of Colombia" is a UNESCO World Heritage site.
And in that same region you can hike through Paramos and tropical glaciers, naturals landscapes that you would hardly find somewhere else in the world.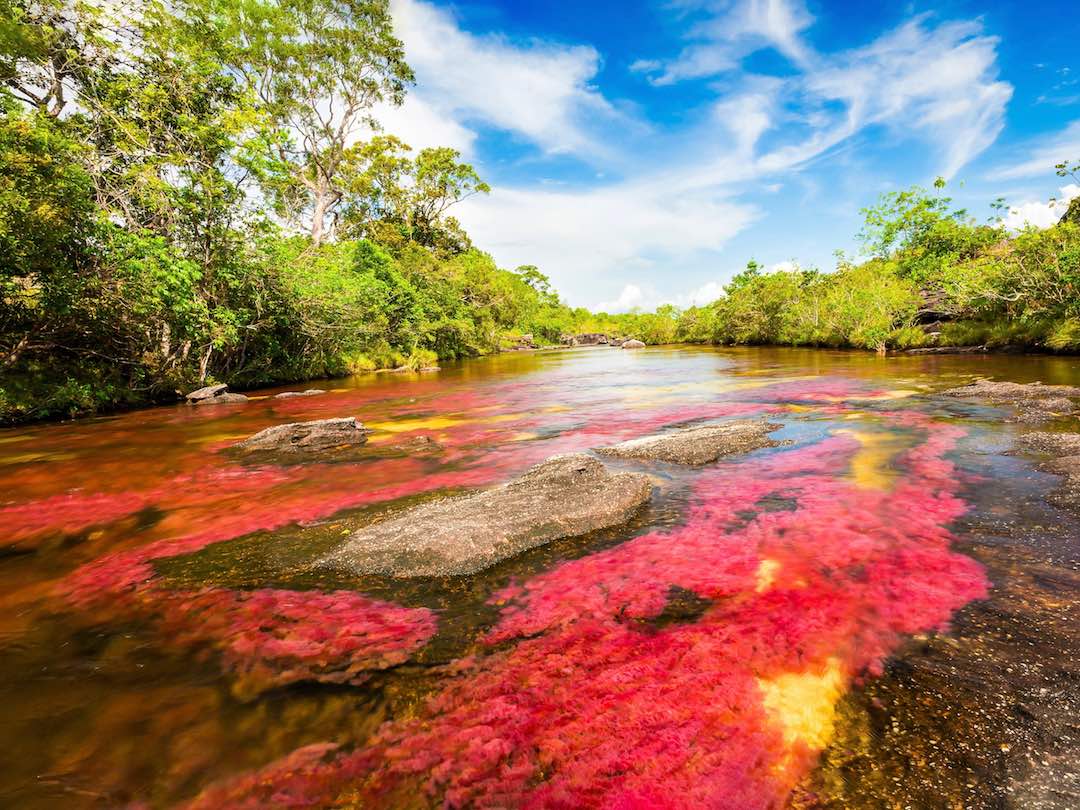 What are the top 5 things you recommend visitors must see or do to really know Medellin ?
Party in Lleras dancing Salsa or reggaeton (is what most tourist do, but is also part of the local youths life)
Public transport system: Metro, Metrocable and Tranvia (tram). When you go to the tram you can visit the Memory House Museum to learn about our conflicts and its consequences.
Eating Bandeja Paisa (if you can, is really tasty but is massive)
Just hang around in any interesting and traditional neighbourhood… could be the downtown or Laureles. Poblado is also a nice place but is usually full of tourists. There are so many things to do in Medellin. 
Where would you recommend visitors go for nightlife in Medellin if they want to hang with locals ?
I usually go to Lleras Park, a big party zone, but that's also where tourists go.
A good place to eat is Laureles.
Honestly, as I´m not a good dancer (that's strange for a Colombian) so I don't know many places for drink & dance.
A traditional place for dancing Salsa is "El Tibirí"; the atmosphere there is crazy, and the dancing skills of the people who usually go there is amazing.
Pablo Escobar tours – should tourists go on them?
I'd say yes, it's quite logical that if you are here you want to learn a little about Escobar.
If I went to Berlin I'd like to know a little about Hitler.
Just keep in mind that although some people here still love him, the truth is that he was a very bad person who caused many deaths and suffering in our city.
Hopefully you can find a tour that is not only focused in the villain but also in the victims of his violence.
Is it safe to travel to Colombia? What are your safety tips for foreigners?
Yes! It is absolutely safe to travel to Colombia. As far as styaing safe, it may seem obvious, but my advice would be: don't come looking for illegal things. That way you will avoid most problems.
Before going to any place, especially at night, verify with a local how safe is the place. For example, it may not be a good idea to go walking through downtown at night.
When doing the Grafittour or visiting the Metrocable stations is good to know that those neighborhoods are not the safest ones.
You can be relaxed in the tour or near the stations but it wouldn't be a good idea to walk away from there alone, especially at night.
That's all.
I don't think you need any other particular tip.
Medellinenses are usually very kind and friendly with tourists, but we have more information about how to stay safe when traveling alone in Colombia if you need it. 
Our Immersive Colombia Trips at Other Way Round
At Other Way Round we bring together small groups of of like-minded travelers in their 20s, 30s and 40s and share with them an off the beaten track, adventurous, insider experience of traveling through Colombia.
We are a 30-something British husband and Colombian wife team with a mission to show the world the real and authentic Colombia, while also using our tours to drive positive change in Colombia.
We currently offer 3 trips including 1 Week in Medellin, 8 Days in Cartagena and Bogotá and a Colombia All-In-One tour.
[et_pb_image_n10s src="https://otherwayround.travel/wp-content/uploads/2017/12/Medellin_City_View_Dusk.jpg" n10s_type="kiev" title2_overlay="Medellin & Antioquia" caption_orientation="left" image_as_url="on" url="https://otherwayround.travel/medellin-antioquia/" animation="off" _builder_version="3.0.91″ header_font="Montserrat||||"]<p><p><div class="et_pb_module et-waypoint et_pb_image et_pb_animation_off et_pb_image_n10s_15 et_always_center_on_mobile"><div class="n10s-block n10s-kiev"><a href="https://otherwayround.travel/medellin-antioquia/" ><img src="https://otherwayround.travel/wp-content/uploads/2017/12/Medellin_City_View_Dusk.jpg" alt="" /><div class="n10s-overlay"><h2> <span>Medellin & Antioquia</span></h2><p class="description"></p></div></a></div></div><br /> <p style="text-align: left;"><br /> <p style="text-align: left;"><br /> <p style="text-align: left;"><br /> <p style="text-align: left;"><br /> <p style="text-align: left;"><br /> <p style="text-align: left;"><br /> <p style="text-align: left;"><br /> <p style="text-align: left;"><br /> <p style="text-align: left;"><br /> <p style="text-align: left;"></p></p>[/et_pb_image_n10s]
[et_pb_image_n10s src="https://otherwayround.travel/wp-content/uploads/2017/12/Cartagena_Colombia_City_Panoramic.jpg" alt="Panoramic view of Cartagena from the other Colombia 1 week itinerary" n10s_type="kiev" title2_overlay="Cartagena & Bogota" caption_orientation="left" image_as_url="on" url="https://otherwayround.travel/cartagena-bogota-tayrona/" animation="off" _builder_version="3.0.69″ header_font="Montserrat||||"]<p><p><div class="et_pb_module et-waypoint et_pb_image et_pb_animation_left et_pb_image_n10s_7 et_always_center_on_mobile"><div class="n10s-block n10s-auckland"><img src="" alt="" /><div class="n10s-overlay"><h2> <span></span></h2><p class="description"></p></div></div></div><br /> <p style="text-align: left;"><br /> <p style="text-align: left;"><br /> <p style="text-align: left;"><br /> <p style="text-align: left;"><br /> <p style="text-align: left;"><br /> <p style="text-align: left;"><br /> <p style="text-align: left;"><br /> <p style="text-align: left;"><br /> <p style="text-align: left;"><br /> <p style="text-align: left;"></p></p>[/et_pb_image_n10s]
[et_pb_image_n10s src="https://otherwayround.travel/wp-content/uploads/2017/12/Parque_Tayrona_Colombia_Beach_View.jpg" alt="View of beach in Parque Tayrona from the Colombia 2 week itinerary" n10s_type="kiev" title2_overlay="Colombia All-In" caption_orientation="left" image_as_url="on" url="https://otherwayround.travel/colombia-all-in/" animation="off" _builder_version="3.0.69″ header_font="Montserrat||||"]<p><p><div class="et_pb_module et-waypoint et_pb_image et_pb_animation_off et_pb_image_n10s_9 et_always_center_on_mobile"><div class="n10s-block n10s-seoul"><img src="https://otherwayround.travel/wp-content/uploads/2017/09/DSC_0378_wp2.jpg" alt="" /><div class="n10s-overlay"><h2> <span>Colombia All-In</span></h2><p class="description"></p></div></div></div><br /> <p style="text-align: left;"><br /> <p style="text-align: left;"><br /> <p style="text-align: left;"><br /> <p style="text-align: left;"><br /> <p style="text-align: left;"><br /> <p style="text-align: left;"><br /> <p style="text-align: left;"><br /> <p style="text-align: left;"><br /> <p style="text-align: left;"><br /> <p style="text-align: left;"></p></p>[/et_pb_image_n10s]