5 Amazing Destinations For Solo Travel in Latin America
Solo Travel in Latin America
For solo travelers, Latin America promises warmth, excitement, and diversity found in few regions of the world. Consisting of sunny island nations scattered across the Caribbean, modern South American cities, Mexican pueblos & the glacial mountain tops of Patagonia…there's a little something here for every kind of traveler. 
But which of the 20+ countries are best to visit? We'll get to that. But first, let's look at solo travel in Latin America, where exactly Latin America is, and why it should be at the top of your bucket list.
The fabric of Latin America is sewn together with strong cultural & linguistic bonds rather than borders on a map.
Latin America by definition is a portion of the world traversing the Caribbean, North, and South American continents. A collection of nations with a similar heritage. Countries that speak romance languages. Namely, Portuguese and Spanish.
Instead of relying on hard borders, Latin America is instead defined by its cultural and lingual overlap. Stretching from Mexico to Chile, citizens of these countries all define themselves as "Latinx".
What to Expect as a Solo Traveller in Latin America
Although all these countries share similar cultural norms, they aren't without their distinctions. Travel in Haiti is vastly different than travel in Argentina for example.
But visiting any country in Latin America you can expect the people to be predominantly warm-hearted and Catholic, the cuisine to be heavily influenced by corn, & each country to harbor a rich history of indigenous tradition. 
Most Latin American countries also have plenty of tourist infrastructure and are safe for even first-time solo travelers.
Why Latin America is Ideal for Solo Travel
Aside from well-trodden traveler trails through most countries, Latin America also is the most urbanized area on the planet with over 80% of its populations residing in major cities. This makes forming friendships with both locals and fellow travelers even easier.
Add to that, the heavy hostel and guesthouse culture and vibrant nightlife scenes present in most Latin American countries, and you'll find making acquaintances while traveling solo a breeze.
Looking for Tips Specifically on Solo Female Travel
Solo female travelers can rest easy knowing that the biggest risk they'll face in most of Latin America is pick-pocketing. If you're nervous about your first solo trip be sure to check out our tips for solo female travel.
5 Best Destinations for Solo Travel in Latin America
Not all Latin American countries are equal when it comes to solo travel. You'll want a mix of phenomenal food, rich traditions, stunning landscapes, and of course, a well-trodden path that is both safe and brimming with other travelers like yourself. Here are the very best countries in Latin America for solo travelers.
It should come as no surprise that Mexico tops this list. Vivid pueblos and quaint colonial towns are steeped in tradition, sprawling cities offer a throbbing nightlife, and idyllic beach towns in the Yucatan peninsula offer dips into the fairytale blue cenotes hidden among the jungle. It's a varied and magical landscape able to captivate any kind of traveler.
Solo travelers will be less interested in the popular mega-resort towns, like Cabo and Cancun, that draw families and couples to their all-inclusive beach stays. Instead, you'll gravitate toward cultural powerhouses like Mexico City and Oaxaca, where drinking Mezcal and Pulque while scarfing down one of the only UNESCO-Heritage recognized cuisines is customary. Or in need of some socializing and beach time, solo travelers can hit the Yucatan or Baja Peninsula, both renowned for their soft sand beaches and youthful vibe.
Mexico is one of the best destinations in Latin America for solo travel not only because it's affordable, developed, and absolutely packed with bucket list-worthy activities but also because it's easy to meet fellow travelers. 
Over the years, Mexico has unfairly been stigmatized as a dangerous place to travel, especially alone. This piece of wisdom is most-often touted by people who have never set foot in the country. Like anywhere else in the world, Mexico is as safe as you make it. If you go looking for trouble you'll find it. But for solo travelers (yes, even female), Mexico is a very safe and well-traveled destination.
Best Destinations for Solo Travel in Mexico
Consider adding these must-see destinations to your Mexico itinerary.
Tulum
Cenotes, beaches, and Mayan ruins. Tulum has quickly become the most popular destination in the Yucatan peninsula.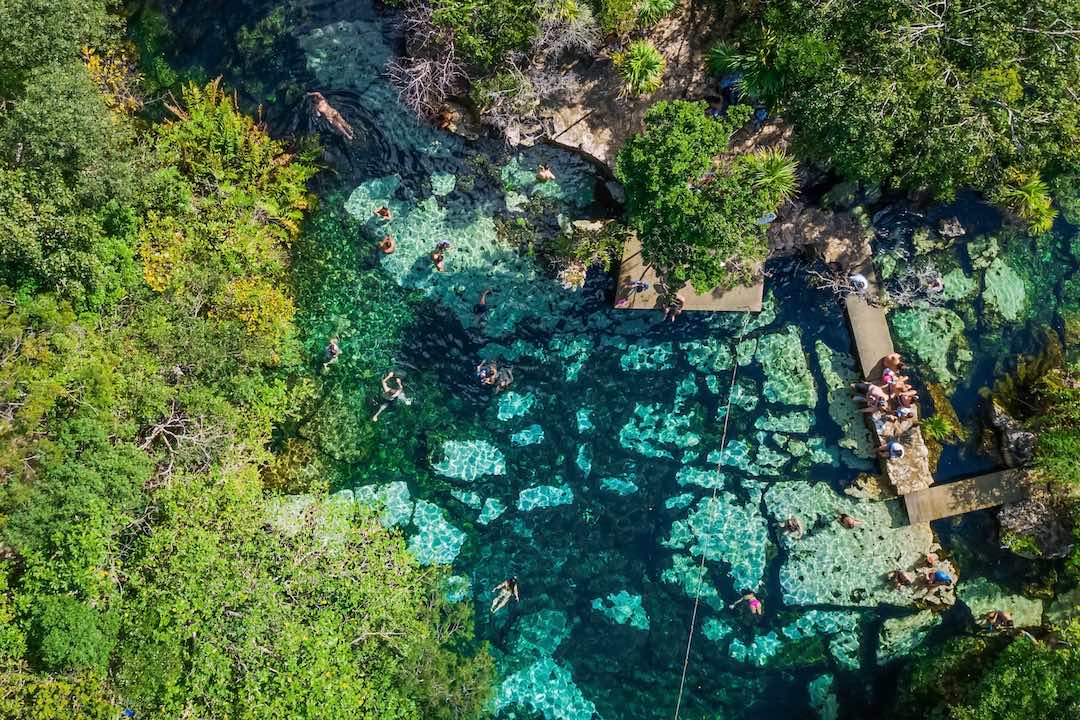 Oaxaca
Known as a laid-back cultural travel destination, solo travelers can relax and savor the Mole in Mexico's gastronomic capital.
Mexico City
The chaotic capital city makes connecting with fellow travelers even easier. Add to that its remarkable architecture, lush parks, and tasty cuisine and it's no wonder it shouldn't be missed.
Playa del Carmen
If you're looking for a beautiful beach, Playa Del Carmen never disappoints. It also offers quite the social scene for solo travelers.
The ancient land of the Incas, top culinary destination, and of course, home of Machu Picchu, one of the seven natural wonders of the world. Peru is one of the most popular destinations for travel in South America for a reason and it's equally as popular among solo travelers.
You can gorge yourself on ceviche, savor foamy pisco sours, and taste cacao harvested from the Amazon rainforest. In between bites, you can explore the various regions of Peru and marvel at some of the most dramatic landscapes in Latin America.
From icy glaciers in the snow-capped Andes to the rolling green hills of the Sacred Valley scattered with ruins from civilizations long faded to history – there's no shortage of things to do in Peru. Or other travelers to meet. If you're a solo traveler looking for a mix of cultural exploration and intrepid adventuring this is the destination for you.
Best Destinations for Solo Travellers in Peru
Here are a handful of destinations you have to hit in Peru as a solo traveler. 
Lima
A city where the traditional cultures of Peru meld seamlessly with the frenetic energy of the modern capital. Considered one of the gastronomic highlights of Latin America, solo travelers will love the vibrant food and nightlife scene in the city. 
The Sacred Valley & Machu Picchu 
Built in the 15th century, this structure is the single most popular attraction in Peru. Be sure to book your permits ahead of time. 
Arequipa 
The city itself rivals the beauty of the snow-capped volcanoes that rim it. Also known as the "White City" Arequipa has the honor of being UNESCO-Heritage recognized. 
Puerto Maldonado 
The gateway to the Amazon Rainforest. Unlike many towns bordering the Amazon, Puerto Maldonado is a lively little hub with great tourist infrastructure. It will be easy to plan your excursion into the jungle from here.
Huaraz
The trekking capital of Peru. Huaraz has day hikes to scenic vistas like Laguna 69 or strenuous multi-day treks for more experienced hikers. 
Be sure to check out our full guide on solo travel to Peru for more tips and destinations before you go.
Over the past several decades, Colombia traded its infamous cartels for trendy digital nomads and boasts one of the most biodiverse landscapes in the world. But it's not its preserved portion of the Amazon rainforest or vast swathes of mountain terrain that draw the most solo travelers to Colombia.
It's the modern metropolis of Medellin, the apricot-hued streets of Cartagena's Walled City, the idyllic shores of Tayrona National Park, the misty mountain capital of Bogota, and the rugged shores of Cali on the Pacific Coast.
Not to mention San Gil's pension for adventure sports, trekking to the Lost City in the Sierra Nevada mountains (even older than Machu Picchu), the smattering of Caribbean islands that rim Colombia's coastline, and all the little pueblos in between.
It's in these small towns that travelers will find a nod to Colombia's cowboy roots. Explosive (literally) games of Tejo are played after days spent horseback riding through the rolling hills. But you'll find equally important historical and cultural experiences in all the major cities on Colombia's tourist track.
With ample amounts of world-class coffee to keep your energy levels as high as the altitude, you'll have no difficulty striking up a conversation with fellow travelers at one of the country's many hostels. And with one of the most well-developed and easy to follow metro & public transport systems in South America, getting from city to city is a breeze. 
(If the thought of planning a solo trip seems daunting you should consider joining one of our group tours to Colombia & save yourself the headache).
Best Destinations for Solo Travellers in Colombia
You could spend a month (or a lifetime) in Colombia with all the one-of-a-kind destinations spread across this country. But most solo travelers are limited to a short trip. Here are the "must-see" destinations to ensure you get a well-rounded picture of Colombia. 
Medellin
If you were to draft a list of top solo travel destinations worldwide, Medellin would top that list every time. It's ultra-modern, walkable, steeped with history (both modern and ancient), and has a unique and vibrant nightlife. 
Parque Tayrona
Colombia's most popular national park. Both tourists and locals flock to the shores of this rocky palm tree-rimmed beach. It's a little slice of paradise. 
Salento
No trip to Colombia is complete without a stop at one of its pueblos. You can visit Guatape for the views, Jardin for the quaint authentic feel, or Salento if you're interested in hiking (or horseback-riding) among the world's tallest palms–the wax palm. 
Cartagena
Cartagena is Colombia's answer to the Caribbean. Although its beaches are underwhelming, the balmy pastel-colored colonial city is breathtakingly beautiful & trades in tropical fruit you've never seen before. 
Bogota
This city doesn't get the love it deserves from solo travelers. Cobblestone streets peppered in graffiti illustrate the complicated history of the city and high above it all, you'll take in the views at the Monserrate. If you're looking for the boldest Colombian cuisine, you'll find it all here. 
Brazil covers nearly half the South American continent and with annual festivals such as Carnival, world-class beaches, and spectacular views of dramatic mountain landscapes – it's become a bucket list destination for many solo travelers.
And Brazil embodies Latin American culture in all the best ways. Sizzling cuisine, Samba and Salsa dancing feature prominently, and more than a smattering of colorful colonial towns. 
Solo travelers to Brazil are often drawn to the lively atmosphere. If it's a party you're looking for, the cities and hostels of Brazil are the places to be. Beach-goers and adventure travelers will have their fair share of destinations to explore too. It's a country too varied and too massive to be overlooked on this list.
Best Destinations for Solo Travel in Brazil
Here are the top destinations in Brazil that you should focus on as a solo traveler.
São Paulo
Although this concrete jungle might not win any beauty contests, if you're looking for a city with an emphasis on culture, Sao Paulo wins outright. Boasting over 100+ museums, arguably the best food scene in Brazil, and plenty of street art, the city is worth a visit.
Rio De Janeiro 
The famed beach of Copacabana, gravity-defying cable car to the rooftop of sugarloaf mountain, and the dizzying viewpoint of Christ the Redeemer all reside here. This seaside city is sprawling but well-connected and best for meeting fellow travelers.
Recife
Also known as the "Venice of Brazil", Recife is a beautifully preserved historic town with picturesque canals segmenting the city.
Ilha Grande
The picture perfect island paradise of Ilha Grande is simply spectacular. A few hours South of Rio de Janeiro you can catch the ferry from Angra dos Reis to the "Big Island" where you can pass a few days filled with nothing but sun, sea and relaxation.
Paraty
Cobblestone streets, colorful old colonials, and Afro-Brazillian culture mix to create a unique Latin American tropical paradise. 
For the final solo travel destination in Latin America, we're looking to the Caribbean island of Cuba.
Cuba is the safest place for solo travelers. Period. 
With violent crime essentially non-existent on the laid-back island, if you're nervous about solo travel this is the perfect starter destination for you. Although Cuba doesn't have the typical solo traveler trademarks of excellent internet connections and a diverse gastronomic scene, it makes up for it with cheap mojitos, a 1950's Americana vibe, and ease of travel between the major tourist destinations.
Hostels haven't yet made it to the island, which means you'll likely be staying in Casa Particulares (local guesthouses). Instead of meeting fellow travelers where you sleep, you'll be immersed in the local culture and make friends in bars, restaurants, and while exploring the cities. 
But with blinding white sand beaches, lush green valleys of tobacco cultivation, and cobblestone cities painted every shade of the pastel rainbow, you'll be blown away at each destination.
Best Destinations for Solo Travel in Cuba
These are the top destinations for solo travel in Cuba.
Havana
The seaside Malecon stretches along the border of this crumbling colorful capital. Vibrant 1950's taxis line the road and tourists spill onto the streets from Hemmingway's favorite mojito bar. It's a city steeped in history and a favorite of travelers who have explored its streets. 
Vinales
Ever dreamed of horseback riding through the emerald-colored fields of a tobacco plantation with a thick Cuban cigar in between your lips? Vinales is the quaint cowboy town to act out that adventure. 
Trinidad
This cobblestone-covered town is famous for its music scene and the lush green mountains that surround it. This is a favorite among solo travelers because of the variety of attractions in the area. 
Varadero
This needle-like appendage off the Cuban coast is rimmed in white sand beaches. This is the most popular beach for travelers and you can lounge in its pleasant bathwater shores with a mojito all day long. 
Latin America is a cultural region with as many differences as similarities. But these 5 Latin countries all have one thing in common – they make stellar destinations for solo travelers. Plan your next trip to one of these destinations to fully immerse yourself in the Latin American experience.
Solo Travel in Latin America With Like-Minded Travellers Aged 25-45 !
We're Other Way Round Travel and we bring together groups of solo travellers aged 25-45 for immersive & authentic trips to the most exotic places in the world. Here's some of our popular trips in Latin America.
11 Days in Mexico. Breathe in the pulsating Mexico city, roam the charming streets of traditional Oaxaca, and hit the beach in sun-drenched Tulum. See Itinerary
12 Days in Brazil. Admire street art in São Paulo, trek rainforests in colonial Paraty and marvel at the madness of Rio de Janeiro. See Itinerary
12 Days in Peru. Cook ceviche in Lima, sail the Amazon, hike to Machu Picchu and become awestruck by the Sacred Valley. See Itinerary
15 Days in Colombia. Dance salsa. Meet coffee farmers. Sail tropical islands. Hike lush jungles. Taste the finest Caribbean rum. See Itinerary