Solo Female Travel: to Colombia and Beyond
We're delighted to bring you this guest post on "solo female travel" by Teresa Schumacher of Candid Voyage. Teresa is  a travel writer, photographer, adventure seeker, and endless explorer. When she's not off exploring you can find her in a small town in Ohio where she works as an emergency veterinarian, spends time with family, and continues to dream big.
Standing in front of the mirror, I take my earrings off.
Too flashy.
Despite the heat, I replace my skirt with a more practical pair of jeans, ones with deep pockets for my i.d. and cash.
I discard my purse on a nearby chair, its long thin straps just begging to be ripped away.
One last look in the mirror, and then I take a deep breath.
With head held high but heart pounding, I head out into the night.
When I arrive at the little salsa club in Getsemani, Cartagena (in Colombia), a brisk four minute walk from my AirBNB, the place is crowded, air thick with conversation, laughter, instruments being tuned.
As I seek out an empty seat at the bar and order a beer, the band starts up, a sultry rendition of Buena Vista Social Club's Chan Chan.
The music quickly fills the air, cancelling out all other sound, and people begin to dance.
The rhythm is contagious, and I soon found myself swaying gently in my seat.
When the song transitions from the slow groove of Chan Chan to the crisp, upbeat sound of Elvis Crespo's Suavamente, the energy in the club reaches a palpable level.
Still I'm too shy to join the crowd on the dance floor, but I can feel the music in my bones.
So I sip slowly on my now lukewarm beer, admiring the scene like an outsider looking in.
"Is anyone sitting here?"
Two Women Traveling Solo in Colombia
I turn to see a woman about my age – dark, wavy hair, flowing dress, bright smile.
She's gesturing at the open barstool next to me. I shake my head, motioning for her to sit.
We introduce ourselves, voices raised so to be heard over the band.
She tells me her name is Aída, and she is from Los Angeles.
She is traveling solo – a year long excursion through South America.
I tell her that I am in Colombia for two weeks with my mother, who went to bed early tonight.
Tonight we are both solo women, a long way from home.
We make a toast, homage to our shared solitude.
"Do you know how to salsa?" Aida asks.
I hesitate, but before I can answer she is pulling me out on the floor, and I am dancing.
Four months later and I'm sitting in my little home office in Ohio, speaking with Aída via FaceTime.
She's in a small village in Peru, and in a few days she'll be heading to Bolivia.
Our connection is spotty, and it seems a miracle that we can communicate at all.
I think of the miles between us, of the things she has seen and experienced since we last danced in Cartagena.
"It took 5 years to plan" she says of this trip.
"I was in a relationship, then I got a promotion. I just kept postponing it. But now I feel like I'm fulfilling a dream."
When I ask her why she made the decision to head out on her own on such an extensive trip, she answers without hesitation.
"Out here I'm reminded that the world is a beautiful place. And there is so much out there! We get stuck in this bubble, we forget."
She pauses, her face lighting up with a memory.
"I was hiking in the mountains recently, I reached a lake that was so beautiful I just started to cry."
When I ask her when she's coming home, she tells me that she was initially planning to leave in August.
Now she's not so sure if she'll be ready by then.
The Rapid Rise of Women Traveling Alone
As someone who is relatively inexperienced with "solo female travel," I was intrigued by my conversations with Aida, so I did a little digging.
What I quickly uncovered was an entire community of women, all ages and backgrounds, with one thing in common – they like to travel, and they like to do it on their own.
Between 2016 and 2017, google searches for "solo female travel" increased by 52%.
Travel and tourism companies, particularly those focused on adventure travel, report a significant increase in women travelling alone within that last few years
The growth of the internet, cell phone usage, and access to social media has certainly contributed, making women feel safer, more connected, and less alone despite traveling unaccompanied.
But I think there is something deeper at play here – a wakening of the spirit, a discarding of conventional norms, a desire in women to prove their capability and find deeper meaning in their travels.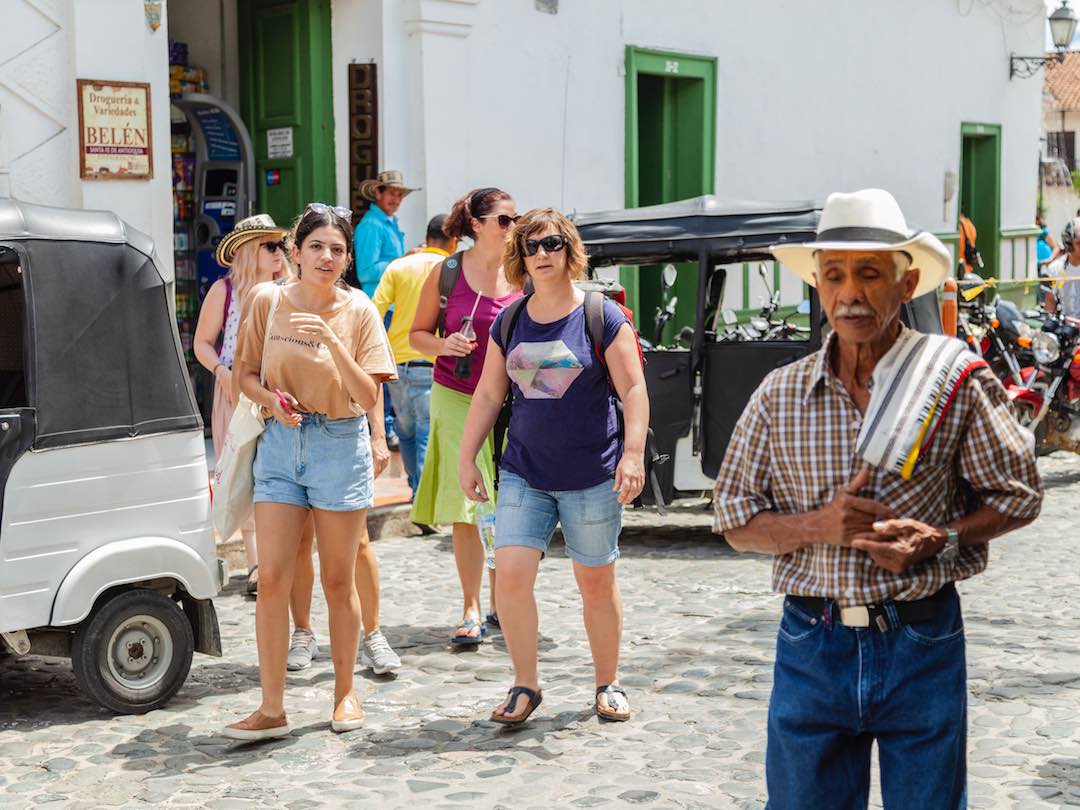 Why Travel Solo as a Woman
I decided to speak with some of these "solo female travelers" myself, to find out why so many women are now opting for a more independent form of travel.
I spoke with Alice, a young veterinarian, who has always preferred solo travel over going with a group.
"It's liberating" she says, "To step out of your comfort zone, to gain confidence from doing something on your own."
I sipped coffee with Vicki, a retired biology professor, as she described her first solo biking excursion after a nearly fatal accident forced her to relearn everything from how to tie her shoes to how to speak.
She recalls her first successful trip cycling to the top of the Teton mountain range, and the moment she realized "I can really do this!"
I talked with Kathy, a retired teacher who lived in and traveled extensively through Colombia before laying down her roots in Ohio.
She emphasizes the importance of traveling with a purpose and connecting with locals.
"The notion of being a woman, alone, is just not possible. It's tempting fate." she says.
"You have to belong, to attach yourself to a place and to its people."
This, she insists, is the key to successful, safe, and meaningful travel.
Last but not least, I speak with my own mother, who describes how satisfying it has been to travel by herself over the years.
"Traveling alone is easy!" she exclaims.
"You don't have to negotiate anything."
She points out that when you're traveling alone, you do so on your own terms, and you don't have to bend or change plans to fulfil other people's needs.
Challenges When Travelling Alone as a Female
However fulfilling it may be, solo travel comes with its own host of challenges, and a common thread in all my conversations with these women was a concern for safety.
My mother describes traveling alone to the tiny island of Marie-Gallant in the early 1990's.
"I got up early and went to bed early" she says.
"Because going out alone at night was inappropriate."
Nearly three decades later and I'm hearing similar sentiment from the younger generation.
"If I'm at a bar by myself, I'm not drinking too much" Aída tells me.
"I'm keeping track of my drink. I'm not staying out too late."
Alice describes a scary incident in Guatemala when a man offered her a ride to a nearby beach town.
He seemed friendly enough, until he tried to take her to his apartment, refusing to let her out of the vehicle.
"Nobody knew where I was and I was convinced I was going to die" she recalls.
She ended up escaping the situation unscathed, though she says she will no longer accept rides from unfamiliar men.
Vicki is planning an upcoming trip to Uganda, specifically to see the gorillas.
"I'm getting a little nervous" she admits.
"A woman just got kidnapped there."
This isn't stopping her from going, though she is honest about the risks and will be taking extra precautions to remain vigilant and safe throughout the trip.
Gender stereotypes and cultural differences are also factors to consider for the unaccompanied female traveler.
Recalling her experience on Marie-Gallant, my mother says:
"I was a woman, unaccompanied, and that is not what women in their culture did. It made them uncomfortable, suspicious."
She admits that stereotypes from back home in the United States have also affected her.
She describes the shocked, sometimes judgmental, reactions of family and friends who discovered she was traveling alone, especially when she was married with a young child.
She had hoped this might change as more women venture out on their own and begin to defy conventional norms, yet its an issue that continues to plague younger generations.
"Society teaches us that women shouldn't or don't want to be alone"
Alice says, recalling instances when people, particularly men, couldn't fathom that she was choosing to travel alone and did not want to be bothered.
Unfortunately, unwanted male attention often seems to come with the territory for these women.
I received some interesting insight, however, from the older generation.
"We tend to be devalued and discarded as older women," Kathy remarks, eyes twinkling.
"And if you no longer have value, you don't have risk!"
She throws up her hands in victory.
The other women of the Boomer generation seemed to all be in agreement – it turns out that the invisibility that comes with older age can be a blessing for the solitary female traveler.
Building Resilience by Flying Solo
While solo travel can be daunting, stressful, and at times downright terrifying, women these days seem to be up for the challenge.
"We are getting better at facing fears and challenges, and doing things on our own," Aída remarks.
She admits that there have been times on this trip where she has struggled with depression, remarking that:
"being alone, with your raw emotions, it can be tough."
But facing those emotions on her own has only made her stronger.
Alice is also no stranger to the need for resilience as a solo traveler, describing a time when she was hiking alone in Sri Lanka and slipped and fell, injuring herself badly.
She was forced to use a sock as a tourniquet to staunch a bleeding wound, then hiked down the mountain to a nearby hotel where she eventually found a first aid kid.
"My only option was to pick myself up and come up with a solution, rather than wallow in pain and self pity" she says.
The sense I get from these women is that these obstacles have made them stronger, more confident, more adaptable.
And they will have some amazing stories to tell when they come home.
Takeaway Advice for Solo Female Travelers
Women are clearly more comfortable with the idea of solo travel than ever before, and it seems to be due to a global shifting, a transformation in our very identity as women.
We are becoming more independent, more self-sufficient, more confident, and this translates directly to our ability to navigate the world on our own.
And as solo female travel evolves, a sense of community has burgeoned as a result.
Women are meeting other women, helping one another out, providing a safety net and a sense of belonging for one another in an otherwise intimidating world.
If Aida has any advice for the unseasoned solo traveler, it is to reach out to others who have paved the way.
"You're going to get nervous. You might even have a panic attack in the airport"
she says with a laugh, and I have a feeling she's speaking from personal experience.
"But don't let that stop you! Take a deep breath. And reach out to others who have done this before."
And I'm glad I have reached out.
I'm just now dipping my toes, testing the waters, seeing what solo travel really entails.
I'll be planning my next trip soon, and I have a small suspicion that I might be heading out unaccompanied.
Who knows who I'll meet or what I'll find on the journey.
But if there is anything I've learned after speaking with these amazing women, its that solo female travelers are never really alone.
Special thanks to Aída, Alice, Vickie, Kathy, my mother (Tucki), and all the other solo female travelers out there paving the way.
Travel Colombia with Like-Minded Solo Female Travellers !
We're Other Way Round and we bring together groups of adventurous travellers aged 25-45 for an immersive & authentic experience of travelling Colombia.
Interested? Go check out our itineraries:
We'd LOVE to hear in the comments below your thoughts and experiences on Solo Female Travel. Are they similar to Teresa's or do they differ? Please share !