Inca Trail & Machu Picchu with OWR Travel
As part of our 12-day Peru trip one of the massive highlights is hiking the Inca Trail to Machu Picchu. Here we share a little of what to expect.
First up, if you didn't already know, it's worth some background on what this actually is.
Machu Picchu – is an ancient Incan citadel located in the Cusco region of Peru, South America. Built in the 15th century by the Inca civilisation it is known one of the most iconic and important archaeological sites in the world. The site consists of various structures, including temples, palaces, and other buildings, as well as an intricate network of terraces and agricultural fields. It was unknown to the outside world until it was rediscovered by the American explorer Hiram Bingham in 1911. It is regarded as one of the "7 New Wonders of the World".
Inca Trail – is considered one of the most beautiful trekking routes in the world and leads directly to Machu Picchu. It was built by the Incas more than 500 years ago and was a part of a larger network of roads that connected different parts of their empire. It starts in the Sacred Valley and winds through the Andes Mountains, passing various landscapes and ecosystems, including high altitude passes, cloud forests, and Incan ruins.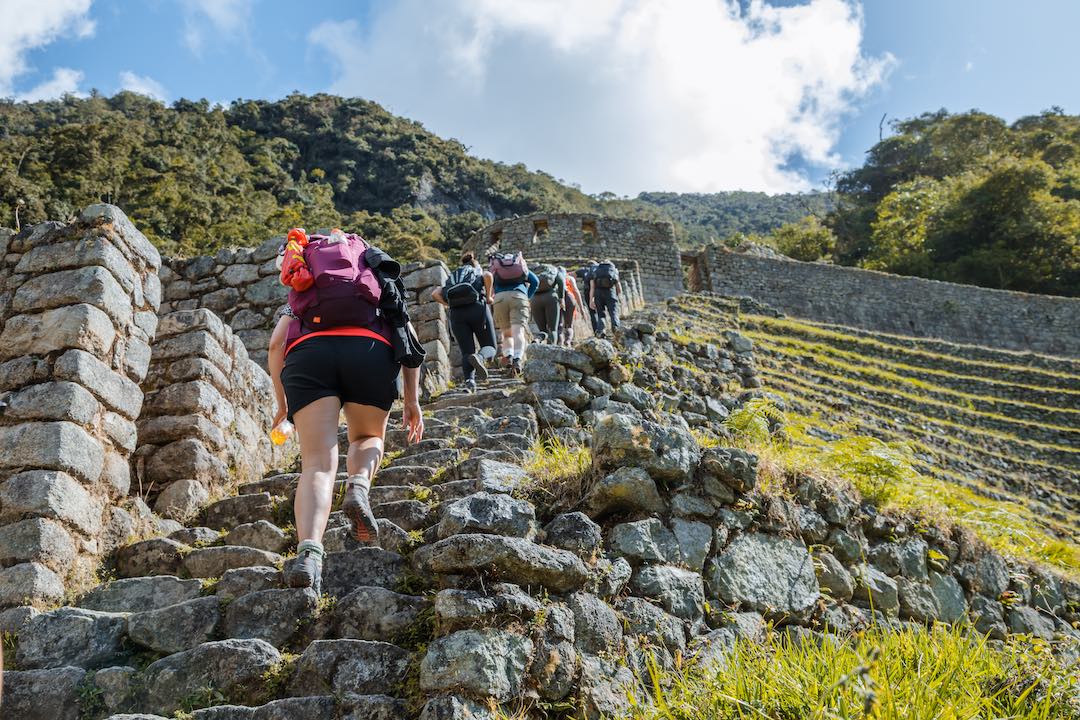 There's various different ways to hike to Machu Picchu (4 day Inca Trail, Salkantay trek etc…) but for us we do what is often referred to as the "2-day Inca Trail".
This essentially breaks down to one day of hiking the Inca Trail and one day of touring inside Machu Picchu (which is surprisingly huge).
We love this hike and there are a few key reasons we go for this option:-
It gives the full experience of hiking the Inca trails and unless you specifically want to do a hiking holiday, it's more than enough
You don't have to camp (or use the associated squat toilets)
We cover the most impressive stretch of the Inca Trail (it's essentially the final day of the 4-day route)
It's quieter and we often get the trails to ourselves
It gives us time to see more of Peru (which if you're coming all the way here makes sense)
Here's how we do it.
Arrive into the Sacred Valley
Machu Picchu is located in the Andes Mountains of Peru, somewhere between the city of Cusco and an area called the Sacred Valley. We fly into the Cusco airport and make our way directly to a town called Urubamba in the Sacred Valley, where we spend two days before tackling the Inca Trail.
(this part of Peru is stunning and so it's fantastic to spend some time here, but, as an added bonus, it also helps us to acclimate to the higher altitudes before we begin our hike).
While in the Sacred Valley we visit the sites of Moray, Maras and Ollantaytambo.
We spend 2 nights in total here.
These are the ruins of Ollantaytambo (set in a lovely little Andean town).
Then to the agircultural terraces of Moray.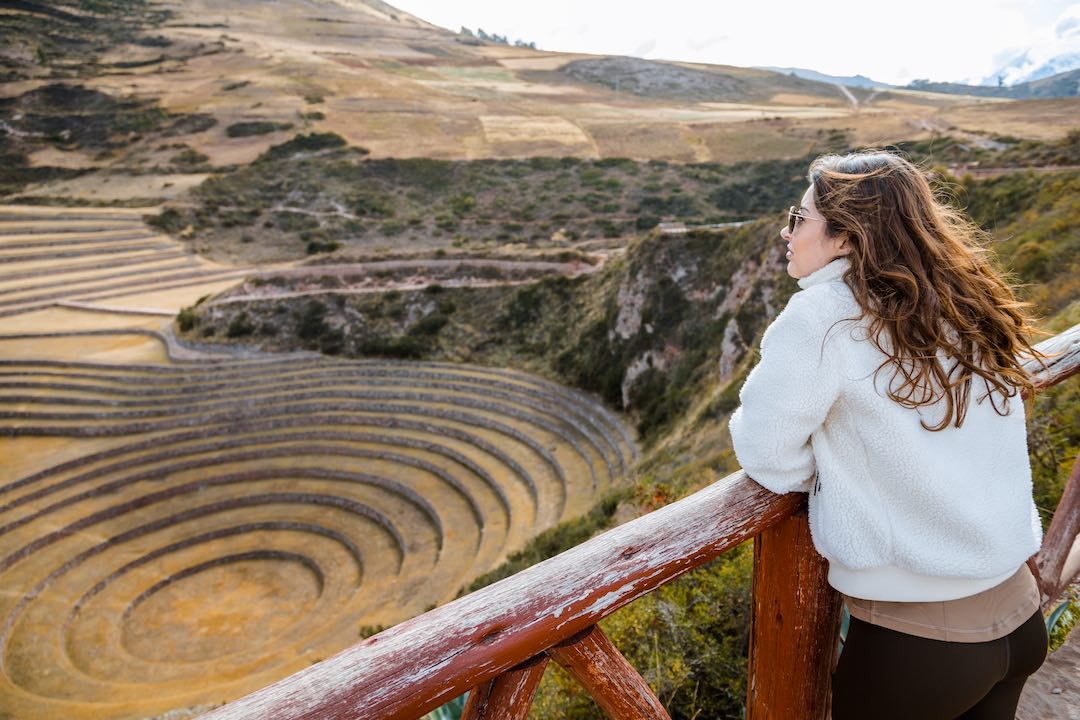 And finally to the salt mines of Maras (when you get closer you can see the miners working in their salt pods).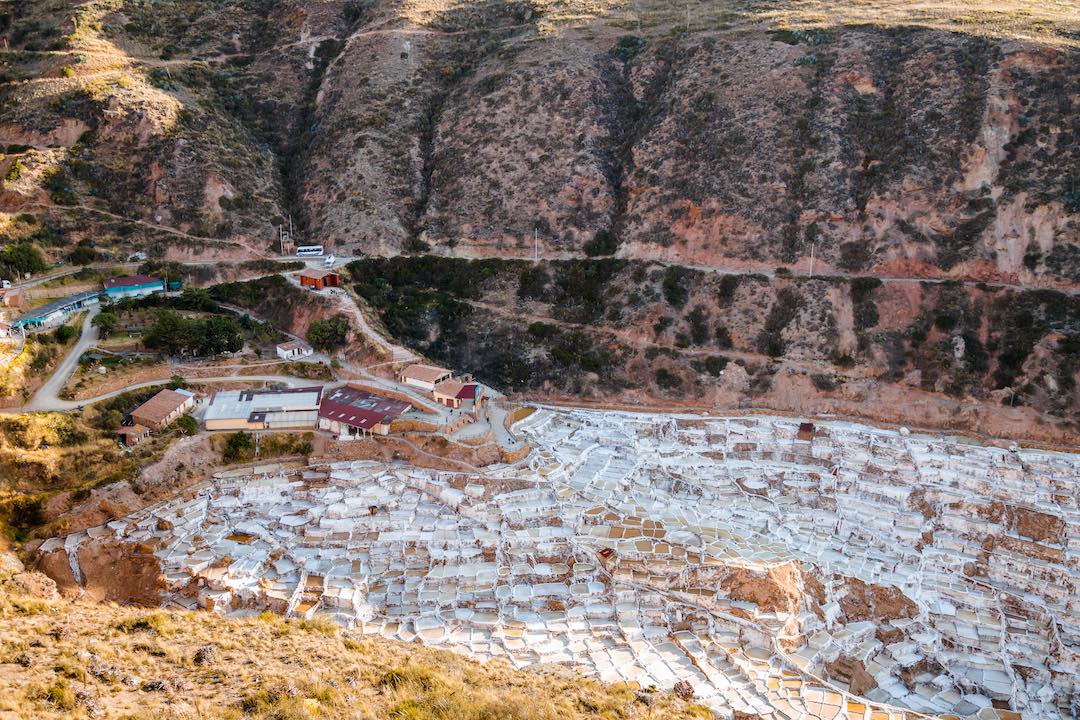 On our last night in Urubamba – at our fantastic rural hotel – our trip leader talks us through the hike in more detail and takes questions.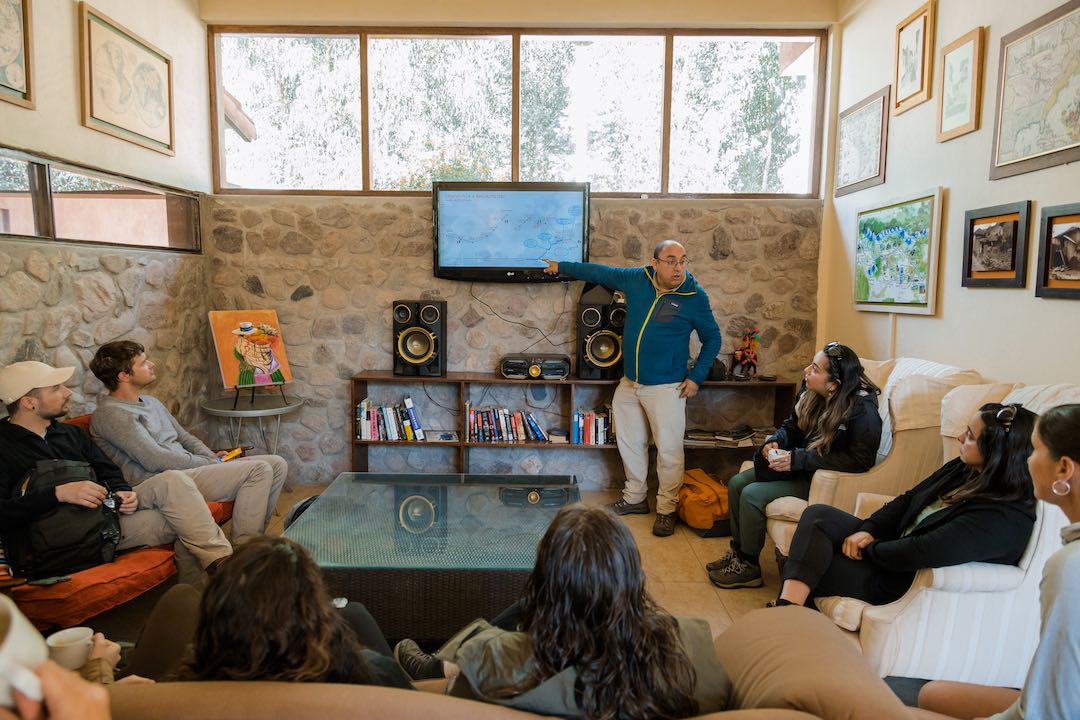 It's a great way to settle the nerves and makes sure we're good to go.
On the morning of the hike we get up early and make our way to what is known as kilometre 104, the starting point for the 2-day hike.
This involves a 40-minute bus ride from Urubamba to Ollantaytambo where we then catch a one hour train to km 104.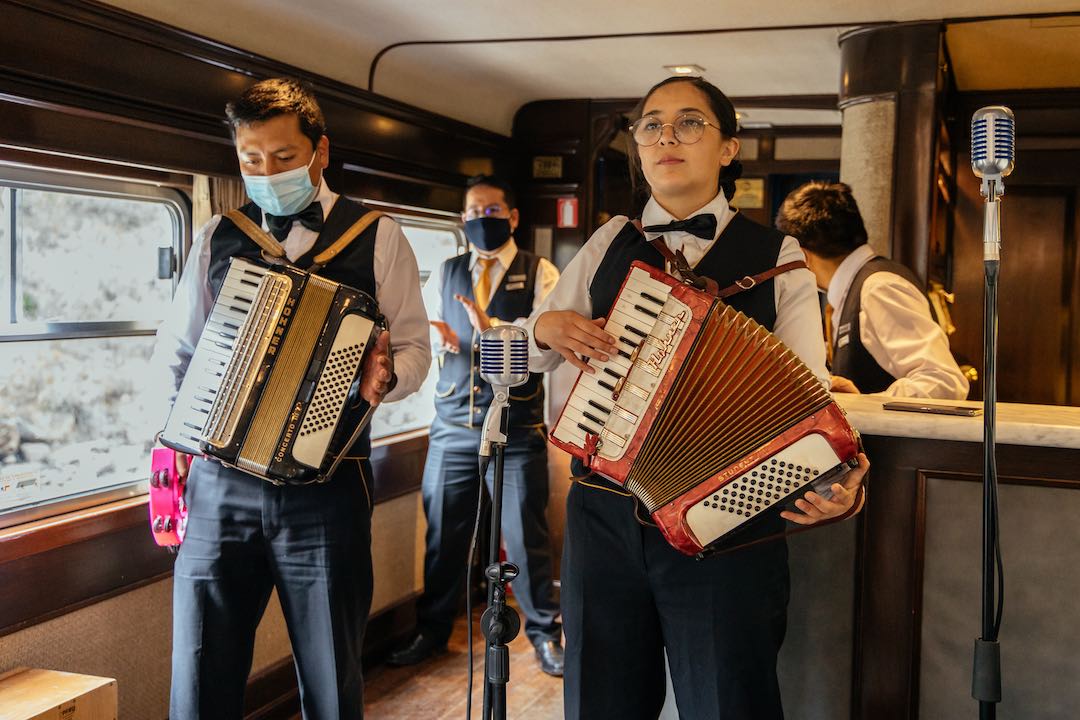 The train itself is an awesome experience, taking in spectacular views and with great onboard entertainment.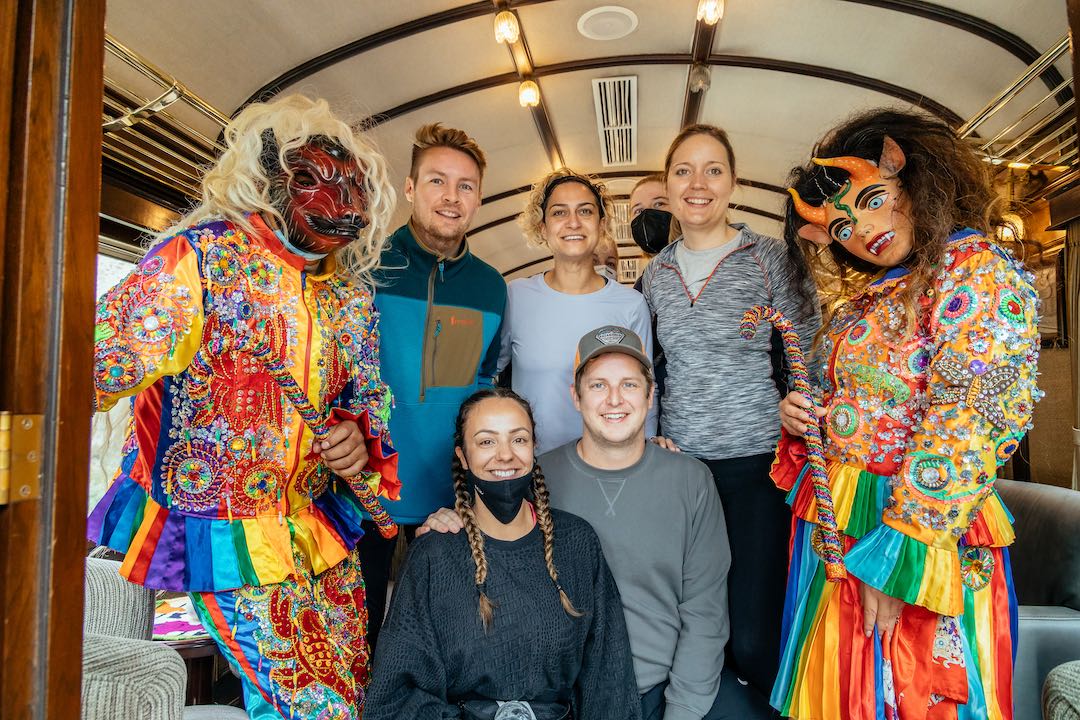 When we hit km 104 we jump off the train (quite literally) into somewhere that is seemingly in the middle of nowhere, and get ready to start our journey.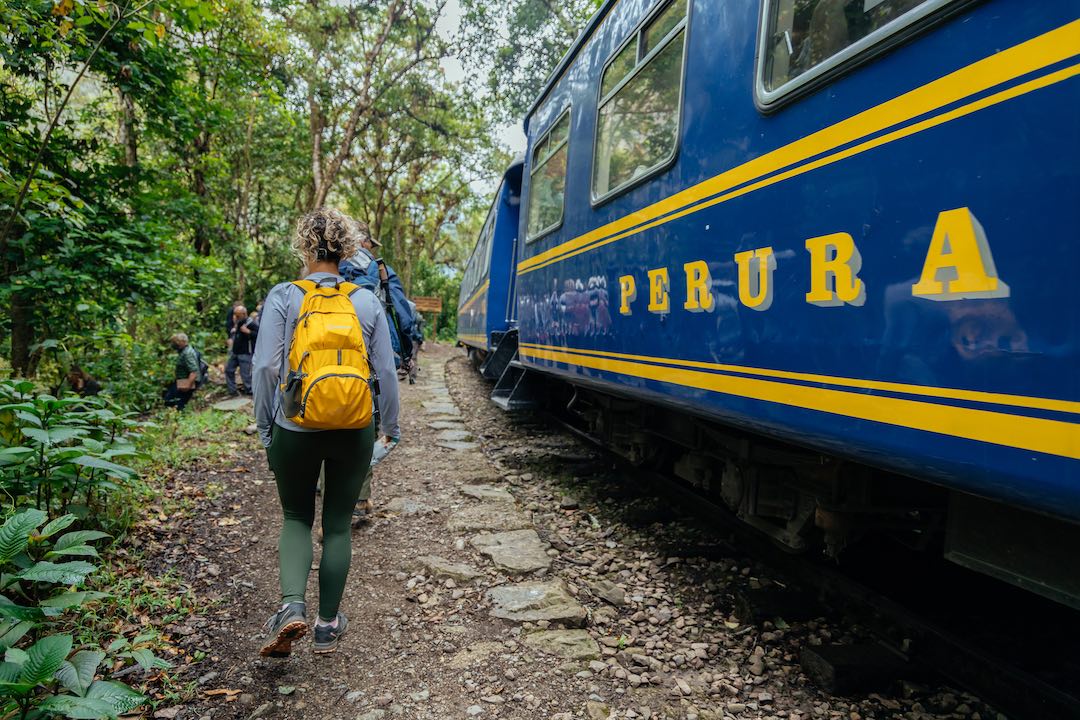 Great spot for a little group pic before starting the trail.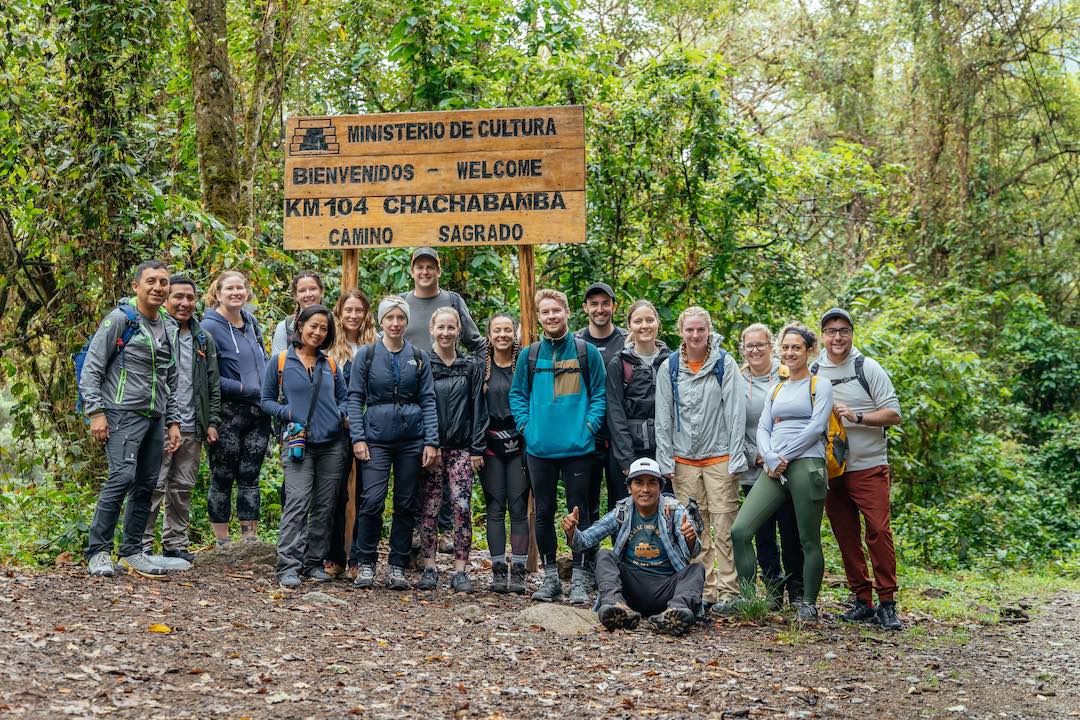 The hike itself is a 8 mile / 15 km stretch, starting at around 2,000m (6,560ft) and going to a max of 2,730m (7,970ft). It goes up, goes down, over bridges, under waterfalls, along cobbled trails, through ancient Inca sites and has spectacular mountainous views all around.
It's likely the most stunning hike you will do in your life.
We take it easy – there's absolutely no rush – and we tend to break into multiple smaller groups to cater for the different levels within the group.
We have a number of local guides with us.
One of the many Inca sites we pass through.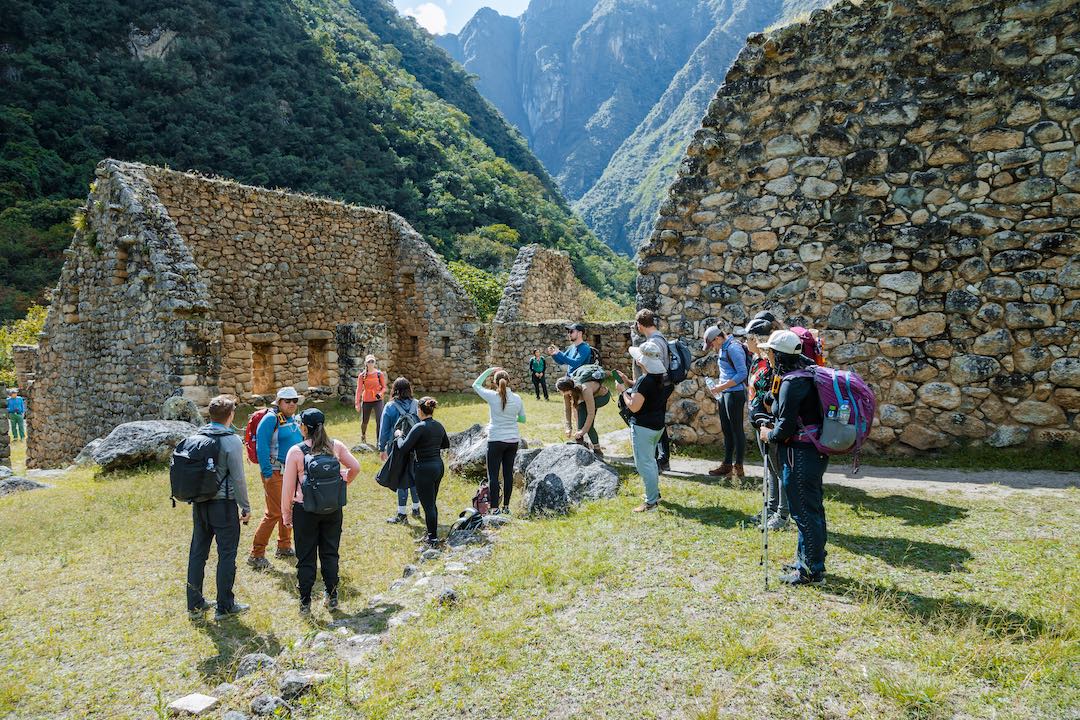 The terrain is varied which keeps it interesting.
There's definitely some steep parts.
But look at those views when you get to the top.
There are also lots of stretches where it's nice and flat.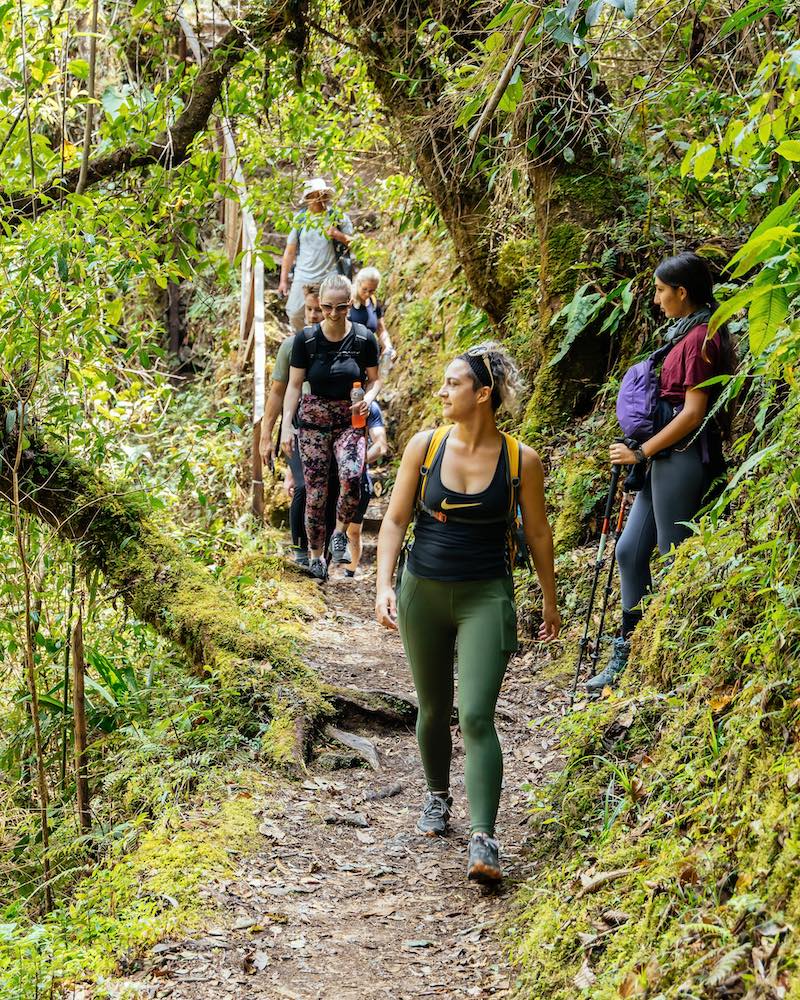 Plenty of points to stop for a rest (or a pic).
You may use your hands at some point.
But, come on, those views! (it's genuinely like this the whole way)
We know we're near the end of the hike when we arrive at Intipunku – The Sungate – an archaeological site with magnificent views down towards Machu Picchu.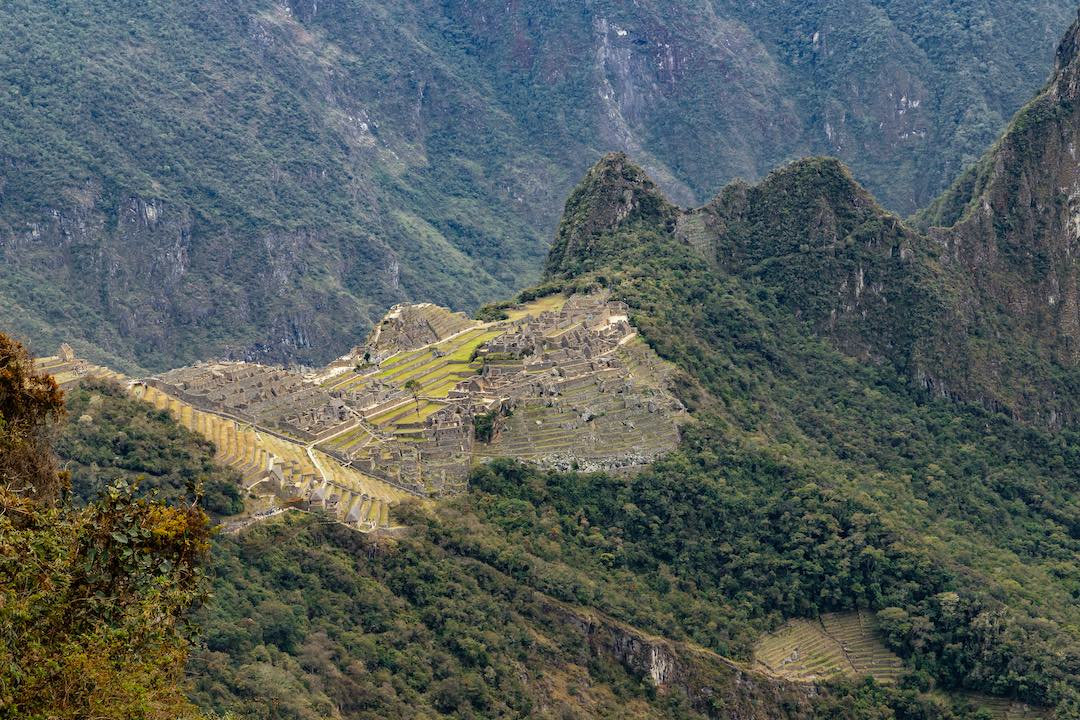 We normally arrive just in time to see the sunset.
From here we continue to make our way downhill towards Machu Picchu and will have a sneak peak inside (although we keep the major exploration for the following day).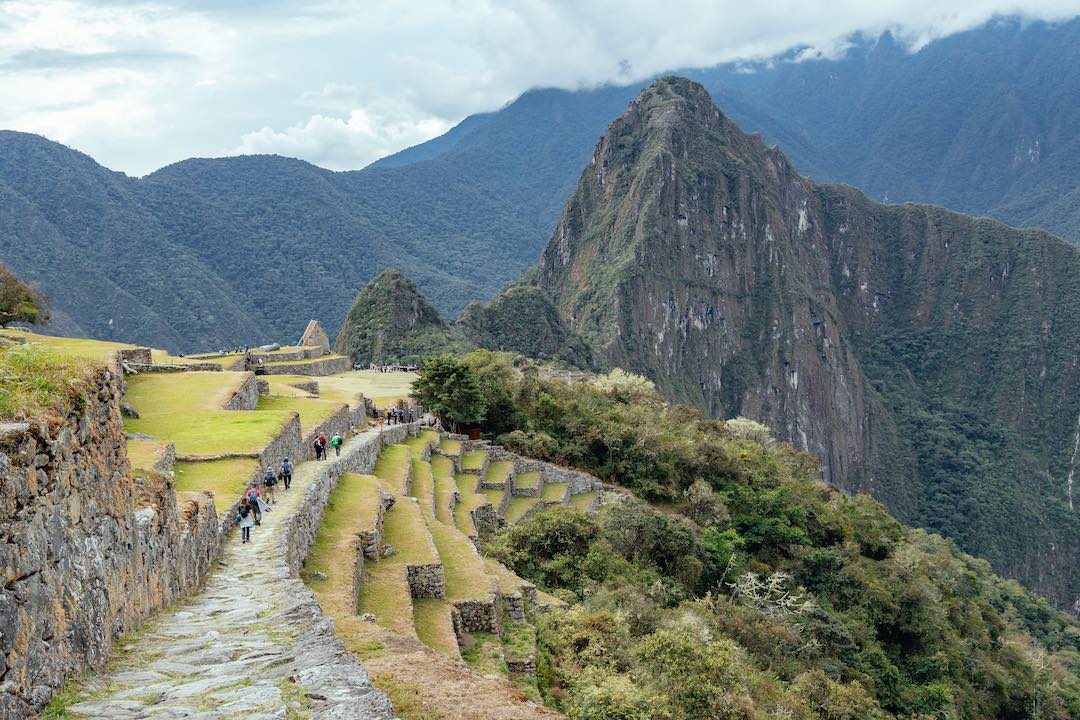 If we're lucky there's time for a quick snap just before the sun goes down.
The closest town to Machu Picchu is called Aguas Calientes (literally meaning "hot water") and named after the local thermal springs. It's a tiny little place, nestled within a deep valley in the Andes, and we stay there for the night.
(our evening here normally involves a hearty dinner and a celebratory drink following our efforts on the trail).
The town is about a 20-minute bus ride from Machu Picchu (and is also the place where we catch the train back to Ollantaytambo/Cusco).
The following morning we get up well-rested and ready to go see what all the fuss is about (i.e. Machu Picchu).
We head back up on bus and this time go inside the site where we do a 2 to 3 hour guided tour (you'll be amazed by just how back the site is).
Quite honestly, the place is nothing short of spectacular. It takes everyone by surprise.
To be there captures it in a way no photo could ever do justice.
In our humble opinion, it is a place everyone should try to visit in their life.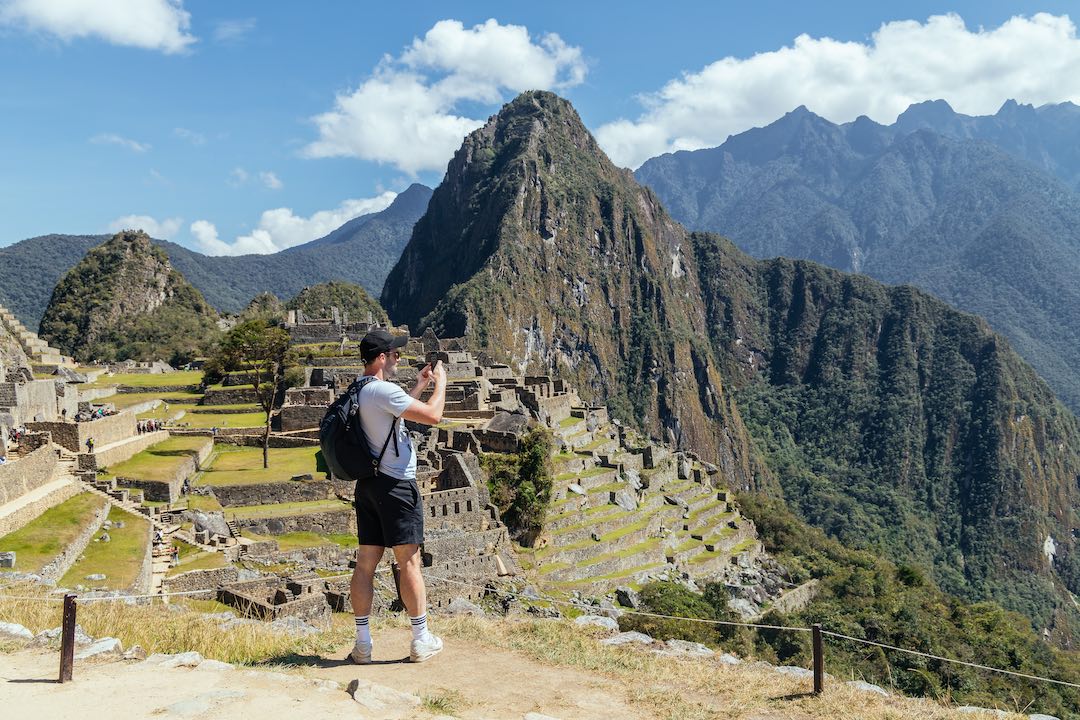 The site itself is vast and walking around it gives you a real sense of how it was once a thriving city of the Incas.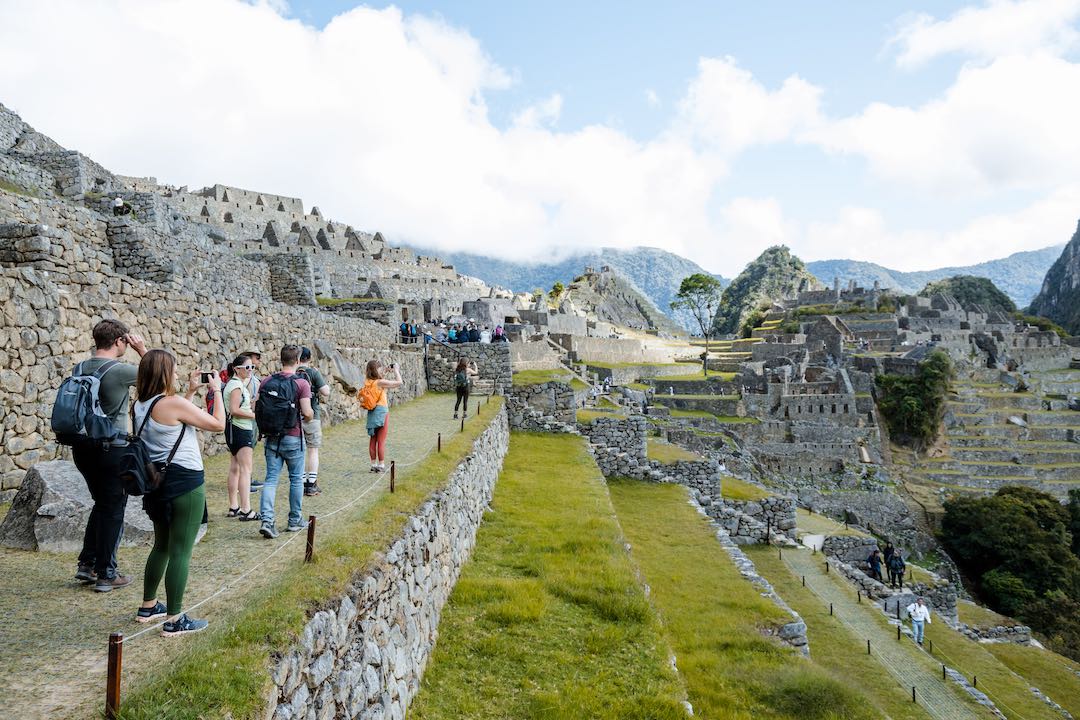 On this day we learn the history of Machu Picchu.
The buildings are still very well preserved.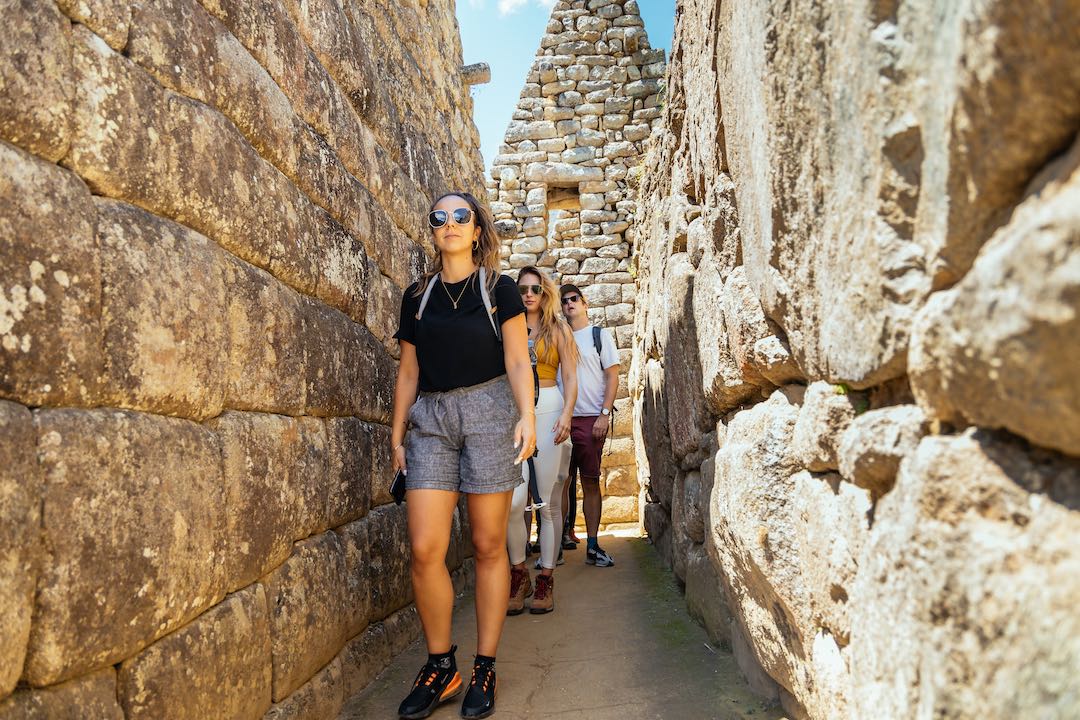 There's a real magical sense to it.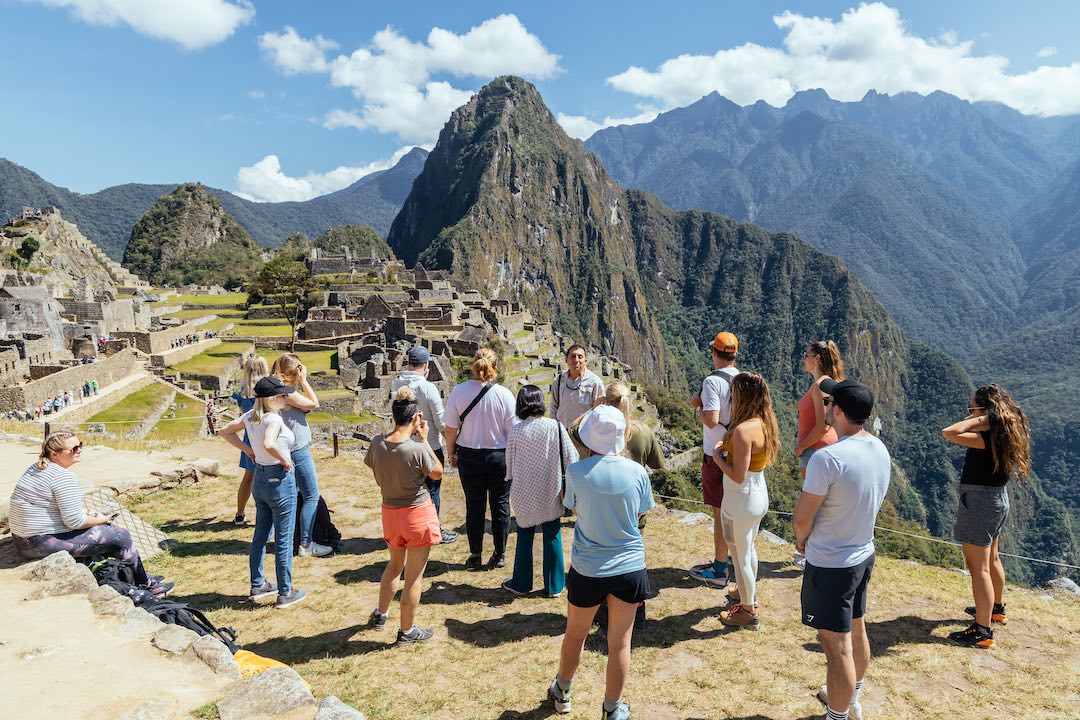 We visit many of the main buildings and learn what they were used for.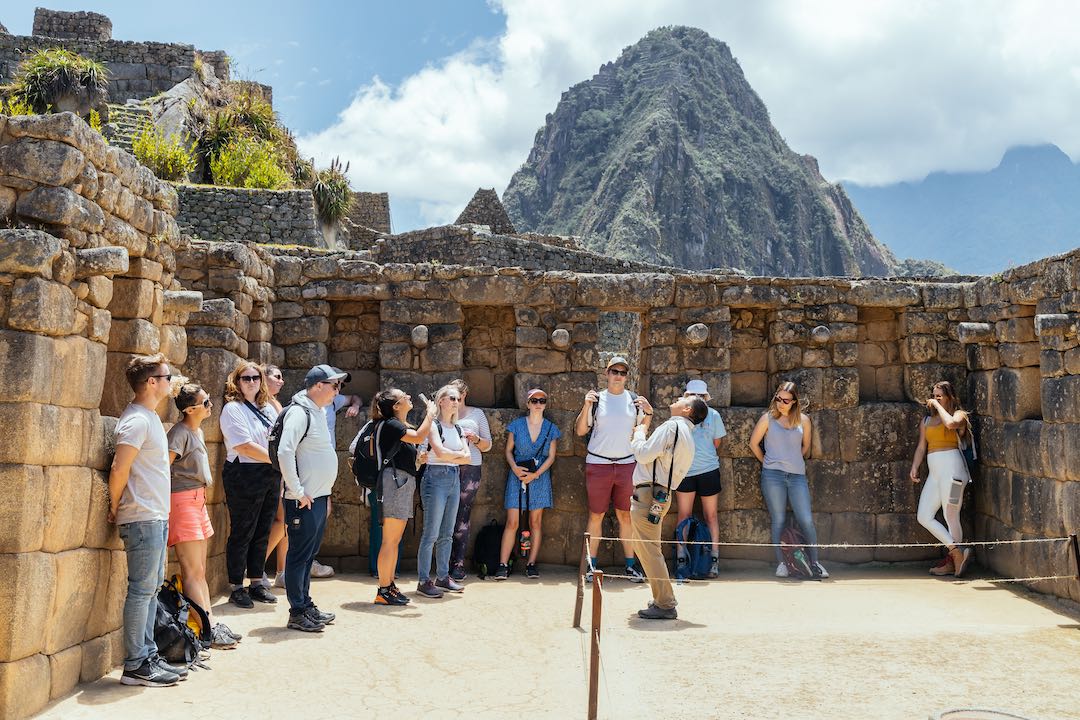 And, of course, we've got you covered for the best photo spots!
After our time at Machu Picchu, we make our way towards our next destination on our 12-Day Peru Tour – Cusco.
How difficult is the hike?
The hike is 8 miles / 15 km, going up and down. Some stretches are steep, some are flat. You need a reasonable level of fitness but you don't have to be super fit. We get people of all levels come and we adjust the pace accordingly (you will break into smaller groups with people around your pace). Expect to be hiking for around 6 hours, with plenty of breaks along the way. Think of it as a challenge, there is an immense level of satisfaction upon reaching the end of the hike.
What do I need to wear?
We will send you a packing list before the trip but in general similar to what you would wear on a hike at home. Hiking boots, gym/outdoor gear, rain jacket. It can be a bit chillier in the morning and then warms up as the day goes on so a good idea to have layers.
Have you secured tickets?
The tickets for the Inca Trail are capped and tend to sell out quite a while in advance. However, we partner with a local Peruvian partner who helps us secure tickets.
What's the elevation?
> Urubamba: 2,871m (9,420ft)
> Inca Trail: 2,730m (7,970ft)
> Machu Picchu: 2,430m (7,972ft)
> Cusco: 3,400m (11,155ft)
Do I need to take altitude sickness pills?
Some people do and some don't. You can purchase at a local pharmacy in Peru and can decide depending on how you feel while there. We adjust you slowly to the higher altitudes over a number of days.
What time of year is best?
Generally between April and September are the driest times to do the hike (and hence why we've scheduled our Peru trips between these months)
If you're keen to challenge yourself this year with the Inca Trail hike to Machu Picchu, come join our 12–Day Tour of Peru.