Tayrona National Park: In-Depth Guide to Otherworldly Parque Tayrona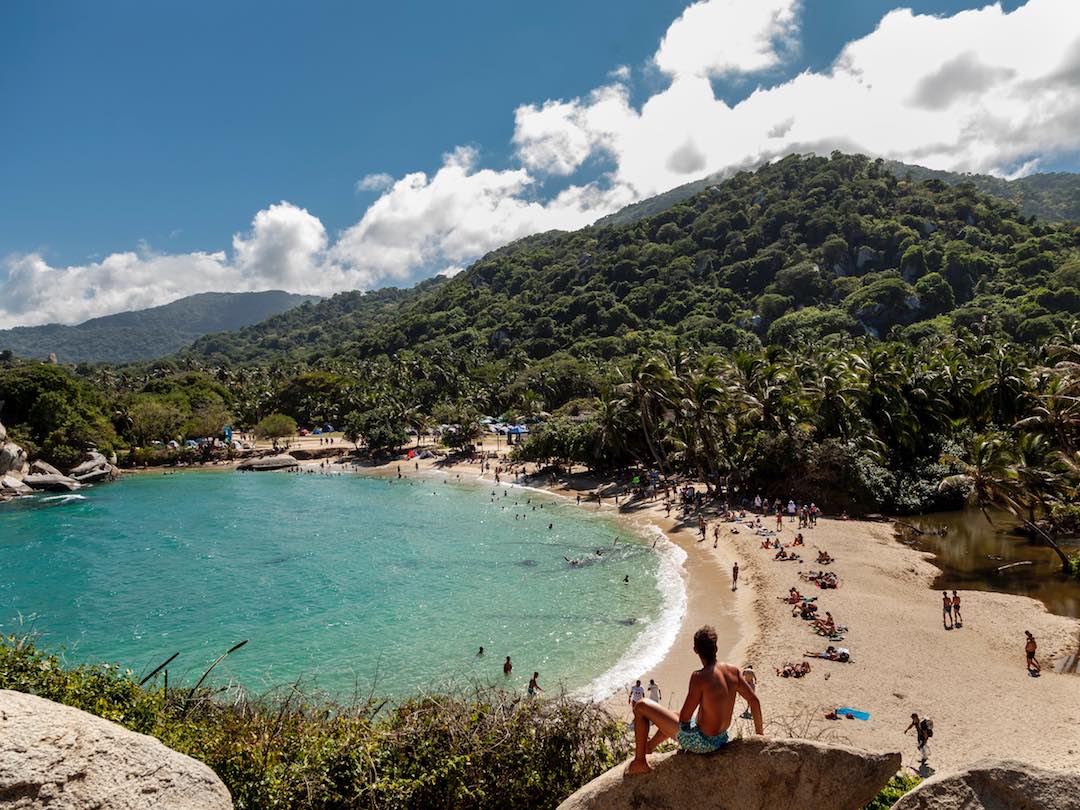 Welcome to Parque Tayrona, Colombia
Tayrona National Park.
A stunning piece of Caribbean paradise.
Some of the highest coastal mountain peaks in the world pressed against the turquoise sea. A destination that takes your breath away.
When planning a trip to Colombia, a visit to Parque Tayrona is a must.
You'll find miles of hiking, plenty of isolated stretches of sand for relaxing, exotic wildlife-spotting, and complete immersion in nature.
You could easily make a whole vacation out of the National Park alone.
Many Colombians do just that.
Because, as it turns out, Tayrona is just as popular with the locals as it is with foreigners.
And it's easy to see why.
Tayrona National Park is a mountains-meet-the-sea paradise.
Nestled ever so scenically, between the Caribbean Sea and the Sierra Nevada mountains.
You can spend your days lounging on the idyllic sandy beaches or hiking through the jungle trails. Just enough activity for the restless traveler and enough relaxation for the vacationer in all of us.
If the postcard views of rounded-off boulders tipped into the rolling blue waves and palm-tree-lined beaches weren't enough, the jungle here contains diverse wildlife and the preserved ruins from a past indigenous tribe.
Nature lovers and history buffs will be more than satisfied.
Whether you're looking for some peace and quiet or looking to hit the trails and explore, Tayrona National Park won't disappoint.
This guide will cover your entire visit to the park. Getting you to PArque Tayrona, helpful packing tips, must-visit beaches, a stunning array of accommodation, and everything in between.
What is Tayrona National Park?
Tayrona National Park is a preserved slice of land that for hundreds of years was inhabited by the indigenous Tairona people.
When the Spaniards came and 'colonized' Colombia the Tairona people moved deeper into the Sierra Nevada mountains where many of their direct descendants still live today.
Several indigenous communities, such as the Kogui tribe, as well as several ruins from old settlements, reside within the boundaries of the park.
Previously, you could visit the historical ruins of Pueblito but as of March 2019, they are permanently closed.
The Sierra Nevada mountain range is ecologically diverse and contains hundreds of species of wildlife.
The national park status aims to protect the wildlife and environment from destruction.
This is also why the park is closed throughout the month of February.
While visiting the park you will have the opportunity to spot caiman, cotton-topped tamarins, jaguars, iguanas, poison-dart frogs, and tons of vibrantly-colored bird species.
This all depends on what you're looking for.
But be advised that normally the park is closed every February. This is for spiritual cleansing and to allow the eco-system to recover following peak tourist season.
(At the time of writing there are also discussions to extend the closure to multiple times per year, therefore, make sure to check ahead of time).
If you're hoping for sunshine and comfortable weather consider avoiding May and September-November.
If you're hoping to miss the crowds don't visit during the weekends, holidays, or the peak season of December and January. But for those looking for a party–definitely plan your visit during this time.
But honestly…the park is beautiful year-round and it's better to see it no matter what, rather than skipping it because of potentially less desirable weather.
Getting to Tayrona National Park
First things first, let's get you into Colombia. Although the park is a hotspot for local tourists as well as international travelers, let's assume you're coming from abroad.
The Rafael Núñez International Airport located in Cartagena is the closest international airport.
Once you've arrived in Cartagena, stay a few days. Cartagena is a STUNNING city. It's known for delicious ceviche and late-night salsa dancing. Check out our full guide to Cartagena.
Santa Marta however, is the closest large city to Tayrona National Park. It's located about 4-hours outside of Cartagena by bus. This is the first step in getting to the park. You have a few options to get you from Cartagena to Santa Marta.
Public bus or Tourist Mini-buses are the most common and convenient modes of transport between the two cities.
Marsol or Moviliza Tourist Bus
Travel Time: 4 hours
Cost: $20 per person (if bought online or through your accommodation)
No need to book ahead of time just make sure to do it from your hotel or hostel. Stay away from the touts who mark up the price.
They love their A/C in South America. Bring a jacket.
Bonus: they pick you up straight from your accommodation.
Public Bus
Travel Time: 4-5 hours
Cost: $10/person
Hire a taxi to the public bus station. The bus station is far from the city center. It can take as long as 45 minutes to reach and should cost about $7.
Personally, I found the public buses to be more comfortable. The wind blowing in the hair was preferred to the blasting A/C and snack vendors frequently jumped on board.
Now that you've arrived in Santa Marta you have several options to reach the park itself.
The most common are a 40-minute taxi ride, another public bus, or onward to Taganga where you can arrive in Tayrona National park by boat.
Daytrips to the park are possible from Santa Marta but I wouldn't recommend them. The park is huge and you'll never see enough in a day alone. With so many camping, glamping, and eco-friendly accommodations inside the park there is no reason to not stay overnight.
The Taganga Boat Route
The boats leave the pier early with the last one leaving at 9:30 AM. You'll be dropped directly on Cabo San Juan, the parks most scenic and popular beach. Avoid this route during December-March when the seas can be choppy and dangerous.
Unless you plan on staying in one of the glamourous eco-habs of Tayrona you won't be living in luxury. Most accommodation involves camping or some level of roughing it. And your restaurant options will be limited. Here are some important things to consider bringing into the park to make your stay more comfortable.
Snacks! Pack those protein bars to fuel you up after the long hikes.
Water. Even if it's the only hike you plan on doing…you will have to hike into the park. It's always smart to bring extra water in case of emergencies.
Headlamp or flashlight. Especially if you plan on camping.
Lots of sunscreen and bug spray. You're in for a whole lot of sunshine and mosquitos.
Passport. You'll need it to get into the park.
If your budget concerned–pack some easy to prepare meals and extra water. A few restaurants reside in the park but they are rather expensive by Colombian standards.
Bring a padlock if you plan on camping. This will allow you to store your things safely in your tent or the lockers during the day.
Before You Enter the Park
Most travelers opt to stay a night in Santa Marta to get their ducks in a row before they venture onward. Here are all the regulations, restrictions, and suggestions you should know before you head to the park entrance.
You will need your passport, national park ticket (entrance fee low season: 55,000 COP — high season: 65,000 COP), and yellow fever vaccine card to enter. No one asked for our Yellow Fever Card but it is technically required to enter the park. So don't risk it, just read my yellow fever vaccine tip below.
You may also be required to pay 2,500 COP per person for insurance + rescue. This fee can be waived if you are part of a tour or have proof of complete coverage through your own travel insurance policy.
Consider leaving your largest bags in Santa Marta. Most accommodation will store it for you. You will be doing a lot of hiking within the park. Just to get into the park is a 1.5-hour hike. You can opt for a pack-horse, but why bring what you're not going to need.
Leave Santa Marta early. Get to the park at 8 AM when the gates open to avoid hiking in the heat of the day.
Plastic bags and alcohol are forbidden inside the park.
There are no ATMs inside the park so make sure to bring enough cash for your entire stay.
You cannot swim everywhere in the park. Observe signs for your own safety.
If you're interested in purchasing your National Park ticket ahead of time you can go to the official

Tayrona National Park Website

. They also have up to date info on park closures.
There are two entrances (aside from the boat via Taganga) to the park. Decide which one is right for you before you go.
Yellow Fever Vaccine
The yellow fever vaccine is officially recommended for visiting Parque Tayrona (although at the time of writing it is not mandatory).
Zaino Entrance vs Calabazo Entrance
Zaino is the traditional park entrance. But the Calabazo entrance is much preferred by outdoor enthusiasts and travelers looking to escape the crowds.
Pros to Zaino
Definitely easier. Only a 2-hour hike to Cabo San Juan beach and the option to do it on horseback.
You arrive at Cabo San Juan beach quicker. For those looking to swipe the highly-sought-after hammocks by the watchtower.
Great if you are crunched for time because it allows quick access to the bulk of the beaches without the jungle hiking.
This entrance is open until 4:30 PM, while Calabazo is only open until 3 PM.
Pros to Calabazo
Fewer people, therefore, less touristy. You might have the long 3-hour hike to yourself which increases your chances of spotting wildlife.
A truly scenic hike. If you're here for the great outdoors this is the trek you want to take.
You don't have to watch the 20-minute introductory video to the park. This entrance seems a lot less official. They barely glanced at our bags while the other seemed to thoroughly peruse them.
You'll likely get some alone time at Playa Brava.
Where to Stay: Inside & Outside Tayrona Nationa Park
As far as sleeping inside the park goes…your options are limited to the luxury eco-habs, several glamping cabins or camping. Many other hostels and hotels advertise, albeit misleadingly, accommodation for the park. They are all located just outside the perimeter.
Here are some of the highlights when it comes to sleeping arrangements inside and around the park boundaries.
Hotel Jasayma Parque Tayrona ( $$)
– Cozy cabins located just inside the Zaino entrance to the park.
– Luxurious wooden cabins tucked into the jungle. You'll feel immersed in the jungle and still remain relatively close to the parks main beaches.
Ecohabs Tayrona National Park ($$$)
– This is the closest to an all-inclusive resort you'll get in this jungle. Complete with your own bamboo hut modeled after the indigenous tribal homes, access to a phenomenal restaurant, shuttle service into the park, and a breathtaking spa. This is the ultimate glamour vacation.
Costeno Beach Hostel ($$)
– Comfortable rooms for beach lovers. This well-established surfer spot has beautiful bamboo huts, hammocks, and dorms for reasonable prices.
Finca Barlovento ($$$)
– These 'maloka' have perhaps the most accolades of any accommodation in Colombia. Heavily recommended by both Lonely Planet and TripAdvisor, this is the most picturesque hotel of the park. Surrounded by ocean and built into the coastline you'll be given every comfort possible here.
Camping in the Park
This is the most common form of Tayrona accommodation. You can camp at Bahia Concha, Playa Brava, Cabo San Juan, Arrecife, Carñaveral, and Castillete inside the park. These are the cheapest options for sleeping in the park.
At most sites, you will be able to choose between a hammock or a tent. Try to arrive as early as possible to score the premiere spots.
You cannot wild camp inside the park.
If you plan on camping you have to do so at one of the designated areas. And you will have to pay for your spot. You also will not be allowed to make a fire. So don't get your heart set on s'mores.
Best Beaches of Tayrona National Park
All of Tayrona's beaches have their own kind of charm. From calm swimmable waters to a clothing-optional bay. Here are some of the most noteworthy beaches in the park.
Arrecifes
This is one of the more exposed beaches with a long swatch of white sand and the easiest to reach. It's definitely not safe to swim here and it can get quite crowded being only an hour hike from the Zaino entrance.
La Piscina
The best beach for swimming. La Piscina is a lagoon sheltered from the brunt of the ocean and protected from the currents. This is the most kid-friendly swimming area. Unfortunately, there are no campsites here. About 30 minutes up the trail from Arrecifes.
Cabo San Juan
The postcard beach. This is "that Instagram photo". Stunningly beautiful, snorkel-friendly, and far-and-away the most popular beach in Tayrona National Park. The black volcanic rock, rolling waves, and huge boulders sitting on pale sand make for a picturesque scene. Approximately 45 minutes from La Piscina.
Playa Nudista
The nude beach. Nudity isn't required, but it is allowed. About 20 minutes up the path from Cabo San Juan this secluded patch of sand is far less crowded and worth the short walk.
Playa Brava
This is the least crowded beach in the park. Only reachable via a 3.5-hour hike from the Calabazo entrance, your hard work trekking through the jungle will be rewarded with isolation. You can swim here although you should always be careful of extra-large waves. To reach Playa Brava you must first hike to Pueblito, the indigenous site, only one way in and out of the beach so prepare for a lot of hiking.
Best Hikes of Parque Tayrona
Hiking in Tayrona National Park is like immersing yourself in an Indiana Jones movie. Thick jungles, wooden bridges, and tangled vines surround you and (hopefully) you'll get the opportunity to spot some jungle wildlife. Just to plop down on the beach you'll need to do some hiking, but here are a few hikes that head away from the coastline and into the mountains instead.
Tip: Hike early in the morning or closer to dusk for the best opportunity at spotting some wildlife.
Cabo San Juan to Pueblito
From the main beach, you'll hike about 2.5 km up into the jungle on clearly marked dirt paths. This takes you to the indigenous village of Pueblito. (This is also the route you trek to Playa Brava from Cabo San Juan.) Pueblito is a former Tairona peoples settlement. And although it is now closed to the public, the opportunity just to hike the rocky paths created hundreds of years ago is enticing.
Why is Pueblito Closed?
Pueblito is a historic sacred site but it is also an active indigenous village that shouldn't be exploited for tourism. In an effort to protect the tribespeople who reside there it has been permanently closed to the public.
9 Piedras Hike
Literally translated to the '9 stones' hike. Referring to the 9 large stones placed along the trail with a perfect circle drilled through each. The carefully drilled holes were used for cosmic viewing in ancient times. This is also one of the least traversed hikes in the park. And it provides some absolutely stunning views on a very easy loop. The trailhead begins at Cañaveral and is clearly marked.
Is Tayrona National Park Worth It?
Parque Tayrona can be difficult to get to.
It's far from major cities, more expensive than your typical Colombian adventure, and involves quite a bit of hiking in the balmy Caribbean sun.
(Which arguably could be why you're here in the first place)
But it's completely worth the effort.
Tayrona National Park is one of the most beautiful National Parks in the entire world.
Very few places allow you organic interaction with indigenous tribes as well as the ability to camp on the banks of turquoise waters and hike through protected jungles in hopes of spotting Colombia's unique wildlife.
The experience is once in a lifetime and you absolutely can't miss it on your next trip to Colombia.
Fancy Visiting Colombia With Other Travellers Aged 25-45?
We're Other Way Round and we bring together groups of adventurous travellers aged 25-45 for an immersive & authentic experience of travelling Colombia. Here's some of our most popular Colombia trips.
8 Days in and around Colombia's Andes mountain region covering Medellin, Guatape & Jardin. See Itinerary
8 Days exploring the most exotic places in Colombia including Cartagena, Bogota & Parque Tayrona. See Itinerary
15 Days covering the very best that Colombia has to offer. See Itinerary