Rediscovering the Joy of Life on a Trip to Medellin, Colombia
In this post Leslie (based out of New York City, USA) shares how her trip to Medellin, Colombia with Other Way Round Travel helped inspire her to make the most out of life.
How a Group Trip Inspired My Personal Growth
In the spring of 2019, I found my life solidifying; I was becoming set in my ways, even if those ways were not serving me well. In any case, I knew it was time to pull myself out of my comfort zone, so I booked a trip to Colombia through Other Way Round for that following November. 
Of course, I've taken vacations before, but this experience was different. In the past, I've always travelled with friends and family. We would book a hotel, plan an itinerary, or hire a travel agent. I was used to planning every detail down to a T, not just for holidays, but in my everyday life as well. This time, however, I knew it was important to relinquish control and surrender to the element of surprise. All I had to do was show up at JFK airport and trust that I was embarking on an amazing trip.
I knew that if I could adapt to the many frightening unknowns of this trip, it would be easier to implement changes in my daily life. And not only did I survive—I thrived. The trip was well coordinated, enabling me to relax and enjoy each moment without worrying about logistics.
An Experience of a Lifetime
My absolute highlight from the trip was a visit to the notoriously dangerous area of Comuna 13 in Medellin. Once a crime-ridden war zone, this labyrinthine hillside area on the Western edge of Medellin was home to 12,000 residents who lived in fear and violence. The district itself was previously used by rebels and other groups loyal to Pablo Escobar who smuggled drugs out of the city and gradually returned with illegal weapons. This area was once renowned for narcotic-related crime, poverty, and despair, but was eventually overthrown by the Colombian military and police in what was a huge operation that reclaimed the plagued city. 
(See also: Solo Travel vs Group Travel)
Now known as one of the most colorful and advanced communes in Colombia, the district's extraordinary transformation was palpable during our walks on the district streets. Each step taken and every corner turned throughout the walking tour left me mesmerized. The place is colorful in every possible sense of the word, and this forces you to be present in the moment, forgetting your past and not yet imagining your future. An aura of happiness struck me as we wandered the streets past playful children, spontaneous hip-hop performances, and endless street art.
The locals were warm, inviting, and cheery; they had left their misfortune behind and now carried a sense of pride for what they have endured and what the community has become. Noticeably, the community is now full of life and that youthful energy is contagious: I found myself eating homemade mango pops and sliding down a slide instead of using the stairs.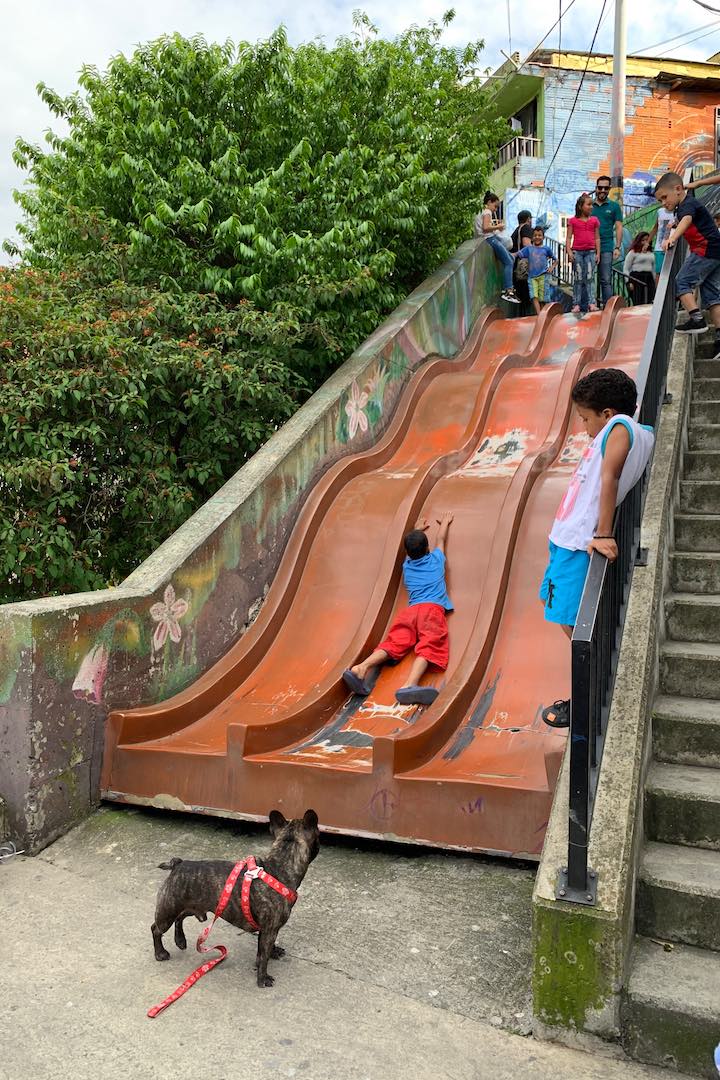 Moreover, its modern architecture, thriving commercial areas, and high-rise residences all stand in contrast to its past. Tourists from across the globe now flock to the revitalized neighborhood to experience its energy and stunning views, and I was no exception. Experiencing the development of this district is a true testament to the fact that change is possible. This belief has remained with me ever since.
Among the many brilliant qualities of this district, it was the vibrant street art that left me in complete awe. Our Comuna 13 experience was led by tour guide Doc, a graffiti artist and local resident. Through his guidance, we were invited to explore our own impression of graffiti, an element of creativity with which I rarely engage. I learned about the craft and how true skills come from nurturing your inner child. Allowing myself to simply let go, enjoy the process, and truly enhance my creativity are things I tend to ignore in a world of deadlines and financial pressures.
(See also: Group Travel In Your 30s & 40s)
Granted, the cultural experience didn't end there. I had an absolute blast (literally) learning how to play Tejo, Colombia's national sport that involves gunpowder! It has elements similar to bowling, but with explosives and a lot more fun. We danced salsa, picked our own coffee beans at a local finca, and ate the most delicious food. Arepas were definitely one of my favorite Columbian dishes, paired with local cheese and aguapanela, a traditional sweet drink made with panela. Devouring these treats along with the local hot chocolate is their daily culinary ritual called "tomar las onces," which I quickly embraced.
(See also: Swapping Solo Travel for a Group Tour)
People to Meet and Friends to Make
What I've learned about group travel is that it creates opportunities to meet individuals with whom one wouldn't typically connect. Although I was embarking on this journey alone, I was never truly alone. Traveling with Other Way Round meant good camaraderie; I was traveling with like-minded individuals who shared similar interests and truly enjoyed the spirit of travel. I found a real sense of community with the others. I managed to forge meaningful friendships with people from all over the world, many of whom I remain friends with today.
My newfound friendships meant a great deal to me, and I soon came to realize that the people you meet while traveling make it an exponentially more rewarding experience. One of the greatest pleasures of traveling alone is that it makes you comfortable talking to strangers. When you're on your own, you exude a certain openness that charms people, making it easier to establish conversations and friendships. Engaging in small talk about the weather outside has never set my soul on fire, but this was different. There was no shortage of laughter, fun, and deep and meaningful conversations during evening gatherings within the group. We exchanged stories, shared our passion for traveling, and even discussed the possibility of planning future trips together.
(See also: 23 Things to Expect on OWR Trip to Colombia)
Interestingly, in my college years, I considered myself a friend-making machine, and it was easy for me to maintain relationships with my social lifestyle. However, as I've grown older, my social circle has shrunk. Although I do still have a solid friend group, making new friends has seemingly become progressively more difficult with age. Adult life tends to get in the way of holding onto our friends as we change locations, jobs, and lifestyles, which aren't always compatible. Simply, I didn't realize how much I missed making new friends until I was there, surrounded by people with whom I so easily clicked.
Takeaways From My Travels
Life is a beautiful journey. Living is about the numerous experiences you encounter, the people you meet, and the places you explore. However, as we age, our propensity for risk-taking changes. Our fears begin to dominate, and we lose our innate sense of spontaneity and wonder. The more we engage in our routines, the more they become part of our identities, and the scarier it is to break them.
Although Colombia is doing its best to move towards a brighter future, its past is still very much documented in its cities. Nevertheless, what stood out the most to me was the sheer beauty and visible hope that was everywhere I went, from the local community who was so welcoming to us, to the stunning creative scenes and growing tech-driven landscapes. It has so much to offer, and truly does have something for everyone.
Compared with how I felt before this experience, I've learned so much about myself as a person and I now feel motivated and inspired to take the next challenging step. Had my preconceptions and worries taken a hold of me, I may not have booked this trip and would have missed out on so many wonderful life learnings.
Now I'm geared up to continue stepping out of my comfort zone. Perhaps I'll invest in my personal growth or regularly attend networking events to strike up conversations with strangers. Either way, I'm looking forward to creating a better version of myself every day through travel and the many experiences that life has to offer.
Not only will I not forget my inner child, as Doc instructed; I will bring her out to play.
Join Our Group Tours for Solo Travellers Aged 25-45 !
We're Other Way Round Travel and we bring together groups of solo travellers aged 25-45 for immersive & authentic trips to the most exotic places in the world. Here's some of our popular trips.
11 Days in Mexico. Breathe in the pulsating Mexico city, roam the charming streets of traditional Oaxaca, and hit the beach in sun-drenched Tulum. See Itinerary
12 Days in Brazil. Admire street art in São Paulo, trek rainforests in colonial Paraty and marvel at the madness of Rio de Janeiro. See Itinerary
12 Days in Peru. Cook ceviche in Lima, sail the Amazon, hike to Machu Picchu and become awestruck by the Sacred Valley. See Itinerary
15 Days in Colombia. Dance salsa. Meet coffee farmers. Sail tropical islands. Hike lush jungles. Taste the finest Caribbean rum. See Itinerary