Group Travel for Introverts? (the best of both worlds)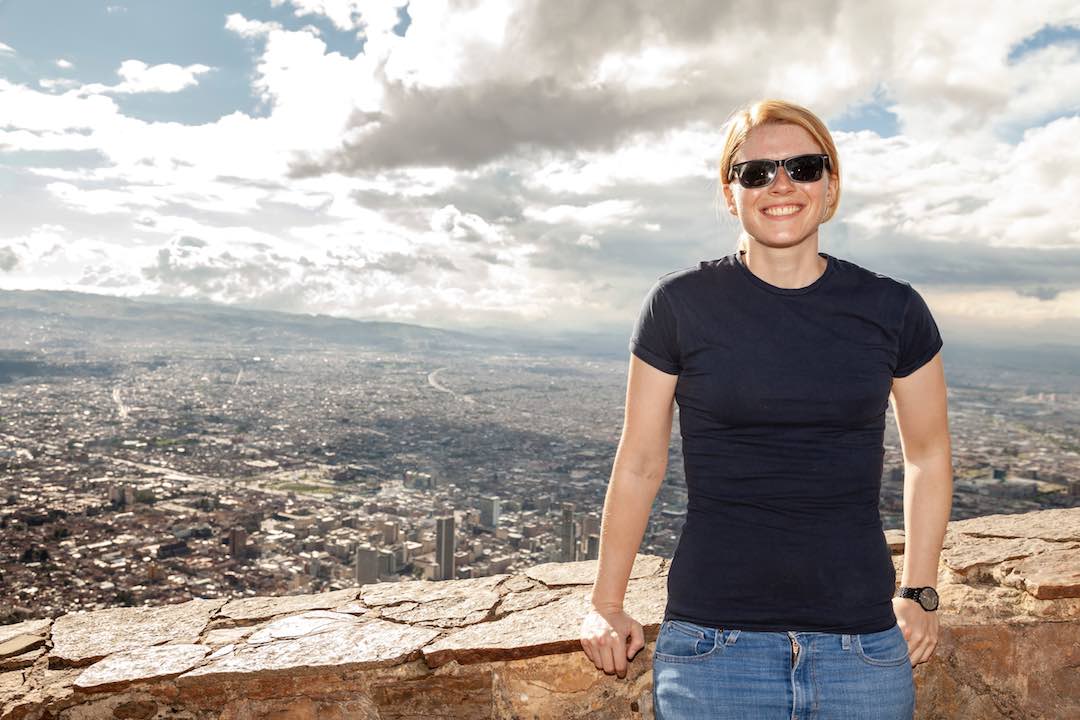 In this post Francesca Ball (from the UK) tells us what it's like travelling on a group tour as an introvert, based on her experience during a Colombia group tour with Other Way Round Travel. 
A Dilemma – Solo Travel vs Group travel
It was late Spring in 2019 and I was facing a dilemma. 
Having only been home for less than 5 months since my last trip, three wonderful weeks exploring California, my itchy feet were returning with a vengeance.
My insatiable appetite for seeing the world, first realised at 16 years of age on a month-long school trip expedition to Peru, was only growing exponentially by each passing year.
I caught the travel bug, literally and figuratively (having contracted malaria on the above-mentioned trip) and I would save as much money as I could when I received my salary at the end of every month, to see the world as often as money and time off work would allow. 
Anyway, back to my dilemma.
My computer mouse was poised over the 'pay now' button, having inputted my credit card details to pay the deposit for a new adventure, my apprehension quite uncharacteristic when committing to a trip.
Something was stopping me from pressing that button. Deep down, I knew the reason for my trepidation.
I was about to book onto a group tour of Colombia. 
I usually travel alone, or occasionally with my father if my destination of choice piques his interest. I was, however, beginning to wish that I didn't have to travel solo so often and had been considering, but with no particular urgency, booking onto a group tour.
It seemed the only way to not be alone whilst travelling, but the thought of being in a group with 18 year olds on a gap year, wanting to 'find themselves' and being more interested in alcohol than seeing the sites, filled me with absolute dread.
Horrible stereotype, I know.
(See also: Solo Travel vs Group Travel)
I liked the idea of having like-minded people to share the experience with, as solo travel can be very lonely. 
Especially, if like me, you are an introvert. 
My seeming inability to strike up and, most importantly, sustain a conversation with a stranger always got the better of me. I had twice stayed in a hostel, where meeting people and socialising are synonymous, but both times I shied away and kept myself to myself, much to my annoyance. 
I had ear-marked a group tour to Colombia with Other Way Round – the itinerary sounded fantastic and I was desperate to get back to South America – the place that had captured my heart over 15 years ago. 
After several minutes, which included giving myself a stern talking to, to stop being ridiculous, I clicked the button on the payment screen and that was it. I was confirmed and booked onto my first group tour as an adult.
My excitement soon pushed any worries to the back of my mind as I began to book my flights and research the places I would be visiting. 
(See also: Group Travel In Your 30s & 40s)
Travelling With Strangers!
It wasn't until a few weeks before I was due to arrive in Colombia that it suddenly hit me what I'd signed up for.
Two weeks in Colombia with a bunch of strangers, who I would have to spend every waking minute with and even have to share a twin room with someone I'd never met.
What had I done?! 
Now you're probably wondering why I had chosen this tour out of all of the others I had looked at.
The major appeal was that there was a specified age range of 25-45 and smaller group sizes. That meant none of the aforementioned rowdy 18 year olds, just hopefully like minded travellers who wanted an authentic experience. 
I am a fairly laid back person, but in the weeks leading up to my departure, I began worrying – was I going to get enough time on my own, would people think I was rude or snobbish if I didn't actively join in with every conversation, would they favour talking to more outgoing people over me, would they be offended if I wanted to explore somewhere alone?
The new country and culture I was about to visit didn't scare me, neither did the fact I was scheduled to arrive a few days prior to the tour beginning, just so I could have extra time to explore on my own.
Everything was exciting to me, apart from the fact that I would be in the company of, and have to get on with, a group of strangers.
This, I felt, would either make or break the trip for me.
Well, I need not have worried. 
It sounds like a cliché, but all of my tour group were friendly, welcoming and respectful.
(See also: Swapping Solo Travel for a Group Tour)
Being on a Group Tour as an Introvert 
In the first few days of the trip, I felt slightly self-conscious when the extroverts were laughing and joking.
I was enjoying the conversation too, just not contributing much. 
As the days progressed, I became more comfortable with just being myself and I also found solace with other introverts on the trip.
These 'strangers' I had worried about became friends.
I enjoyed their company and hearing all about their lives and experiences. Conversation flowed naturally and easily. It was a joy to be around these people, not a burden like I had inexplicably imagined.
I also need not have worried about feeling like I needed time alone – there were plenty of opportunities for me to do that.
Whilst my fellow travellers were chatting on the bus journey to our next destination, I was quite content to sit in silence, watch the wonderful scenery out of the window and listen to music.
I could dip in and out of the conversation as much or as little as I wanted to.
When we had free days, I was able to wander around on my own, likewise at the beach or by the pool of our hotel.
But very often, even surprising myself, I found myself not craving this solitude. I genuinely enjoyed spending time with these wonderful people I had bonded so strongly with. 
Having said that, it was great to have other introverts on the trip too, as we understood each other and felt at ease with each other there.
I enjoyed one-on-one or small group chats and those were plentiful too.
I quickly realised that you can have the best of both worlds on a group tour – quiet time alone if I wanted it, long deep chats about life with my room-mate, or raucous times with the group.
I fully embraced every moment and struck a balance that worked for me perfectly.
(See also: Small Group Tours for 30 & 40 Year Olds – Debunking the Myths)
One moment sticks vividly in my mind whilst on the speedboat back from a truly wonderful day at the Rosario Islands.
Most of the group were chatting, laughing and enjoying beers at the front of the boat and I was sat at the rear with a few others. Those of us at the back were sat in silence, the only noise was the thumping Reggaeton music being pumped through the speakers.
The sun was beautifully warm on my skin, the welcome breeze was keeping me cool and I sat with my eyes closed and, in that moment, feeling blissfully happy.
My stomach was full of the delicious fish and rice we had eaten for lunch and my heart was full of gratitude.  
I looked over at my fellow travellers alongside me and could see that they too were each having their own moment of quiet contemplation – eyes closed, smiles on their faces, enjoying and living in the moment, just as I was. 
My new friend, sitting next to me, saw me looking over. "Life is good, huh?" he said with a broad grin. 
It certainly was, and I was loving every second.