Group Travel In Your 30s & 40s – what you need to know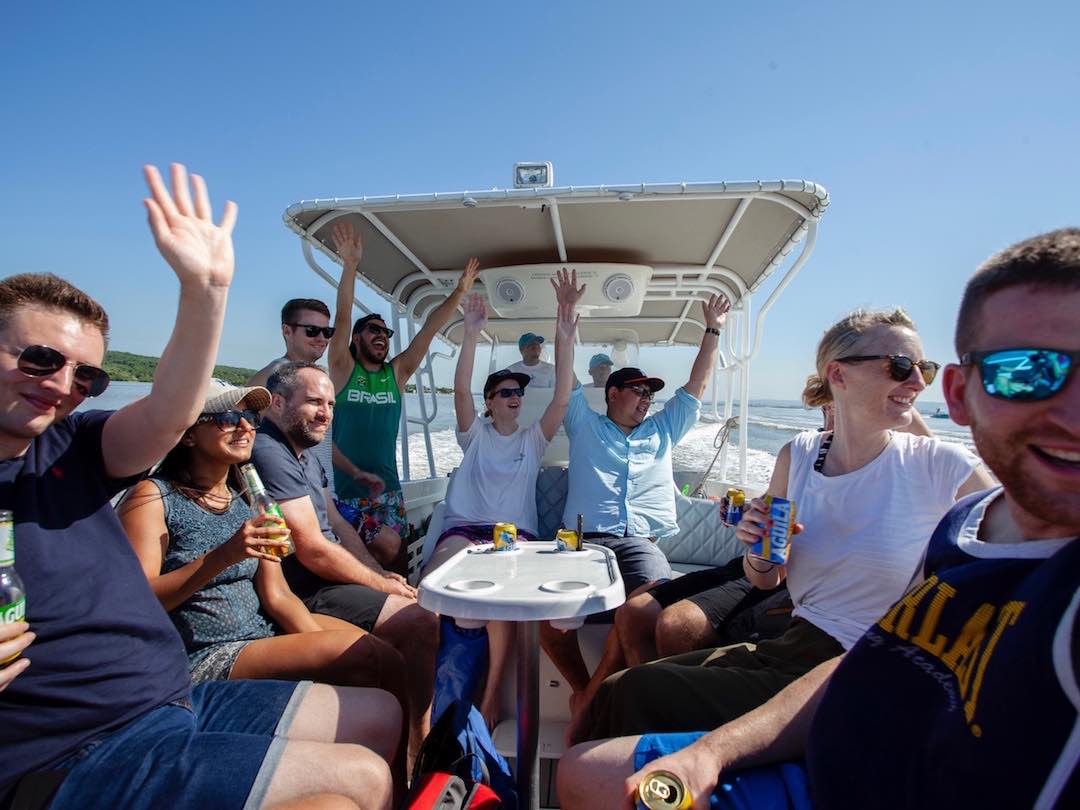 Hi, I'm Steve.
About two years ago I started a group travel company called Other Way Round.
I done it because –
I'd been on group trips before and experienced how amazing they could be
I felt there was a need for a more modern version of a group tour that better suited people in their 30s and 40s (I'm 38 btw).
I had never worked in travel before, I certainly was no group travel expert – I simply had a vision of the type of company I myself would like to exist and travel with.
To be honest it's been one hell of a learning experience.
Yes – I was already a group travel fan – but by being able to observe things from the other side I've gained what I think are some really valuable insights.
Here's some of the things I've learned.
(Read also: Why I Started a Group Travel Company for 30 Somethings) 
1. There's Definitely a Stigma, But it's Changing
Many people have negative perceptions about group tours and see them as being too "touristy" or "unadventurous". At one extreme they imagine the type of coach tour their parents might do while at the other, some debaucherous 18-30 trip filled with drunken youngsters. But I believe that many people of my generation (30s & 40s) are now warming up to the option that a group tour could be a great alternative to going it alone. In fact, 70% of our customers had never been on a group tour before travelling with us (I find that kind of cool).
(Read also: 9 Myths About Group Tours in Your 30s and 40s) 
2. Most People are Nervous About Who Else Will Be On the Trip
How old are they? Where do they come from? Are they male or female? How many people will there be? You'd be amazed by how often we get asked these questions. And it's perfectly normal. Human nature I'd say. If you're going to spend such an intense period with "strangers" you at least want to know that that you're likely to have things in common. That's why when we started Other Way Round we decided the focus would be group travel for people in their 30s and 40s. 
3. The Group Pretty Much Always Gets Along
In fact (touch wood) we've never had a bad group. Actually, we've only ever had brilliant groups. I can say that with all honesty. The thing is, most people who travel on our group tours tend to be of a similar mindset. They may not have the same careers, hobbies or interests but when it comes down to it they usually have a similar philosophy on travel and that always helps to create a bond.
4. You Will Meet People You Would Normally Never Interact With
And that's a good thing. I don't know about you but most of my friends come from similar backgrounds and do the same things. On group tours you will meet people from every walk of life – people you would never normally interact with – and that really helps to open your mind.
5. These People Will Become Like Family. Your "Holiday Family"
Some may be lucky enough to meet "lifelong friends" while for others it will just be a great bunch of people to share an amazing experience in that particular moment of your life. You will laugh with them, sometimes even cry, have deep and meaningful conversations about life, and they will have your back like a longtime friend. They will become your "holiday family" and the intensity of the bond created in such a short space of time is something truly magical to experience.
(Read also: Swapping Solo Travel for Group Tour)
6. Be Careful Not To Judge People Too Quickly
We've all done it. Someone joins the group and instantly you think – "this person is going to be a nightmare". Almost always, this turns out not to be the case.
7. The Cultural Exchange is Multi-Faceted
We travel to some of the most exotic destinations in the world (including Colombia, Mexico and Peru) and of course a big part of that is learning about the local culture. But sometimes the biggest cultural exchange is actually between the guests on the trip. The cross cultural banter (between the Brits and Americans for example) is often a highlight of the trip.
8. The Hassle-Free Factor is Real
Going in I believed that by far the biggest value of a group trip was the opportunity to meet and travel with other people. And while that's definitely important, I've heard from many guests that the thing they really enjoyed most was not having to worry about planning and logistics. It was their first holiday ever where they've been able to simply turn up, relax and enjoy it. Everything was sorted for them and they could really have that break they were so looking forward to. Don't underestimate how important this is (I no longer do)!
9. There Will Be Louder People and Quieter People
And that's ok. In fact it's almost necessary to help bring a good balance to the group.
10. Girls Do It More Than Guys
I'm not quite sure why but it definitely seems to be the case. I personally have a theory about "male bravado" (in the same way that men very rarely go to group classes in a gym) but I have no idea if that's actually true. What I would say to my fellow "blokes" out there is that group tours in your 30s and 40s really are a great option and you're definitely missing out if you don't consider it. (p.s. the photo below is what happens when 9 guys do a Champeta dance class in Colombia) 😉
11. The Roommate Thing is Never as Big A Deal as it Seems
If you don't already know, most group travel companies price their trips based on you sharing a twin room with another traveller (assuming you're travelling solo). That can seem very daunting I know, but it's almost never an issue. In fact you'll be amazed at just how quickly you get used to it. Some roommates will get on like a house on fire and become "besties". Others will simply co-exist and get on with it. Trips tend to be so busy that you don't spend much time in the room and it's normally a non-issue (and if it is something you really don't want to do, usually there's the option to pay more for a private room).
Still On The Fence? Here's My Advice
So there you have it.
Two years in and that's what I've learned about group travel for people in their 30s and 40s.
I genuinely am the biggest advocate of group tours (as you can probably tell) because I believe they are an amazing option for people who want to go on holiday but don't have others to go with. 
If you're on the fence my advice would be to give it a go.
There are so many awesome tour companies out there that you will definitely find something you love.
Group Tours Designed for 30 and 40 Year Olds
If you are looking for group tours for people in their 30s and 40s then our itineraries at Other Way Round could be up your street.
We specialise in bringing together groups of this generation with a focus on a more immersive style of travel than your typical tour group. 
Take a look at some of our favourite itineraries.
11 Days in Mexico. Breathe in the pulsating Mexico city, roam the charming streets of traditional Oaxaca, and hit the beach in sun-drenched Tulum. See Itinerary
15 Days in Colombia. Dance salsa. Meet coffee farmers. Sail tropical islands. Hike lush jungles. Taste the finest Caribbean rum. See Itinerary
12 Days in Peru. Cook ceviche in Lima, sail the Amazon, hike to Machu Picchu and become awestruck by the Sacred Valley. See Itinerary