26 (Awe-Inspiring) Best Places to Visit in South America
South America's Most Spectacular Destinations
Planning a visit to South America? Let's pack your itinerary with the most stunning destinations the continent has to offer. As a whole, South America is a diverse land-mass filled with rugged mountain terrain, icy glaciers, cacti-spotted deserts, world-class beaches, and colorful pastel towns.
Popular among long-term backpackers but also for week-long bucketlist crushing excursions. The Southern continent has a little something for every kind of traveler. 
But what are the best places to visit in South America? 
It depends on what you're looking for. Each destination offers unique experiences whether your focus is cultural, natural, or uncovering South America's hidden gems. 
But first, let's talk about what you can expect on your first visit to South America.
What to Expect from Travel in South America?
Blessed with a favourable "bang for your buck" ratio, South America is also a relatively easy destination for first-timers.
With a well-established tourist infrastructure, access to Uber and Airbnb (two traveler favorites), and locals exuding a warm welcoming demeanour – it's an easy continent to traverse. 
The cities are cultural powerhouses brimming with delicious regional eats and, typically, an emphasis on art and tradition.
The spaces in between, however, are equally important. South America contains some of the most magnificent and archeologically significant landscapes in the world.
Travelling Solo in South America?
South America is a phenomenal place to solo travel.
With warm and friendly locals and plenty of fellow travellers, you'll find it easy to make connections along the way. 
If you're looking for female-specific solo-travel tips be sure to check out our full blog post with 38 practical tips for solo female travellers so you can travel with confidence. 
Best Places to Visit in South America?
There are infinite reasons to visit South America.
Stunning natural beauty, historical sites, self-exploration, or simply a curiosity of Latin culture.
These are the most bucketlist-worthy destinations in South America to experience all that the continent has to offer.
Best Cities to Visit in South America for Cultural Experiences
For intrepid travelers looking to immerse themselves in the "authentic" South America, there's no better place to start than these bustling Latin cities. You'll quickly forge a connection with the destination by better understanding their rich traditions and cultural heritage.
Wander through Medellin's many parks and plazas scattered with Botero's signature overly-stuffed sculptures, museums, and over-the-top cathedrals and you'll understand why this is one of South America's most popular travel destinations. The "City of Eternal Spring" offers travellers stellar food, bold street art along the walls of Communa 13, and views from Parque Arvi only reached by cliffside gondola.
Perhaps, the most strikingly beautiful of the major South American cities. Cuzco, the former capital of the ancient Incan empire, is filled with stunning Baroque churches framed by the rolling hills of the Sacred Valley. It also holds the title of the oldest inhabited city in the Americas.
3. BUENOS AIRES (ARGENTINA)
In a country famous for Tango, wine, and colonial architecture there's perhaps no city more authentically Argentinian than Buenos Aires. Pour yourself a heavy-handed glass of Malbec and stroll through the beautifully crafted neighborhoods that birthed the sashaying dance of Argentina in the 19th century. Packed with museums, art galleries, and fine-dining this bustling city captures the romance of Argentina.
4. RIO DE JANEIRO (BRAZIL)
There's no shortage of thrilling activities for travelers in Rio. Christ the Redeemer, Sugarloaf Mountain, Copacabana beach, the list goes on and on. But Rio is more than dramatic viewpoints and sunny white-sand beaches. It's the cultural hub of Brazil. Time your visit during the annual celebration of Carnival to see Rio at its most colourful.
Sitting at nearly 12,000 feet elevation, La Paz is the highest major city in the world. A winning combination of modern metropolis mixed with the colourful local traditions of the local Aymara people, La Paz welcomes visitors to meander through its witches' market, take a gander at the Chollita Wrestlers, and explore the historic center on Jaen Street.
If Medellin represents Colombia's place in the modern world, Cartagena pays homage to Colombia's past. Through the yellow pastel walls of the UNESCO-Heritage preserved Old City, cobblestone streets, and lively salsa clubs you'll fall in love with this balmy city and get a look at the Afro-Colombian culture along the way.
Best Places to Visit in South America for Wild Nature 
Vast swathes of jungle, cascading waterfalls, and raw wilderness in all its glory. South America is an outdoor enthusiast's dream. Come lose yourself in one of these breath-taking natural destinations. 
7. GALAPAGOS ISLANDS (ECUADOR)
Channel your inner Darwin and see some of the world's most unique wildlife first-hand. This handful of islands off the coast of Ecuador harbor some of the most ecologically diverse species on the planet. Penguins, 100-year-old tortoises, diving iguanas & cuddly sea-lion pups are among the most commonly spotted creatures.
A bucketlist-worthy destination if there ever was one. The Amazon Rainforest has many access points throughout South America, but the most popular are in Brazil and Peru. Delve into one of the last virgin rainforests on the planet and canoe through the flooded canopy. It's a region worth exploring. 
9. PAILON DEL DIABLO (ECUADOR)
Also known as the Devil's Cauldron Waterfall, this cascade is made even more impressive by the spiraling stone staircase allowing visitors to get up close and personal to the stream. If you're the kind of person to go chasing waterfalls, this one should top your list.
10. SAN PEDRO ATACAMA (CHILE)
A wild landscape if there ever was one. Belching snow-capped volcanoes, arid desert, scattered with electric blue saline lakes. A photographer's dream. Some otherworldly landscapes are worth the extra effort it takes to reach them. The Atacama desert is one of them.
11. IGUACU FALLS (BRAZIL / ARGENTINA)
South America has no shortage of breath-taking waterfalls. But Iguaçu falls, sitting between Brazil and Argentina, is one of the largest. Technically composed of many falls, it clocks in at 80 meters in height and one of the widest falls in the entire world. Surrounded by a verdant jungle and often painting the sky with rainbows, Iguaçu Falls is nothing short of stunning.
12. SALAR DE UYUNI (BOLIVIA)
We've all seen the photos. An impossibly long stretch of white salt flats making the people that stand atop it look comically small. It's a natural wonder of the world. And well worth a visit if you're looking for dramatic landscapes in Bolivia. 
13. ANGEL FALLS (VENEZUELA)
Angel Falls is the long-standing champion when it comes to the tallest waterfall in the world. Dripping at a height of over 3,000 ft, the rust-colored cliffside spills water that evaporates into thin air as it falls, giving life to the green jungle below.
Best Places to Visit in South America for Trekking
These destinations offer dramatic landscapes to travelers willing to walk the extra mile. Literally. From single afternoon hikes to multi-day treks through high-elevation, these are South America's most popular and scenic trekking destinations. 
This electric-blue glacial lake set against the grey slate mountains is one of the single most breath-taking sights in South America. A moderate (due to altitude) day hike from the town of Huaraz, which is aptly named the trekking capital of Peru. These sky-high peaks are not for the ill-prepared as some sit above 15,000 ft.
The single most popular destination in South America, for good reason. This 15th-century structure is all that remains of one of the world's most advanced ancient civilizations. Today you can see the ruins without walking one of the multi-day treks through the Sacred Valley. But if you are interested in hiking and stunning viewpoints, the Inca Trail to the summit of Machu Picchu is a must-do. 
16. CIUDAD PERDIDA (COLOMBIA)
Also known as the Lost City, these ancient ruins swallowed up by the jungles are thought to be even older than the ruins at Machu Picchu. You'll spend 3-5 days trekking with an indigenous guide learning about the history of the hidden civilization and getting a first-hand look at the raw Colombian wilderness. 
17. TORRES DEL PAINE NATIONAL PARK (ARGENTINA)
If you're an avid outdoors person, Patagonia is perhaps the most spectacular place in the world. Powder blue glaciers sit on gray granite spires, golden pampas grass shivers in the wind, and the countryside is spotted with guanacos (llama-like animals). You could spend weeks trekking in this national park, only a small portion of the Chilean Patagonia region, and barely scratch the surface. The most popular mountain paths are the O-Circuit and the W-Trek.
18. RAINBOW MOUNTAIN (PERU)
This rust, seafoam, and gold striped peak is actually a new geological formation. In 2015 the snow covering the 17,000-foot tall peak melted completely, revealing a sharp pyramid-like spine with distinct mineral-deposit stripes. Travelers have been making the high altitude trek to its summit ever since. 
Best Places to Visit in South America for Seaside Relaxation
Although many travelers come to South America in search of adventure, others are just looking for a serene vacation to unwind from their daily grind. Often, a beach comes to mind. And fortunately, South America is chock-full of idyllic ocean getaways.
Nearby the cultural hub of Rio De Janeiro, this rugged beach is known for rolling waves that draw surfers and beach-goers to its pale coastline. Although it can be rough going if you're looking to swim, this beach is spectacular if it's scenery and sunshine you're looking for. Prainha's bright blue ocean slaps against the sand at the foot of the lush green landscape that Brazil is famous for.
20. PUNTA DEL DIABLO (URUGUAY)
If you're looking for unspoiled golden shores with a small-town feel, Punta Del Diablo is the perfect destination in South America for you. This once small fishing village has retained much of its laid-back charm while slowly becoming Uruguay's top beach destination. You'll look out on the endless soft pastel sand spattered with palms, and relatively few people, as Uruguay doesn't have the tourist numbers of nearby Argentina and Brazil.
Valparaíso, even without its beaches, would be a popular stop for international tourists in Chile. Boasting not only sunny sandy shores but a brightly-colored bohemian artist town built into a seaside mountain, complete with panoramic views from its slow-climbing funicular.
22. PARQUE TAYRONA (COLOMBIA)
This national park is only accessible via hike and is popular among locals as well as international tourists. The turquoise shores of Tayrona National Park are just protected enough from the ocean's harsh currents to allow for comfortable swimming in its lagoons. Fringed with palms and pressed up against the Sierra Nevada de Santa Marta mountain range, this beach is one of the most beautiful places in all of South America. 
Underrated Destinations to Visit in South America 
Although South America sees its fair share of tourists there are still plenty of destinations that would be considered off-the-beaten-path. Due to its sheer size, many pockets have remained untraversed hidden gems worth exploring.
Home of Cachaca, a staple in the Brazilian bar scene, Paraty is a cobblestoned paradise preserved in time. Boasting beaches, hiking, and a laid-back small-town vibe. Add to that its picturesque beauty, and it's truly surprising more travelers don't make it to the coastal town. 
24. QUILOTOA LAKE (ECUADOR)
The aqua-marine lake nestled in the gray crater of the Quilotoa volcano is the highlight of the Ecuadorian Andes mountain range. Despite its relative ease to reach, it's a rarely visited destination in this South American country.
This colorful Colombian pueblo has retained its small-town ambiance and preserved its cowboy heritage. Crayola-hued facades line the cobblestone streets, much like the famed day trip destination of Guatape. But unlike Guatape, it's remained relatively untouched by the hands of tourism.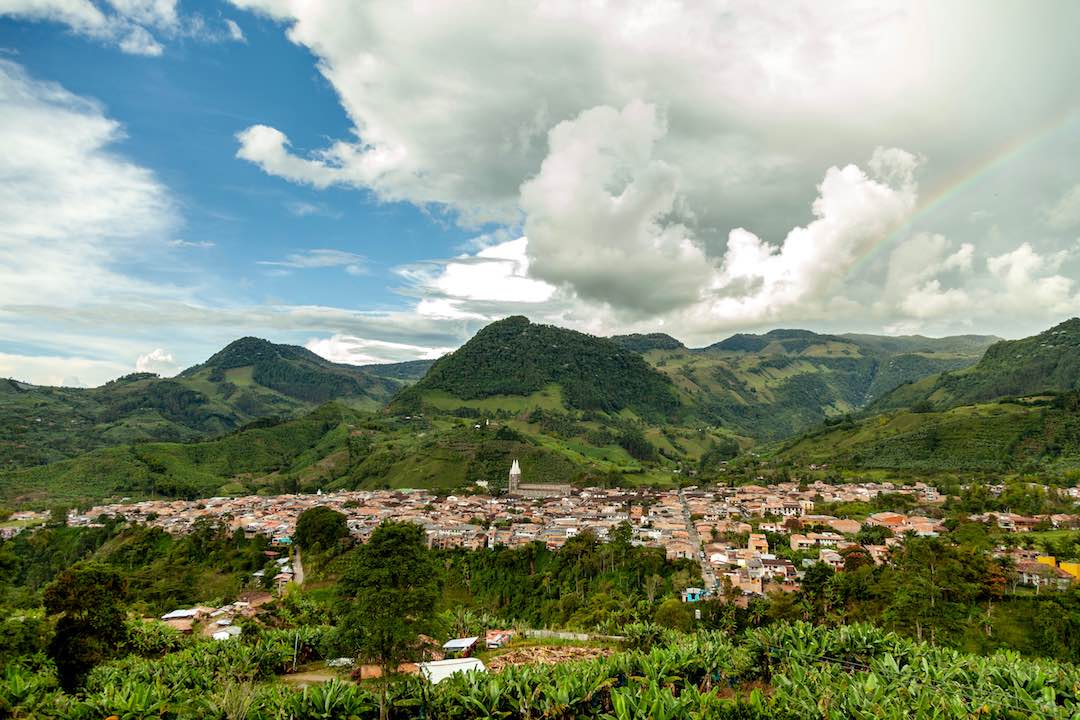 The end of the world and the gateway to the seventh continent. Ushuaia is the small resort town at the tip of Argentina where you'll begin your cruise to Antarctica. Or just a short excursion to some of the nearby penguin islands. Perched on a hillside painted with a backdrop of snow-capped peaks the town is an attraction in its own right.
These are our best places to visit in South America and easily some of the most interesting, culturally-inspired, and scenic destinations that the continent has to offer. Be sure to check out our in-depth destination guides on Peru, Colombia, and Brazil – and our guide on Solo Travel to South America – for more trip-planning information and inspiration.
Explore South America With Like-Minded Travellers Aged 25-45 !
We're Other Way Round Travel and we bring together groups of solo travellers aged 25-45 for immersive & authentic trips to the most exotic places in the South America. Here's some of our popular trips taking in the best places in South America.
12 Days in Brazil. Admire street art in São Paulo, trek rainforests in colonial Paraty and marvel at the madness of Rio de Janeiro. See Itinerary
12 Days in Peru. Cook ceviche in Lima, sail the Amazon, hike to Machu Picchu and become awestruck by the Sacred Valley. See Itinerary
15 Days in Colombia. Dance salsa. Meet coffee farmers. Sail tropical islands. Hike lush jungles. Taste the finest Caribbean rum. See Itinerary