8 Best Places to Visit in Colombia (with limited time)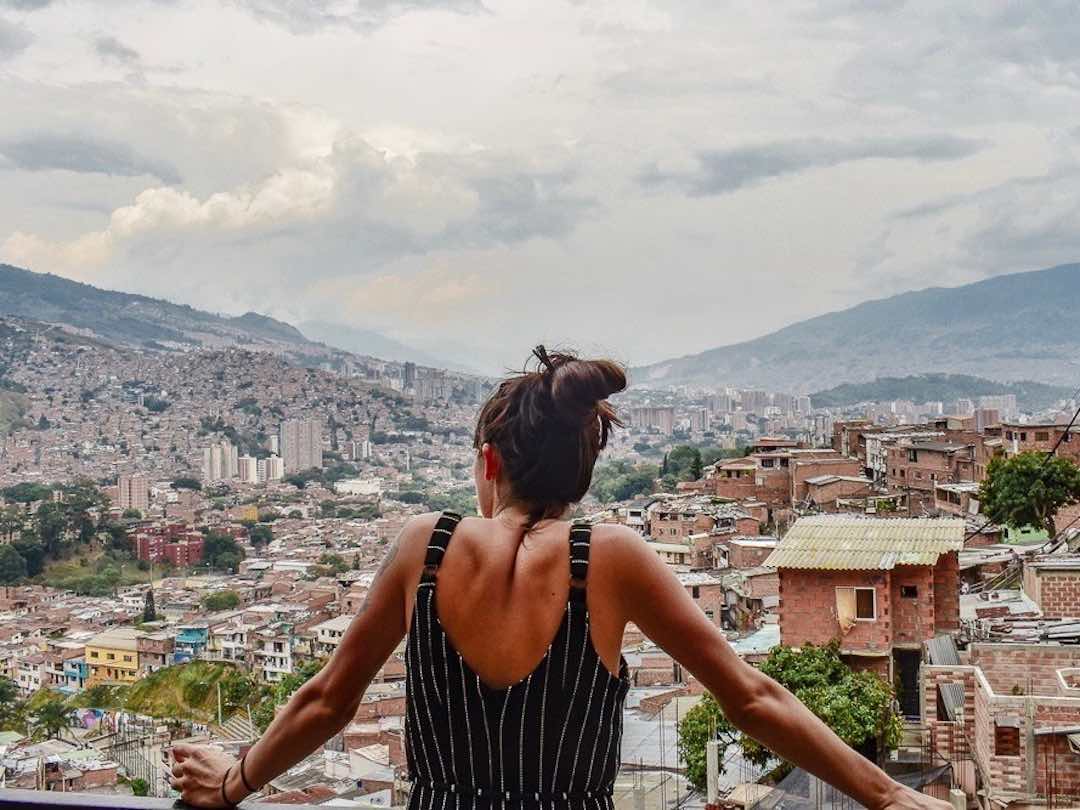 This is a guest post covering the 'Best Places to Visit in Colombia' by Geena Truman of Bartender Abroad, a freelance travel writer constantly on the move. From climbing active volcanoes in Indonesia to braving hurricane-force winds on a wintery Icelandic road-trip; She always prefers her travels to be an adventure. With a passion for exploring the unknown and digging out the off-the-beaten-path experiences, she finds beauty in the messy chaos of life.
Colombia has it ALL.
Pristine beaches, lush coffee plantations, vast swathes of the unexplored jungle, trendy-modern cities packed with culinary delights and historical monuments.
Colombia exceeded all of my already high expectations.
Bouncing through 11 different cities and diving headfirst into the Colombian culture, I fell in love with this country.
It may even top my 'favourite places to visit in the world' list.
And after my month-long pursuit to explore the entirety of this massive country – I still feel as though I barely scratched the surface.
Deemed one of the most bio-diverse regions in the world it would take years to see it completely.
But for those of us who don't have years to travel a single country, there are some stand-out Colombia destinations that you absolutely cannot miss.
Towns that showcase the best of Colombia.
Cities that thrill and views that take your breath away.
So without further ado…
Here's my list of the Best Places to Visit in Colombia to get a full plate of everything Colombia has to offer.
A city of warm yellows and vibrant colors.
Cartagena is known for its salsa clubs, 16th-century churches, and of course the Walled City – a UNESCO World Heritage site.
At first glance the city is touristy.
But there is a reason it's known to many as the soul of Colombia.
Wander outside the ancient walls to Barrio Getsmani and you'll get a glimpse of real Colombian culture.
You'll spend your days strolling colorful streets in the tropical heat sipping Limonada de Coco and your nights' salsa sashaying through crowded dance halls with live music.
BEST PLACES TO VISIT IN CARTAGENA
Visit

 

Mercado De Bazurto. An authentic Colombian outdoor market. A whirlwind on your senses and a great place to try some local foods.
Parque Del Centenario.

 

A rare opportunity to see the elusive three-toed sloth.
Walk along

 

Las Murallas. The Walled City is worth the hype. Wander picturesque streets filled with Palenqueras and Crayola-colored storefronts.
Have a drink at the famous

 

Cafe Havana. Worn into the tourist track this bar is a mix of foreigners and locals. Excellent live salsa music and quite the party after 10 PM.
Dusty roads and monkey-filled mountains.
Minca is a quiet town.
A youthful town.
A place to get back to nature.
A town for my fellow adventurous spirits out there.
Numerous waterfalls, hiking trails, treacherous high-hanging hammocks, and opportunities to stumble upon the local wildlife.
The most common form of transport in this area is clinging to the back of a Colombian motorbike.
Careering out of town, jungle landscapes whizzing by around every corner, Minca took my breath away.
So slow down, sip some world-renowned single-source coffee, and spot some exotic wildlife.
BEST PLACES TO VISIT IN MINCA
Pozo Azul + Cascada de Marinka. Two stunning swimmable waterfalls tucked into the mountains.
Visit Casa Elemento. Tucked away high in the canopy this hostel is home to the world's largest hammocks. Virtually unreachable without the expert switch-back navigating of the Colombian motorcyclists.
Explore a local Finca. This is a premier coffee region and it would be a shame to visit and not see where the black gold is cultivated.
This sandy hippy haven is a place where time stands still.
Dirt roads leading nowhere in particular, a plethora of well-manicured hostels to chose from and more vegetarian options than the rest of South America combined.
(I'm only exaggerating a little)
The slow pace of life here will lull you into a week-long stay if you're not careful.
With little to do other than swim in the cool ocean water, sunbathe, and eat to your hearts content some might be surprised Palomino finds itself a seat on the "Must-See" list.
But it earned its place.
You'll find more nomads selling gemstones than typical backpackers.
More local artisans than tourist markets.
It's a rare glimpse into Colombia's less touristed past.
But it likely won't stay that way for long.
BEST PLACES TO VISIT IN PALOMINO
Tube the Palomino River. A tranquil river that carries you from the jungle to the sea. A perfect lazy day.
Sample the local favorites; Mazamorra-a sweet corn pudding, seafood, and plump stuffed arepas.
The city of Eternal Spring.
A modern metropolis with a red brick skyline built into the surrounding nature.
An undeniably beautiful city.
Surrounded on all sides by mountain terrain scattered with hillside Comunas,
Medellin is a crowd favorite among adventurous travelers (and definitely one of the best places to visit in Colombia) !
Each neighborhood gives you a slightly different flavor of the city.
From Laureles laid back locals-sipping bottles in front of liquor stores to the thumping nightlife of El Poblado, Medellin has something for every traveler.
(except maybe for vegetarians)!
Home of the Bandeja Paisa; a gut-busting pile of chicharrones, beans, ground beef, chorizo, rice, plantain, avocado, and a fried egg.
Expect to eat mountains of meaty goodness.
Medellin has history.
Much of it violent and tainted by its central role in the drug trade.
But today walking through the streets of the infamous Communa 13 you're faced with miles of intricate and powerful graffiti art.
A city completely transformed, thriving, and capable of making any traveler feel right at home.
BEST PLACES TO VISIT IN MEDELLIN
Take the Metro to Comuna 13 and marvel at its painted streets and adolescent dance troupes. The metro itself is a source of great pride for the Colombian locals.
Ride the Cable Car to Parque Arvi. The 30-minute ride to the top gives you unparalleled views of the city as well as a literal breath of fresh air. Parque Arvi is an abundant nature preserve perfect for a quick escape from the hustle and bustle below.
Plaza Botero is crowded with his signature over-inflated sculptures of people and animals. Paying homage to arguably Colombia's most famous sculptor.
Instagrams favorite rainbow-colored Pueblo.
Easily accessible from Medellin, Guatapé can feel a little like a Colombian Disneyland if visited at the wrong time.
But visit outside the peak mid-day hours and this vibrantly colored farming town is quite charming.
Each storefront uniquely painted with all the colors of Crayola and hand carved Zocalos pay homage to the towns cowboy roots.
A tradition that began far before the tourists filled the streets.
Add to that the Piedra del Peñol, which might just have the best panoramic view in all of Colombia.
BEST PLACES TO VISIT IN GUATAPE
Climb Piedra Del Peñol. 700 steps up the seemingly out of place boulder, gives you a bird's eye view of the turquoise water reserves framed with red clay shores.
Rise early or stay late to get the streets of Guatapé to yourself.
The herculean effort it takes to reach Salento deters many travelers from attempting to reach the Cowboy valley.
A winding scenic bus ride from Medellin – taking anywhere from 7 to 14 hours depending on road conditions guides you through rural Colombia.
But Salento is worth the wait.
The town is famous for three things single-source coffee, fresh-caught river trout, and the world's tallest palm trees.
Hiking through the misty Valley de Cocora among the towering Wax Palms is awe-inspiring.
Rolling green hills, hiking, horseback riding, and cobblestone mountain streets.
It's a whole different side of life in Colombia.
BEST PLACES TO VISIT IN SALENTO
Walk through the Valley De Cocora. Whether your trotting atop a horse or hoofing it on your own, the valley is the single greatest highlight of Salento.
Glamp at La Serrana Eco-Resort and hostel. Sleeping in a canvas tent surrounded by rolling green hills and singing birds. It's hard to find a more idyllic place to wake up.
Partake in the underground explosive drinking game of Tejo. Colombian men monopolize the clay pits and have the puck pitching down to an art.
Gritty.
A little unkempt.
And nested in the mountains at nearly 9,000ft altitude I expected to dislike Colombia's capital.
On the contrary, it charmed me.
Bursting with world-class cuisine, gracefully aging neighborhoods, and artfully crafted graffiti murals.
Bogota was just edgy enough.
Comparable to America's New York City, the list of places to see and things to eat is endless.
The cool mountain climate left us sipping coca tea and Ajiaco in between exploring local food markets, shopping plazas, and the old historical district of La Candelaria.
BEST PLACES TO VISIT IN BOGOTA
Take a long walk to the Monserrate. A religious pilgrimage the ideal place to capture just how vast Bogota truly is.
Walk through La Candelaria. The oldest neighborhood in Bogota. Home to La Puerta Falsa; the oldest restaurant in Bogota. Serving the same traditional food for nearly 200 years.
Follow Colombia's political and social movements through the Real City Graffiti Tours. Art is infinitely more beautiful when the context is known.
Note: For more in-depth tips on Bogota check out our blog post: 9 Things to Do in Bogota
Bonus Destination: Leticia, Amazonas
The Colombian Amazon.
Sitting on the border of Colombia, Brazil, and Peru this grungy damp town is the gateway to the Amazon Rainforest.
Serious adventurers only !
The weather is unpredictable, the accommodation is primitive, but the experience is unforgettable.
Gliding through the canopy in a wooden canoe I glimpsed iguanas, howler monkeys, squirrel monkeys, macaws, and countless other Amazonian wildlife.
Up close and personal with one of the last unexplored jungles on planet earth.
Wrapping Up: the Perfect Highlight Reel of Best Places to Visit in Colombia ! 
It's hard to pick favorites in a country as diverse as Colombia.
But the collective bunch of these Colombian Destinations is a perfect highlight reel to get you started.
To learn the basics of Colombian cuisine, culture, history, and meet a wide variety of people.
These are the "Best Places to visit in Colombia".
Explore Colombia with Like-Minded Travelers Aged 25-45 !
We're Other Way Round and we bring together groups of adventurous travellers aged 25-45 for an immersive & authentic experience of travelling Colombia.
Interested? Go check out our itineraries:
What did you think of our list of best places to visit in Colombia? Which places are you planning to visit?