5 Best Cities to Visit in Colombia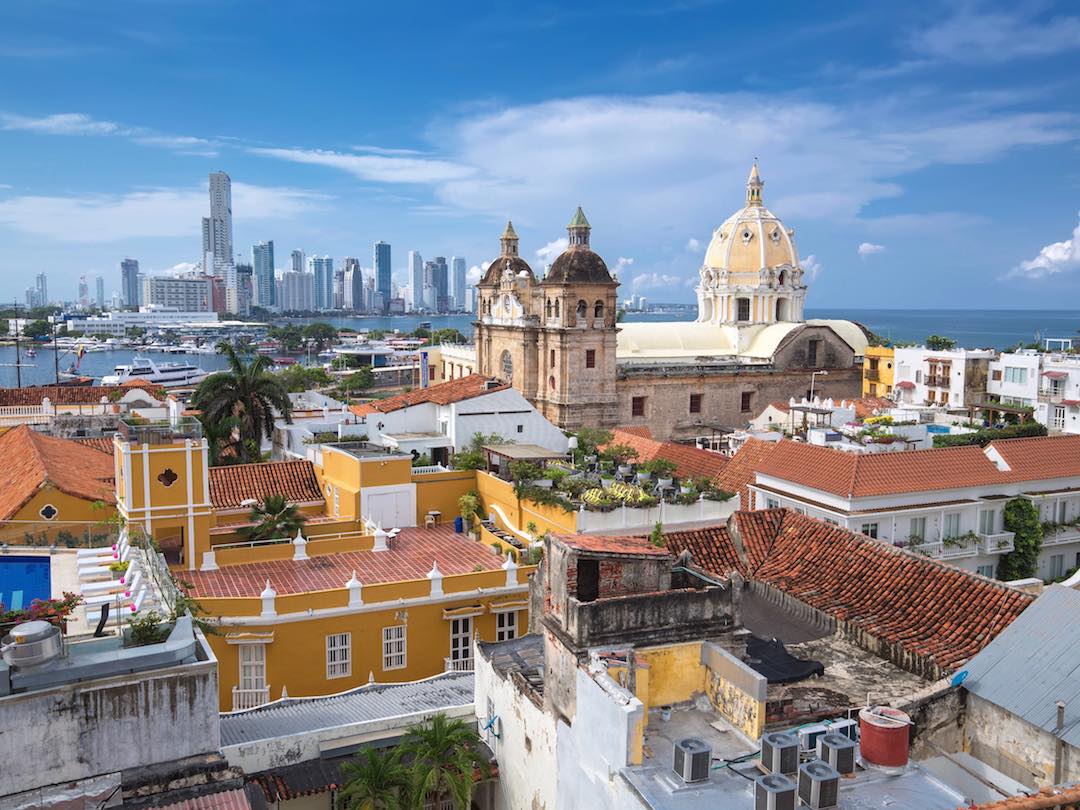 Your Guide to Colombia's Most Vibrant Cities
The allure of cities is undeniable.
Paris, Barcelona, and London have long been at the top of the travelers' bucket list. Highly-esteemed for their culture, culinary excellence, and man-made beauty. But Colombia has a few thriving epicenters of its own.
Visiting major metropolis offers you the crash course of the countries culture. Art, history, and food are all readily available in their best forms. You get a taste of local life simply by wandering the streets. Cities are travel at it's most convenient. And visiting the right cities makes all the difference.
When asked to picture Colombia, many will think about the vibrant Crayola-colors of Cartagena's old town while others will conjure up images of pushing through dense jungle vegetation.
Both visions are accurate portrayals of the country.
Colombia is vast and diverse and it offers something to every kind of traveler. You can have a relaxing nature-driven vacation on the shores of Tayrona National Park or an adrenaline-pumping weekend on paragliding and climbing in San Gil.
But this particular guide is geared for the culture seeking travellers. Those looking to join in with the masses and explore the metropolitan areas of Colombia.
Here are the 5 best cities to visit in Colombian and the most authentic experiences to add to your itinerary.
Colombia's nearly 9,000ft high mountain capital is often overlooked by travellers who instead opt for extra time in Medellin.
This is a big mistake.
Bogota has all the gritty charms of New York City and is the epicenter of Colombian life. Without a stopover here, you would be hard-pressed to say you've truly experienced Colombia.
Few cities allow you such a window into local life. On your first day here you'll feel apart of the city. Edgy and artsy on the surface, but also packed full of museums and with the well-preserved UNESCO-World Heritage Site of La Candelaria you'll get your culture fix as well.
Another major enticement of Bogota is food. The options are endless for authentic Colombian cuisine. Between Bunuelos, Tamales, Bandeja Paisa, and Ajiaco, you can't go wrong.
Surrounded by the deep green Andean mountains this city is unabashedly Colombian. And undeniably beautiful.
Three Bogota Attractions You Cannot Miss
1. Hike to Cerro de Monserrate
A steep pilgrimage to the peak of Bogota's tallest point. This mountain was sacred to the indigenous peoples of Colombia and continues to be of religious significance today. Breathtaking panoramic views of the entire city are well worth the long and strenuous walk. But for those who want to reach the summit views without breaking a sweat, there is a funicular and cable car as well.
2. Take a Graffiti Tour
Bogota is plastered in colorful elaborate murals that are bound to change your perhaps jaded perception of graffiti. A mixture of Colombian history, eclectic self-expression, and political and social angst are painted along the streets. A guided tour will give both the legal and illegal works of art some context and give you a whole new appreciation for the art-form.
Bogota is frequently named as one of the top 10 places in the world to look at graffiti art.
3. Explore the Preserved Streets of La Candelaria
We had to add the UNESCO-World Heritage Site to this list. The quaint cobblestone streets, preserved historical buildings, and colonial architecture make it the most picturesque neighborhood in the otherwise gritty grey city. This is the tourist epicenter. Most of the museums, including the Gold Museum, can be found along these narrow streets as well as merchants selling handicrafts and snacks. A day can be well-spent exploring all the neighborhood has to offer.
To reach the main attractions in Bogota you'll likely have to hail a taxi. This lessens the importance of choosing a central home-base. Even so, the most popular neighborhoods for accommodation are Zona Rosa, Champinero (North) and La Candelaria. Likely due to their streets with character and a plethora of culinary delights.
This is a foodie city through and through. From mom and pop shops serving local favorites to high-end fancy fusion restaurants and everything in between. Here's a shortlist of favorites to get you started.
Literally translated as "the false door" this hole in the wall restaurant is located in La Candelaria. Always crowded with locals and tourists alike this shop has been serving the same Tamales and Ajiaco for around 200 years. If it isn't broken, don't fix it!
Colombian cuisine with an upscale twist. Unique dishes and craft cocktails artfully made with locally sourced ingredients, this restaurant knocks it out of the park.
A chaotic eclectic dining experience. Technically, located just outside of Bogota this restaurant is worth traveling for. A meat-heavy menu, glowing neon signs, thumping music, and dancing may not be the most traditional Colombian dinner but the atmosphere is infectious.
Noteworthy Colombian Dish –
Ajiaco. A traditional soup filled with chicken, multiple varieties of potatoes, and herbs. Bogota weather is brisk and the elevation creates thin air. There's no better way to warm up than with a steaming bowl of Ajiaco.
It's tough competition for "best nightlife" between Bogota and Medellin. Medellin has the expats with the underground tech-house scene, while Bogota caters to the more traditional party-goer. Zona-T (also known as Zona Rosa) and Champinero are unarguably the places to be when it comes to experiencing what Bogota nightlife.
Here are a few more places outside the party zone worth checking out.
Theatron (Champinero)
Because of its open-bar policy, this 5-floored night club makes the list. For $16 USD or 50K pesos it's unlimited drinks all night! With 13 difference ambiances, this is one of the largest night clubs in all of Latin America. Make sure to visit on a Saturday night for the best crowd.
Andre Carne de Res (Chia)
As mentioned, this restaurant isn't just for gorging on large slabs of meat. On the weekends, shuttle buses pick up rowdy travelers from the city and escort them to Andre Carne de Res for a lively evening of tequila and dancing.
Highlight Day Trip from Bogota – Catedral de Sal, Zipaquira
1-2 hours outside Bogota and 200m underground you'll find the famous salt mines turned cathedral. Originally, a small chapel was crafted for the miners to pray for safety before continuing deeper into the crust of the earth. Now, brilliantly glowing caverns house a functioning church that has become a popular tourist attraction. 14 individual chapels are spaced throughout the tunnel, each with its own elaborately carved crucifix or Jesus statue. Even for those who don't identify as religious, it's a worthwhile experience to admire the architecture.
The expat-famous city of eternal spring. Medellin made international headlines for decades during the reign of the infamous Medellin Drug Cartel. But that dark period of history is firmly behind them. Now Medellin is making headlines for different reasons- An influx of expats, eco-friendly focused metro-systems, and booming tourism industry.
A stunning red brick city nestled in a basin of lush green mountains. Small shanty-towns dot the hillside while modern skyscrapers begin to emerge downtown. Medellin is growing. With temperate weather, easily walkable streets, and a booming nightlife scene it's become popular among young travelers.
Medellin is a green city. A city that hasn't forsaken nature and has forged far ahead of much of the world in its eco-friendliness. You'll plan to stay for 2 days and easily end up spending a week there.
Three Medellin Attractions You Cannot Miss
1. Ride the Cable Car to Parque Arvi
Parque Arvi is a nature preserve and a welcome escape from the urban atmosphere downtown. You can spend an afternoon hiking the jungle trails without venturing far from the city. As an added bonus, you'll ride the famous Medellin Metro train and cable car to get there. During the 20-minute cable car ride, you'll get an up-close view of the hillside communities and an ariel view of the city below.
2. Walk the Streets of Comuna 13
What was once the most dangerous neighborhood in the world is now a colorful tourist attraction. One long continuous wall of graffiti murals stretch up into the hillside community. Much of it a tribute to the struggles the families who remained here faced over the years. It's a powerful display of history and a unique opportunity to see how the community has grown.
3. Marvel at Botero Plaza
Botero is the most well-known sculptor in all of Colombia. His iconic "full-figured" people decorate the town square surrounding one of Medellin's most architecturally interesting buildings. This is a great place to begin a walking tour of central Medellin.
Where to Stay in Medellin
Medellin is broken down into 16 neighborhoods. Laureles and El Poblado are far and away the most popular among tourists. El Poblado for its nightlife and westernized restaurant options. You'll find as much french and Italian food here as you will Colombian. Laureles for the exact opposite. It's a mellow residential area with local Colombian eateries and shops on every corner.
Often labeled the "best restaurant in Medellin" reservations are often needed. It's a full dining experience you cannot miss. Every detail is artfully crafted and keeping with the theme of Medellin, you're surrounded by a jungle of green.
Looking for gorgeous cocktails and a delicious Colombian with a modern twist menu? This is your spot.
With its huge collection of food stalls, this is a local lunch spot. Cheap authentically Colombian food served unpretentiously to guests on plastic chairs. Spend your afternoon browsing options and enjoying the semi-open-air market.
Noteworthy Colombian Dish –
Bandeja Paisa–A gut-busting pile of Arepas, ground beef, chicharrones, chorizo, rice, beans, plantain, avocado, and all topped off with a fried egg. It's tasty and the perfect meaty tribute to Colombia.
Depending on the kind of nightlife you're looking for 
El Poblado
 and 
Laureles 
cover both ends of the spectrum. El Poblado has thumping night clubs equipt with adult ball pits (
La Octava
) and electronic music. It's where you'll find most of the backpackers and youth spending their evenings.
Laureles is a little more laid-back. Local liquor stores provide street-side tables and drinks served by the bottle. It's a sense of community and simply enjoying the company of locals and expats alike.
Looking for a local favorite? Salon Malaga.
Walls plastered in black and white photos depicting an older Colombia, Salon Malaga's wooden tables are usually filled with middle-aged men throwing back a few cold ones. It's become somewhat of a tourist staple nowadays but it's still a local watering hole through and through.
Highlight Day Trip from Medellin – Guatape
The most famous colorful pueblo in Colombia. Just 2 hours from Medellin, the rainbow streets are painted with scenes of Colombia's mountainous cowboy heritage as well as other whimsical art pieces. The towering El Peñón de Guatapé dominates the landscape with its 750 steps leading to stunning panoramic views of the vibrant blue reservoir and red clay earth below. It's some of the best scenery Colombia has to offer.
The jewel of the Caribbean. A balmy tropical climate that brings nearly as many Colombian tourists as foreign ones. Many would argue that this is the very best city to visit in Colombia, with good reason.
To put it simply, this is the epitome of Colombian beauty. This is a historical city. A colorful city with a small-town feel. And It is arguably one of the most picturesque cities in all of South America.
But it's so much more than that. Cartagena is full of history. And it's remarkably preserved old town is well-worth wandering.
Three Cartagena Attractions You Cannot Miss
1. Wander the Walled City
The epicenter of tourism in Cartagena. A rainbow maze of streets all contained within the preserved, yet crumbling walls of the old city. Now filled with fusion restaurants, local boutiques, and premier accommodation. You can spend your day sipping Limonada de Coco and snapping photos with the fruit-bearing palenqueras.
2. Get Lost in Mercado de Bazurto
As authentically Colombian as it gets. This local wet market sells everything from fried meaty snacks, cow eyeballs, every fruit you never knew existed, and whirling fans. It's an all-out assault on the senses but a great way to dive into the heart of Cartagena culture. Seat yourself on a plastic chair and share a beer with some locals under the cover of the blue tarps.
3. Give Yourself a Beach Day.
Just a short ride from the shores of Cartagena, you'll find the pristine beaches of Isla Baru, Isla Tierra Bomba, and the many Rosario islands. Speed boats can be arranged from the harbor and you can spend a day or two lounging on a white sand beach.
If your short on time, Cartagena has several less pristine beaches itself located in Boca Grande and La Boquilla.
Where to Stay in Cartagena
Travelers gravitate towards one of two areas for sleeping, the Old City for the convenience or Getsemani for the lovely ambiance. Walking distance from one another, you'll spend most of your time in those two neighborhoods anyways.
Once reviewed by the famed Parts Unknown TV personality, Anthony Bourdain, this little Ceviche shop got astoundingly popular. And it's worth all the hype.
The essence of Cartagena on a plate. A fancy fusion of Colombian and Caribbean influences this restaurant is perfect for getting your seafood fix.
Eat like a local with a "Menu Del Dia": Cartagena is well-practiced in the "menu of the day". Often a pile of meat, rice, beans, arepa, soup, and fruit- you can't go wrong with this Colombian tradition.
Noteworthy Colombian Dish –
Ceviche. It comes in all forms here. Afro-Caribbean influences amp up the spice level on the soft savory freshly caught fish mixed with seasonal vegetables and lime juice. Seafood of all kinds should be indulged in here.
You gotta salsa the night away in Getsemani. Getsemani is known for it's laid back atmosphere, colorful street art, and Salsa clubs. Café Havana and Donde Fidel are the most popular. Both have live music and a crowd of seemingly professional salsa dancers to learn some moves from.
The Walled City has some late-night favorites as well. If you're looking for a rambunctious nightclub any day of the week check out Eivissa. Or book a ride on one of Cartagena's famed party buses. 3 hours speeding around town, with unlimited rum and cokes, concludes at a nightclub.
Highlight Day Trip from Cartagena – Parque Tayrona
Just a few hours to the east of Cartagena lies Tayrona National Park. Crystal clear blue waters, sandy beaches protected by palms, and some stellar jungle hiking trails. You can't visit Colombia and miss this coastal gem. Here's everything you need to know about visiting Tayrona National Park.
For many, Santa Marta is a jumping-off point. Tayrona National Park, The newly found Lost City, the jungles of Minca, and the hippy town of Palomino are all easily accessible from this coastal city. But with some warm sandy beaches and the relaxed atmosphere of a much smaller town, you can easily spend a few days enjoying what sunny Santa Marta itself has to offer.
The oldest city in Colombia. This often-overlooked city sits where the Sierra Nevada de Santa Marta mountain range meets the sea, giving guests a glimpse of both jungle and ocean views.
Three Santa Marta Attractions You Cannot Miss
1. Channel your inner history-buff at Quinta de San Pedro Alejandrino
This mansion is where Simon Bolivar lived out his final days. And if you know your South American history, you know Simon Bolivar. A beautiful monument to "The Liberator" of the continent.
2. Lay by the Beach in El Rodadero
Santa Marta has some beautiful stretches of sand. Even superior to Cartagena's local beaches in my opinion. Live music and beach bars dot the warm yellow sand.
3. Visit Parque de Los Novios
The epicenter of life in Santa Marta. This lush park is surrounded by lively bars and restaurants, historic monuments and contains a lake for kayaking.
Where to Stay in Santa Marta
Depending on the prerogative of the traveler, most find themselves either staying in El Rodedero near the beach or in the Centro Historico. The historic center, while still close to the beach, will give you a glimpse into the more authentic side of Santa Marta.
Restaurants in Santa Marta
Seafood is the menu here and this is the tastiest place to get it. There are several locations throughout the city, one right near Parque de Los Novios.
A local breakfast joint that will cure any unpleasant hangover. Famous among locals for its large portions and fresh-squeezed juice.
An affordable authentic lunch spot! La Chatica combines Colombian favorites with an upscale twist at a budget price.
Noteworthy Colombian Dish –
Cayeye. Made from smashed unripened plantains, this Santa Marta classic is a typical breakfast food. The plantains are often combined with meat, tomato, onions, garlic, and topped with an egg and avocado.
Highlight Day Trip from Santa Marta – The Lost City Trek
For the truly intrepid, a 4-5 day trek through some of the most remote jungle regions of Colombia climaxes with your arrival in the Lost City of the Tairona people. Cross refreshing rivers, enjoy the natural beauty of Colombia, and marvel at the archeological wonders of an ancient city swallowed up by the jungle over time.
Santiago de Cali is the largest city in Southern Colombia. Aesthetically slightly reminiscent of Medellin with a bit of a cowboy twist, this city lives and breathes music. Although this massive metropolis doesn't have a whole ton of typical "tourist attraction" it's the ambiance that will draw you in.
Cali is the least visited major city in Colombia. But it knows how to throw a good party. Music and dancing are present on every corner and many massive festivals are held here each year, such as La Feria de Cali. Surrounded by nature on all sides, Cali residents have their choice of visiting coffee plantations and lush green valleys of Cocora Valley or the rolling waves of the pacific coast with just a short drive.
Three Cali Attractions You Cannot Miss
1. Take a Salsa Dancing Class
Salsa is a lifestyle in Cali. Regular festivals and competitions bring dancers together from all over the country. In addition to its many salsa clubs, there are almost equally as many salsa schools. So brush up on your moves before you take to the dancefloor.
2. Climb To Cristo Rey
Much like Rio's "Christ the Redeemer" this hillside Jesus statue towers over the city. Unlike Rio's statue, Cristo Rey it's also close to the Andoke butterfly farm. Make a whole morning out of your pilgrimage to the top.
3. Explore Barrio San Antonio
The colonial times of Colombia are very evident here in the quirky quaint buildings on these historical streets. The area is filled with bars and restaurants for a quick bite while strolling the streets.
Cali is a sprawling city and there are so many options when choosing a home base. San Antonio and San Cayetano are lovely colonial neighborhoods with an artsy vibe giving you a major feel for the culture of the city. San Fernando is the neighborhood to aim for if partying is your plan.
A fancy lunch spot famed for its squid ink rice or its seafood buñuelos. You can't go wrong with anything on the menu here.
The simple Colombian staple food done astoundingly well. This was once a small arepa stand until business took off and the owners decided a restaurant was better suited to keep up with the demand.
Nightlife in Cali is very much Salsa oriented. After you've completed a few salsa lessons and have the confidence to join the dance floor, make your way to Zaperoco Bar for some top-notch drinking and dancing.
Noteworthy Colombian Dish –
Chontaduro. Not actually a dish, but still a Cali favorite. Also known as Peach-Palm, this small orange fruit is most commonly found in this region of Colombia.
Highlight Day Trip from Cali – Salento
The coffee epicenter, home of the towering wax palm, and some of the most scenic hiking in Colombia. Salento is a sleepy little town tucked up in the misty mountains of Colombia, just a 3.5-hour drive from Cali. For a perfect afternoon, tour a local Finca to see how your cup of joe is grown and then hike through the Valle de Cocora.
You could spend a lifetime exploring Colombia's cities. In our opinion, these are the 5 best cities to visit in Colombia, but there are many more, each with their own charms. These tips are enough to get you started and spark curiosity in the rich culture that is present in every Colombian metropolis.
Come Explore Colombia with Like-Minded Travelers Aged 25-45 !
We're Other Way Round and we bring together groups of adventurous travellers aged 25-45 for an immersive & authentic experience of travelling Colombia. Here's some of our most popular trips.
8 Days in and around Colombia's Andes mountain region covering Medellin, Guatape & Jardin. See Itinerary
8 Days exploring the most exotic places in Colombia including Cartagena, Bogota & Parque Tayron. See Itinerary
15 Days covering the very best that Colombia has to offer. See Itinerary