2 Epic Days in the Amazon, Peru
The Amazon rainforest is huge.
It covers 9 countries – Brazil, Colombia, Bolivia, Ecuador, Guyana, Surinam, Venezuela, French Guiana and of course Peru.
It is also breathtaking. Somewhere that instantly puts life into perspective and brings a sense of peace and awe at the same time.
During our 12-Day Peru Trip we spend 2 days in the Amazon and it's…well…amazing (sorry – had to get that in there).
Here's what we get up to.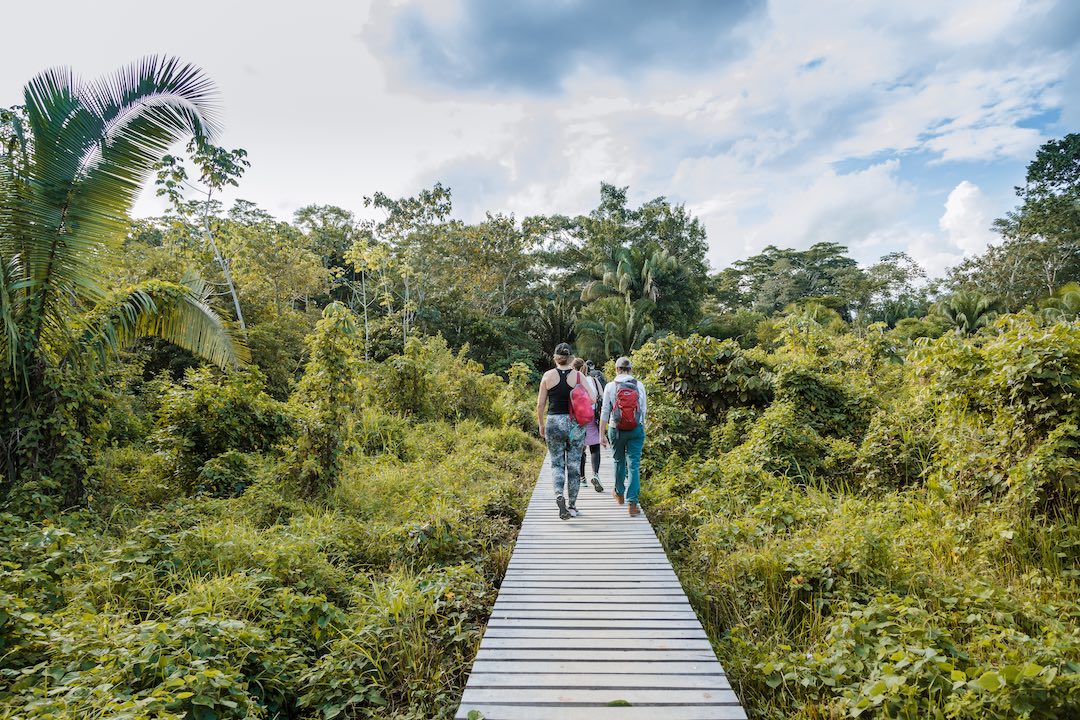 We fly into Puerto Maldonado, a small Peruvian town on the edge of the jungle. We get here by a 1.5hr flight from Lima.
Upon arrival we pack up our luggage and make our way to our hotel on the banks of the Amazon river.
(the ride in itself is interesting as you get to see this small rural town which is a world of difference from the big bustling city of Lima).
The hotel we stay in is lush.
It's the perfect spot – it's super peaceful and feels very remote, but is actually only 30 minutes from the town.
It's very modern with nice clean rooms with great aircon (important as it's pretty humid here). It's also  small, so we tend to get most of the hotel to ourselves.
And the best part… it has a wonderful infinity swimming pool where you can relax while watching local boats cruise along the Amazon river.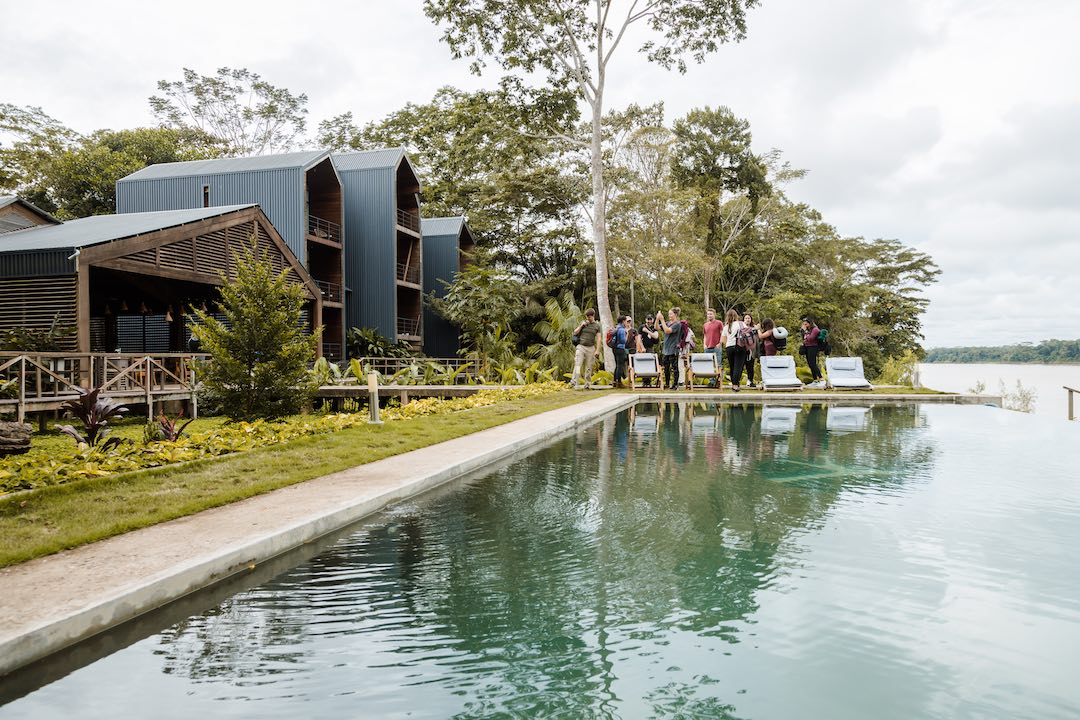 On our first day there we catch a boat across river to go visit a local Amazonian farm, hosted by Ruth and Edson (who are absolute legends).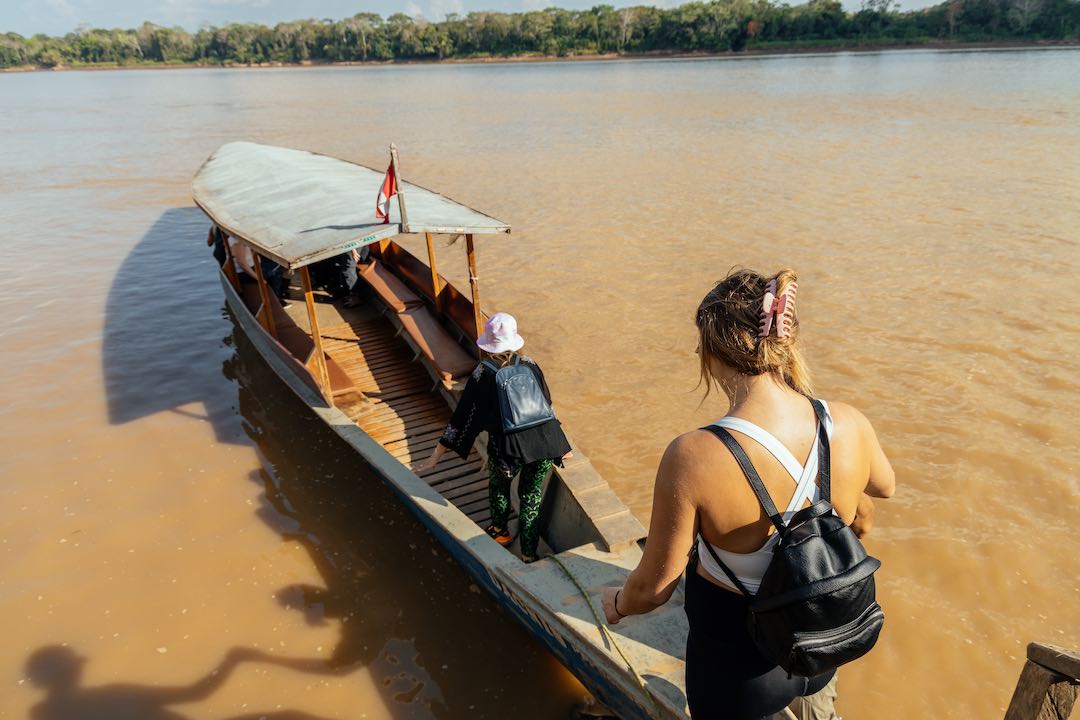 The sense of sailing down the Amazon feels quite surreal.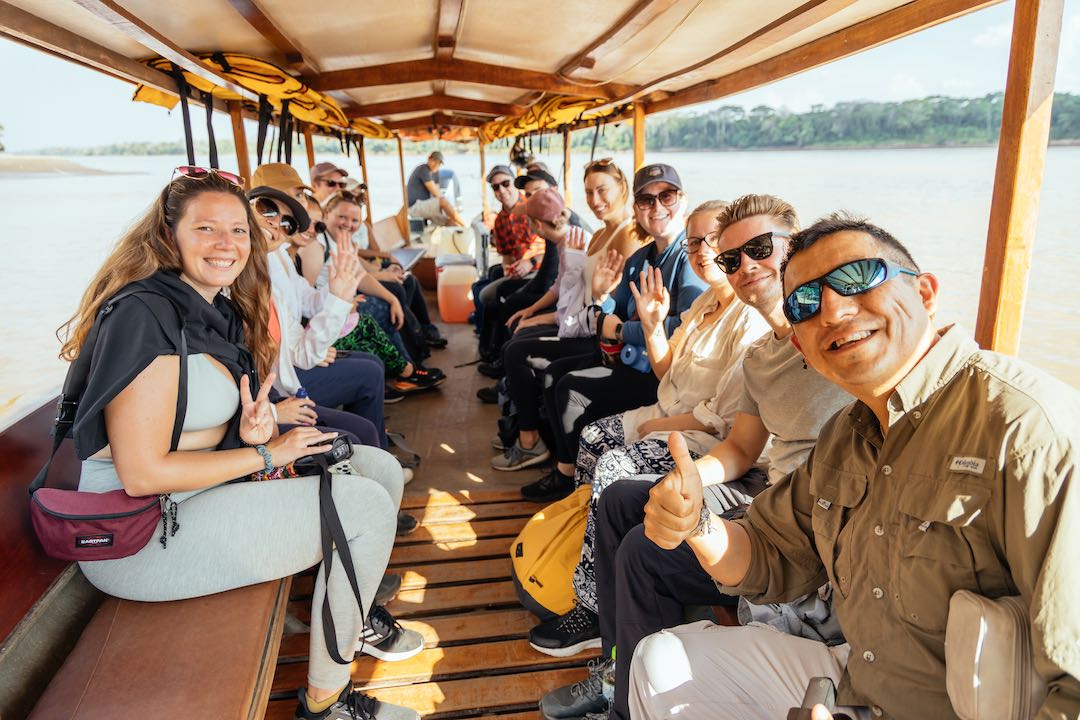 At the farm, we go for a leisurely walk around the grounds and Edson teaches us all about the things they produce there – bananas, mangoes, pineapple, cacao and so much more. It's a genuinely fantastic insight into where much of our exotic foods come from.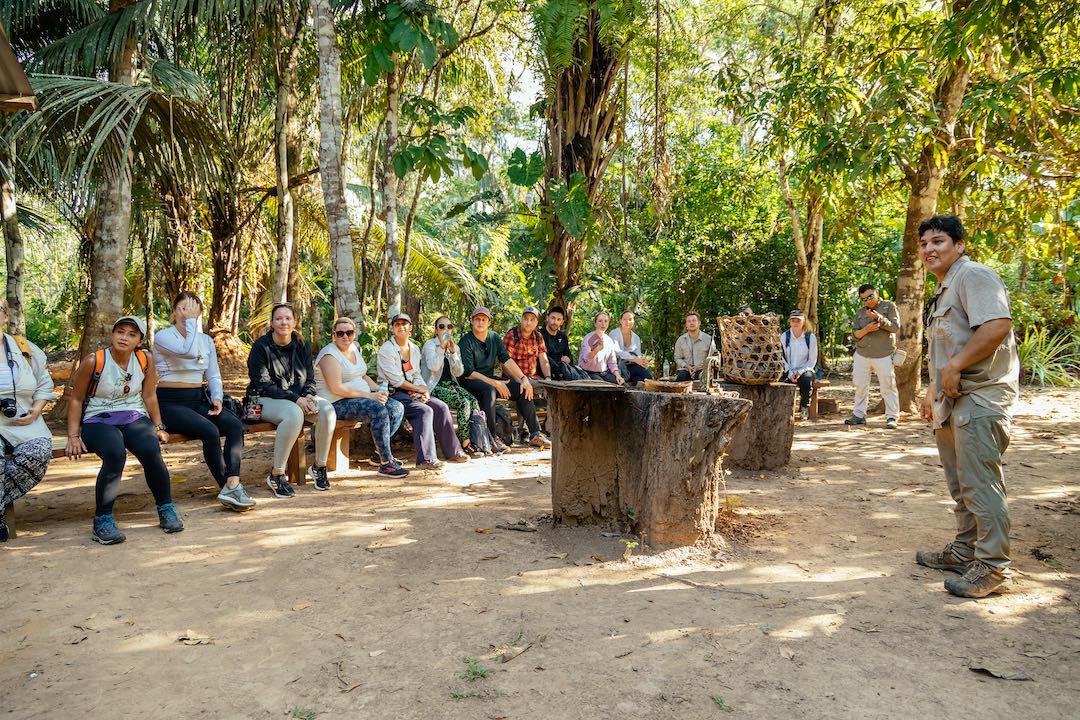 It's important that you wear your best 'jungle chic' for the occasion (ok that's a joke, but it is good to cover yourself up to avoid the mozzies).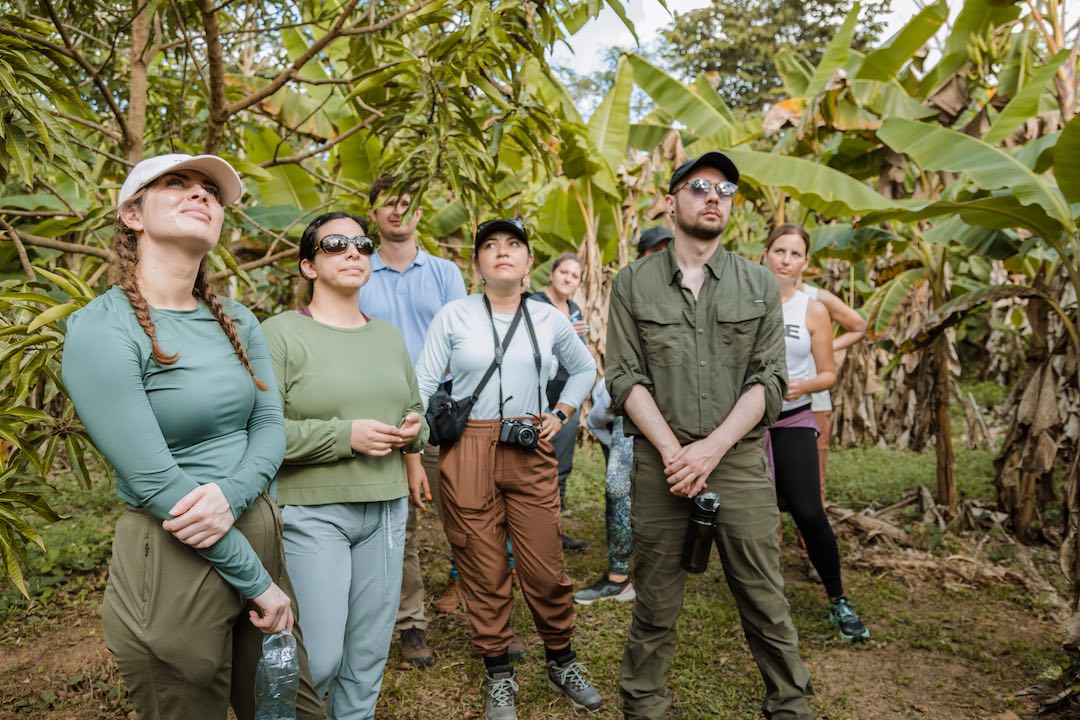 Learning from the master.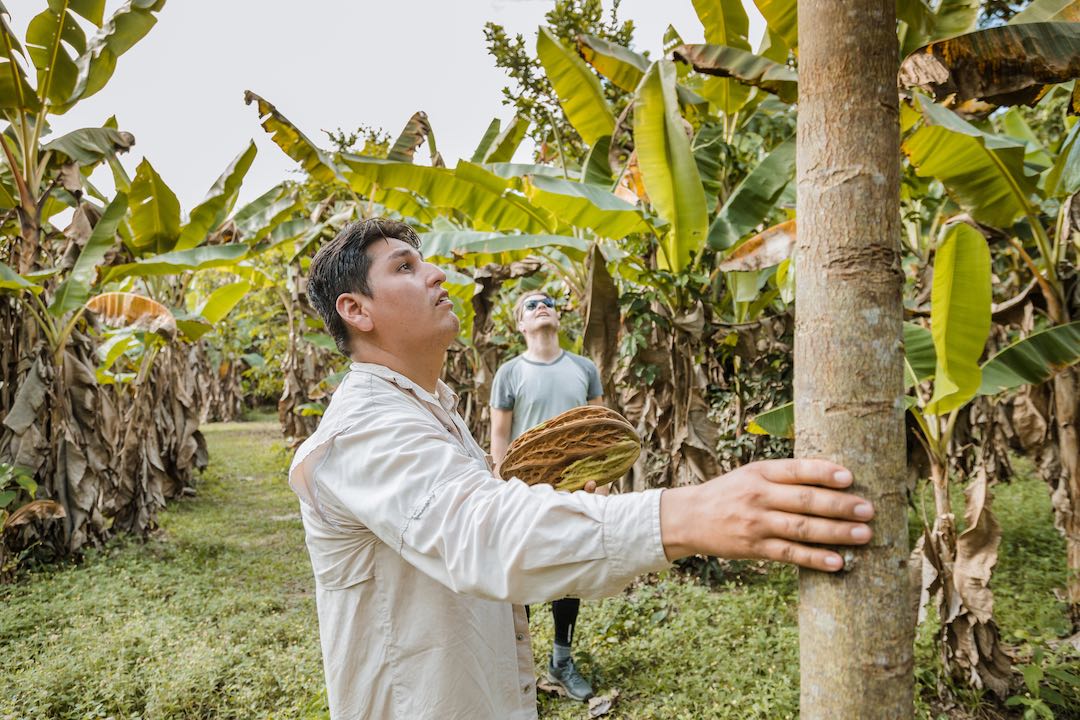 This is achiote and it's used for many things including food flavouring, lipsticks, dyes.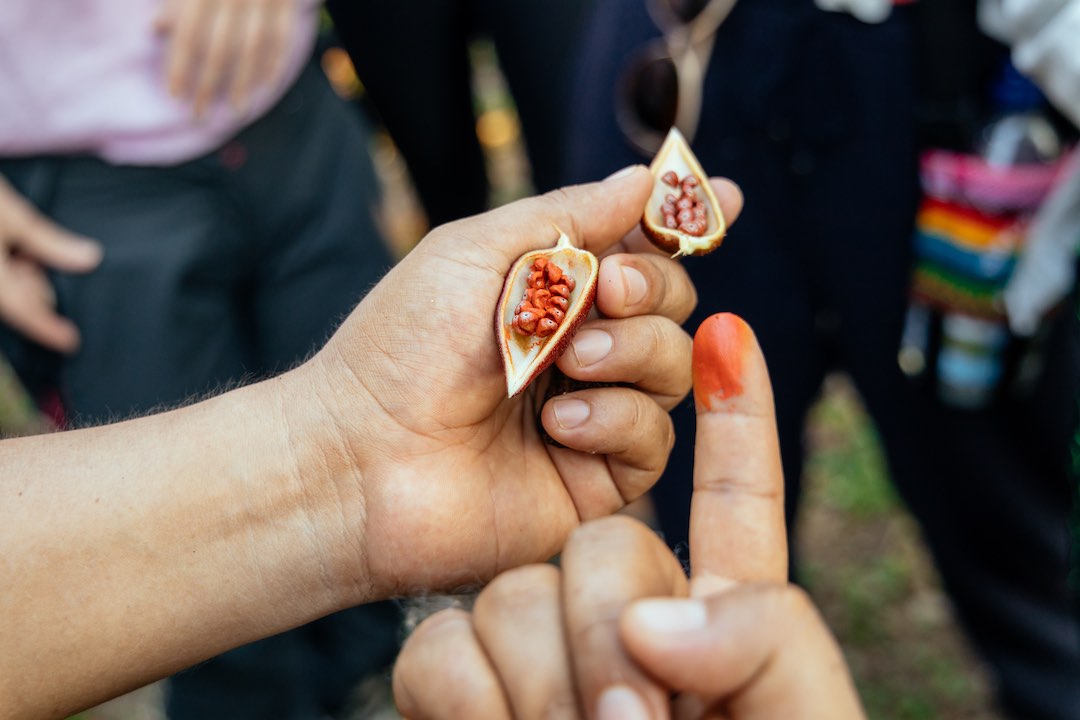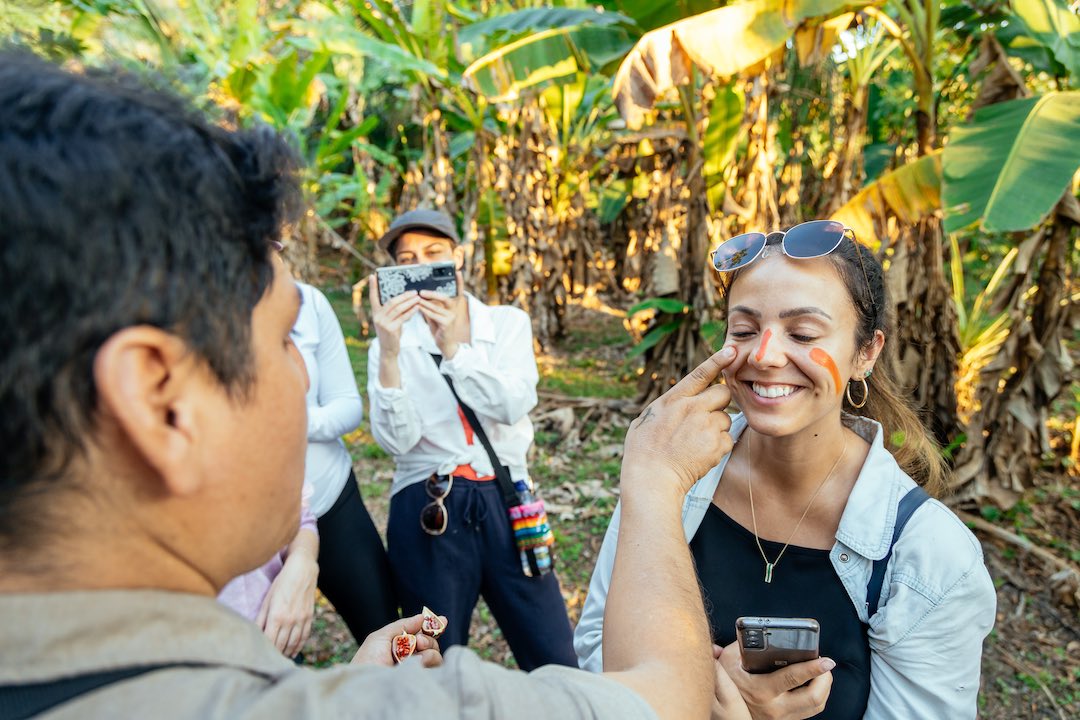 After our walk, Ruth then steps in to teach us how to make chocolate.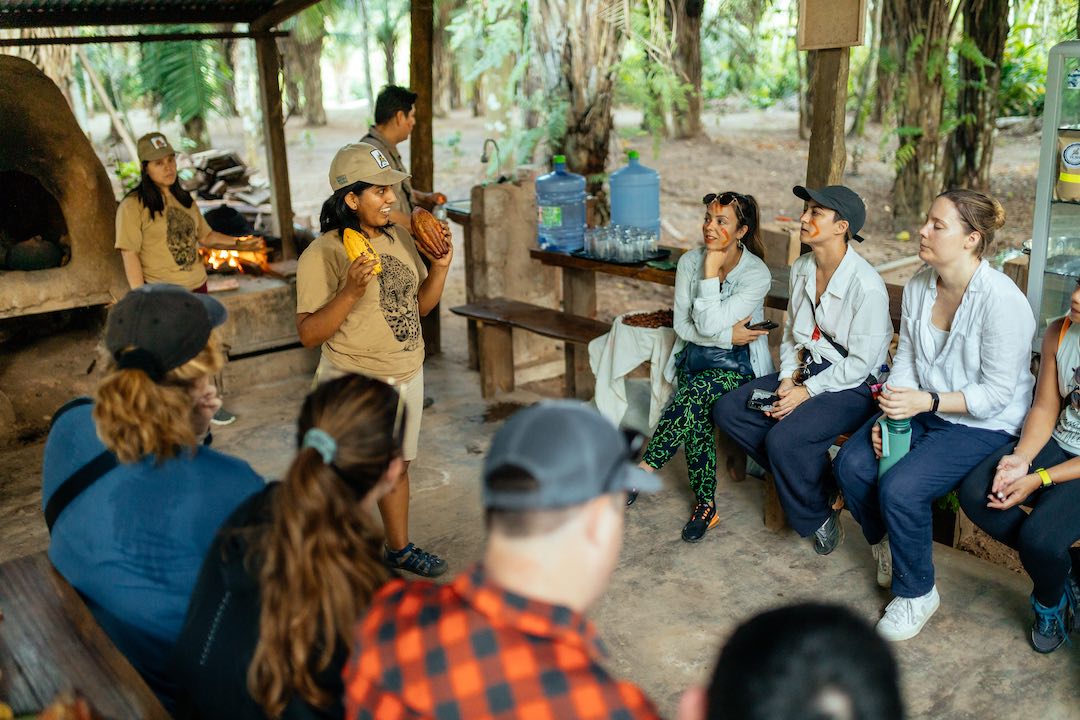 These are the Cacao plants, grown here at the farm. This is where our chocolate comes from and Peru is one of the world's largest producers.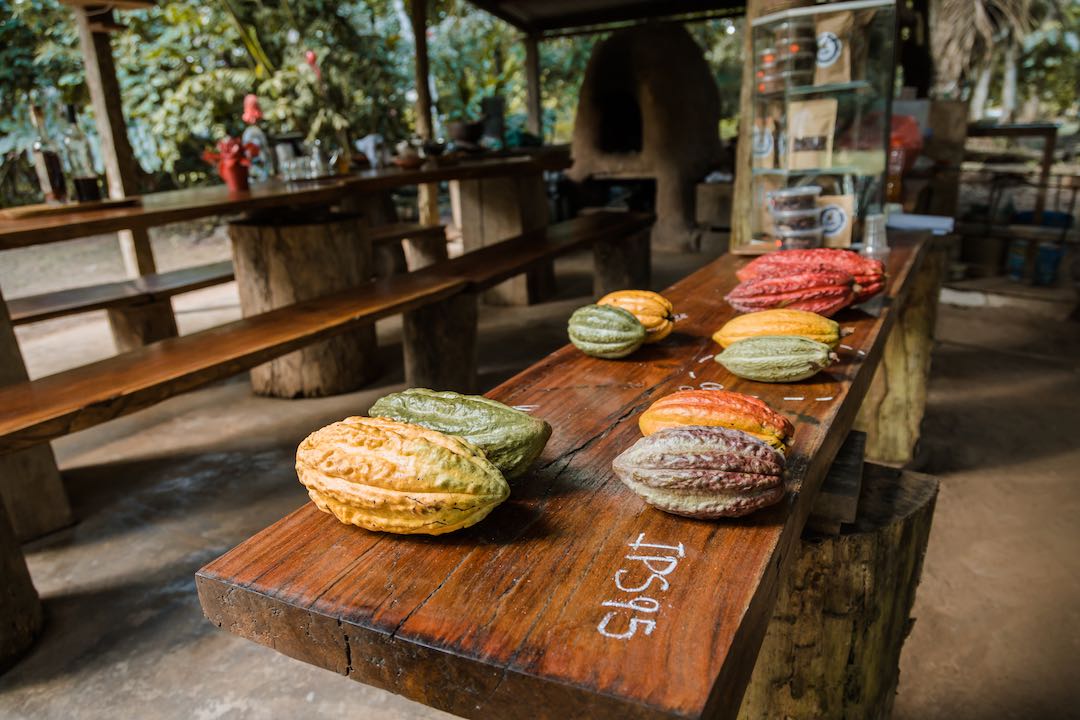 We set up a little production line and go from the Cacao plant through to end product.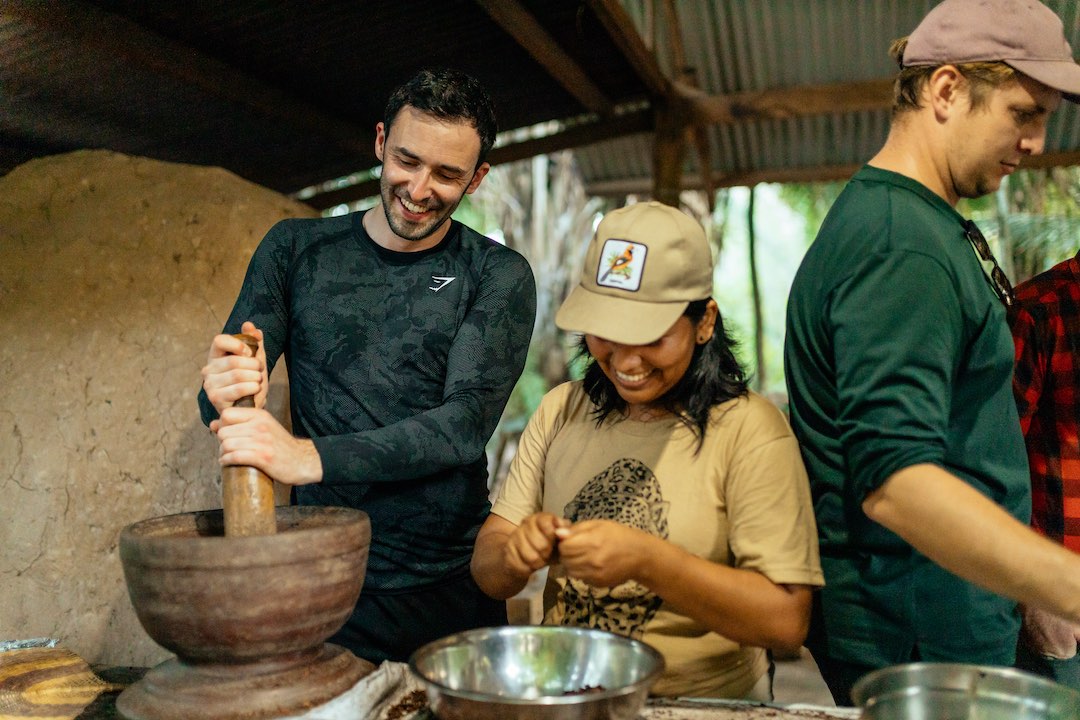 At the end we're left with a delicious 100% cacao paste which can then be mixed with other ingredients and crafted into a choclate bar.
On the second day, we get up early (probably best if we don't say how early) and make our way to a local lake called Lake Sandoval.
It's what's known as an Oxbow Lake and home to an array of exotic animals – macaws, monkeys, caiman, giant river otters, anacondas, piranhas and so much more.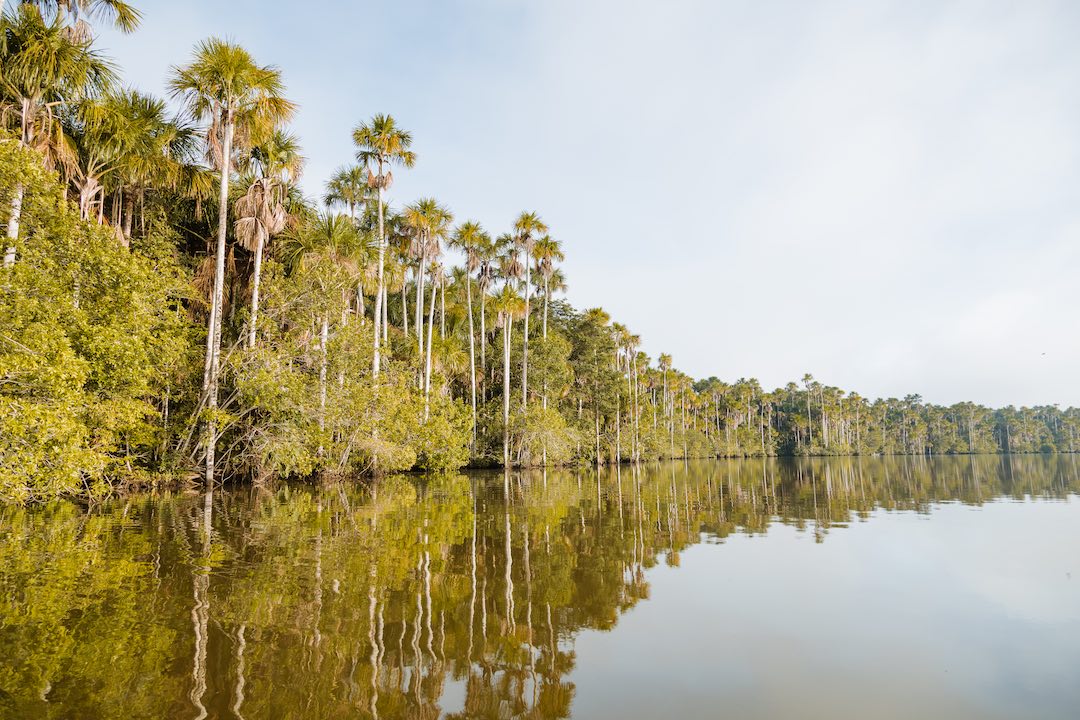 After a short sunrise boat trip, we hike through the rainforest to get to the lake.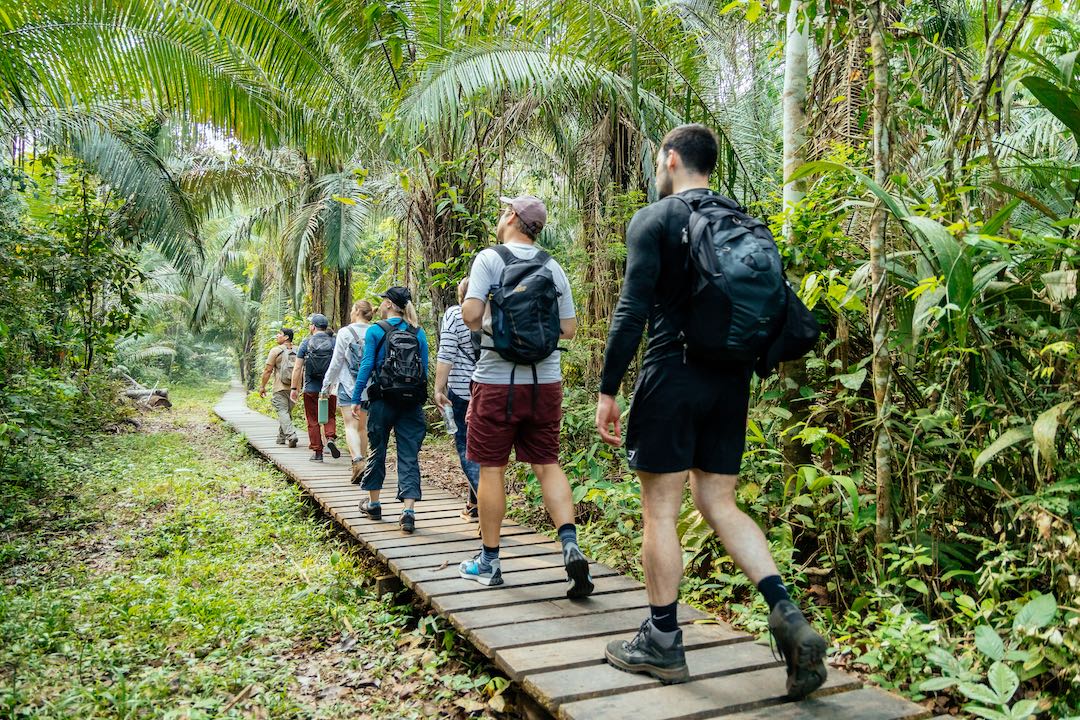 The rainforest hike is epic and we pass by many trees which are 100s of years old.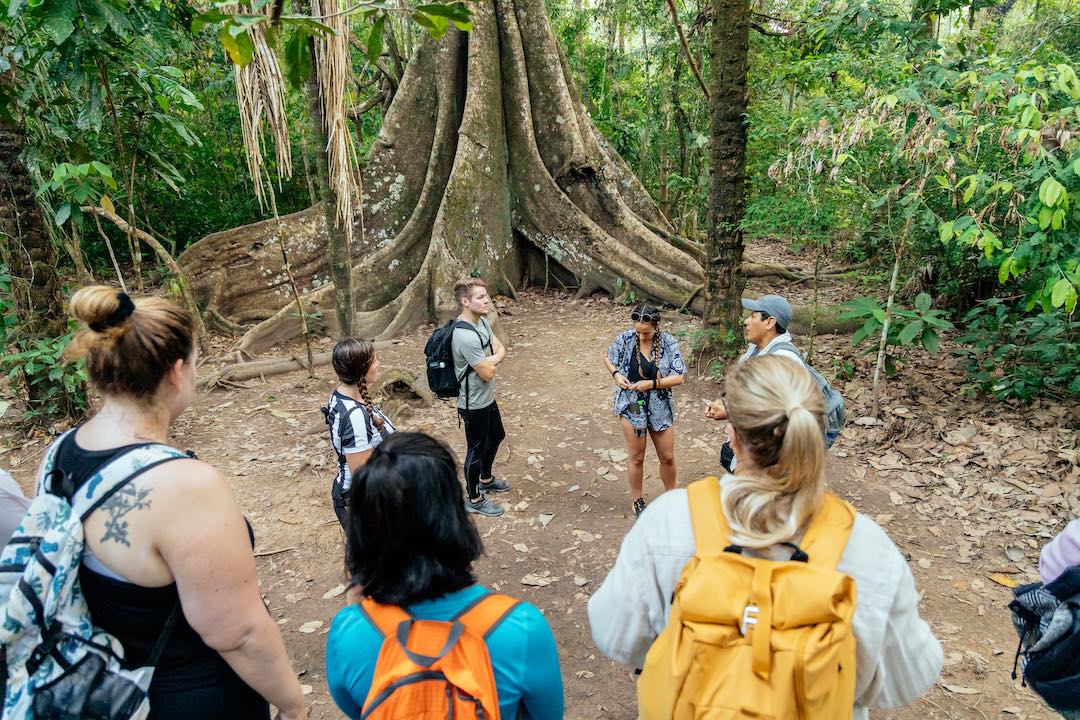 When we arrive at the lake we then swap into a canoe to go wildlife spotting.
It's fascinating to see the variety of wildlife here in this largely untouched place.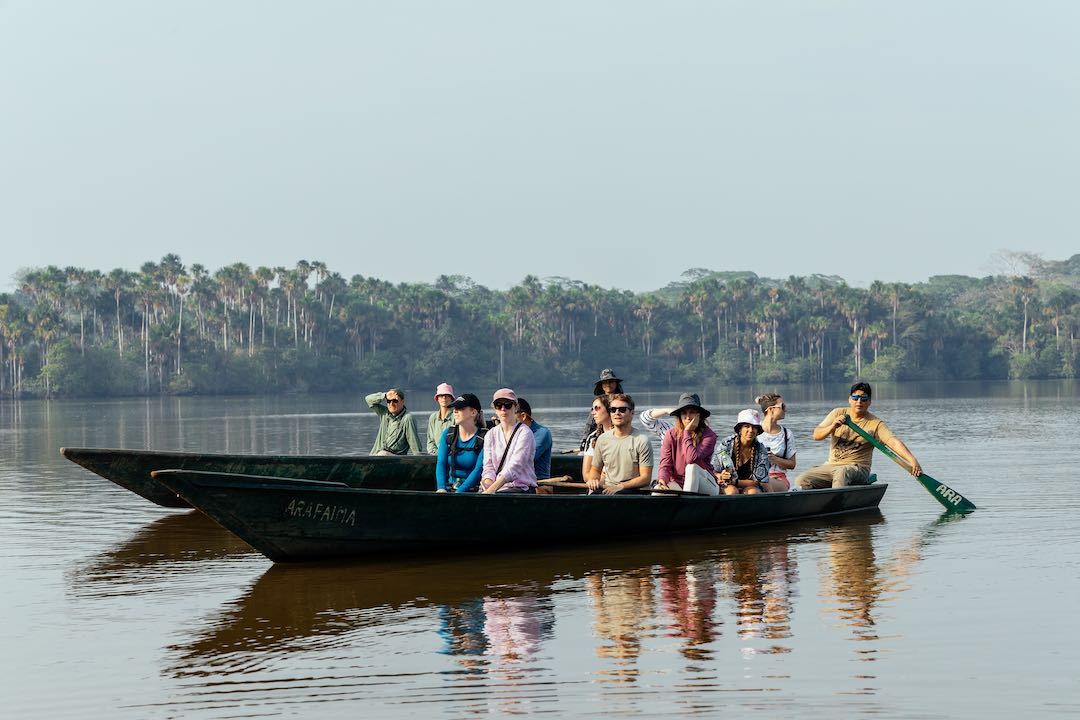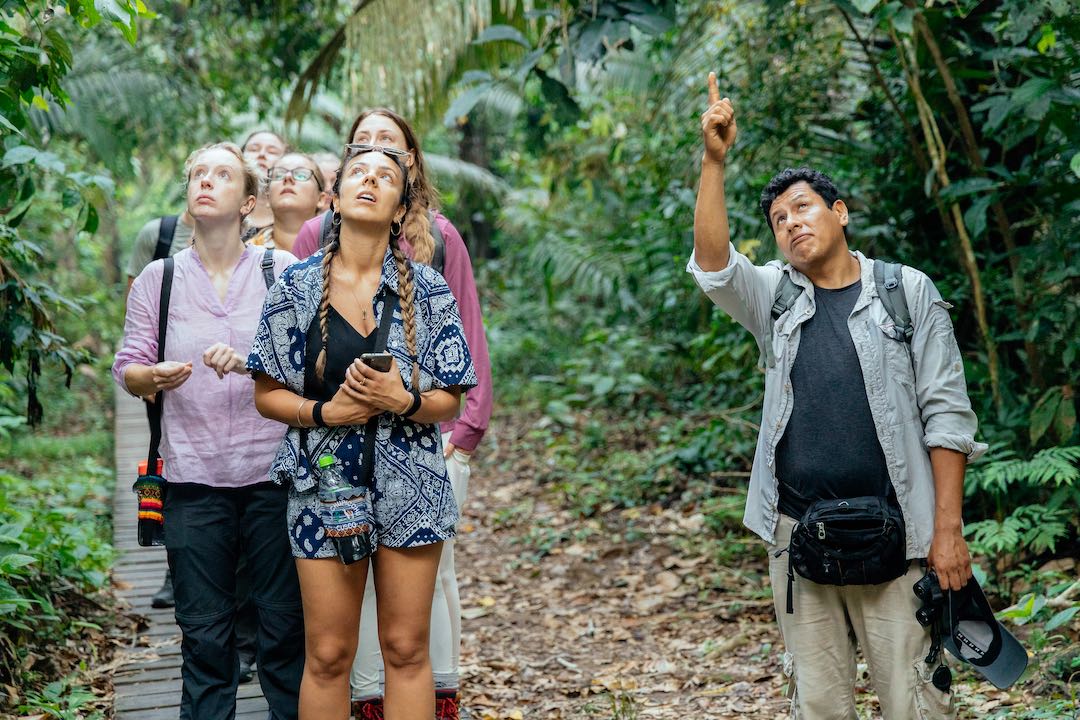 Afterwards, we head back to our hotel and reward the mornings efforts with a chilled afternoon.
First up, Amazonian style lunch.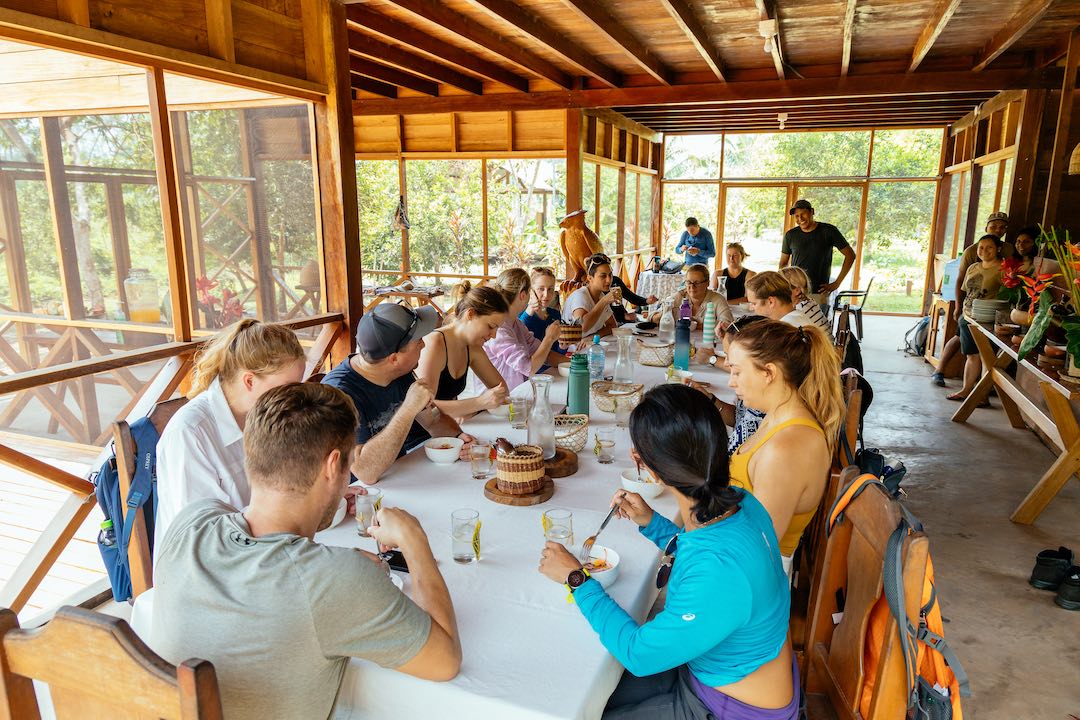 It'd be rude to come all this way and not try out that pool. Right??
It's a great point in the trip to cacth up on a siesta.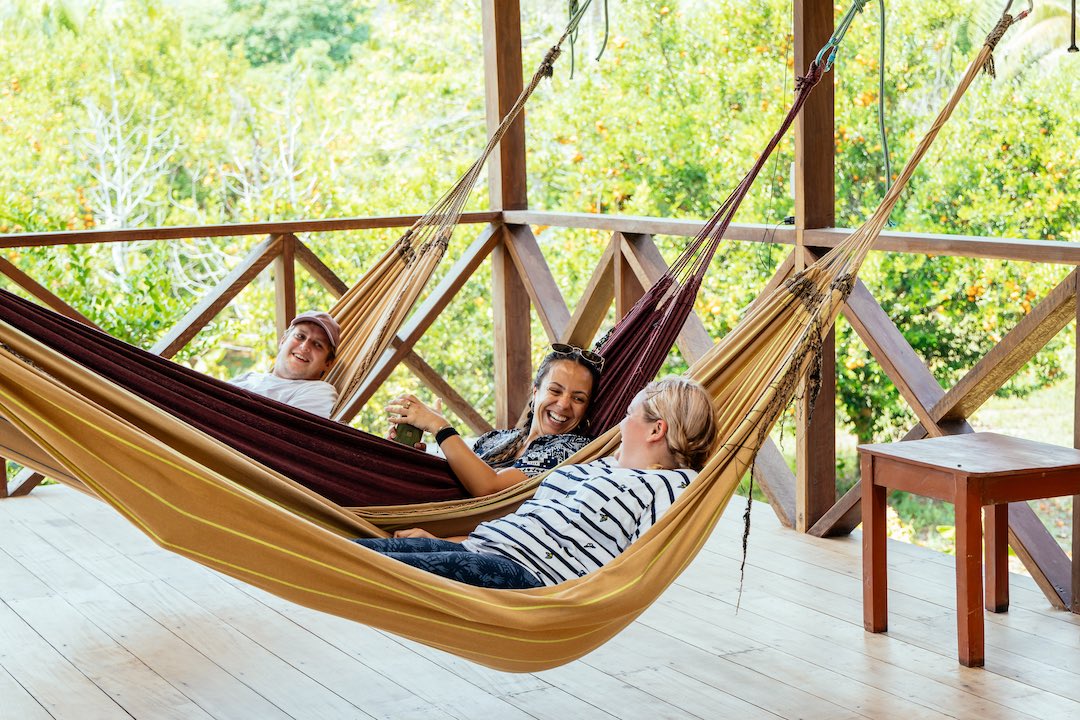 And how about this idyllic little spot for a swing.
As we get into the late afternoon it's time for one last foray onto the river. Not before a quick cocktail though!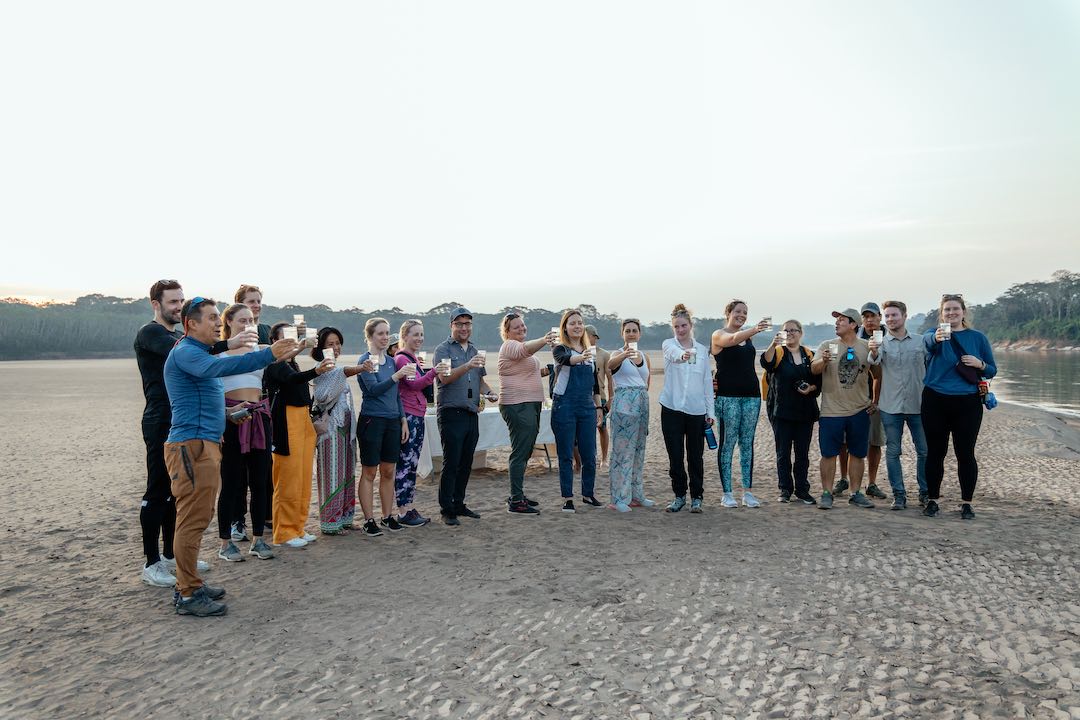 Then get ready for the best sunset you have ever seen in your life.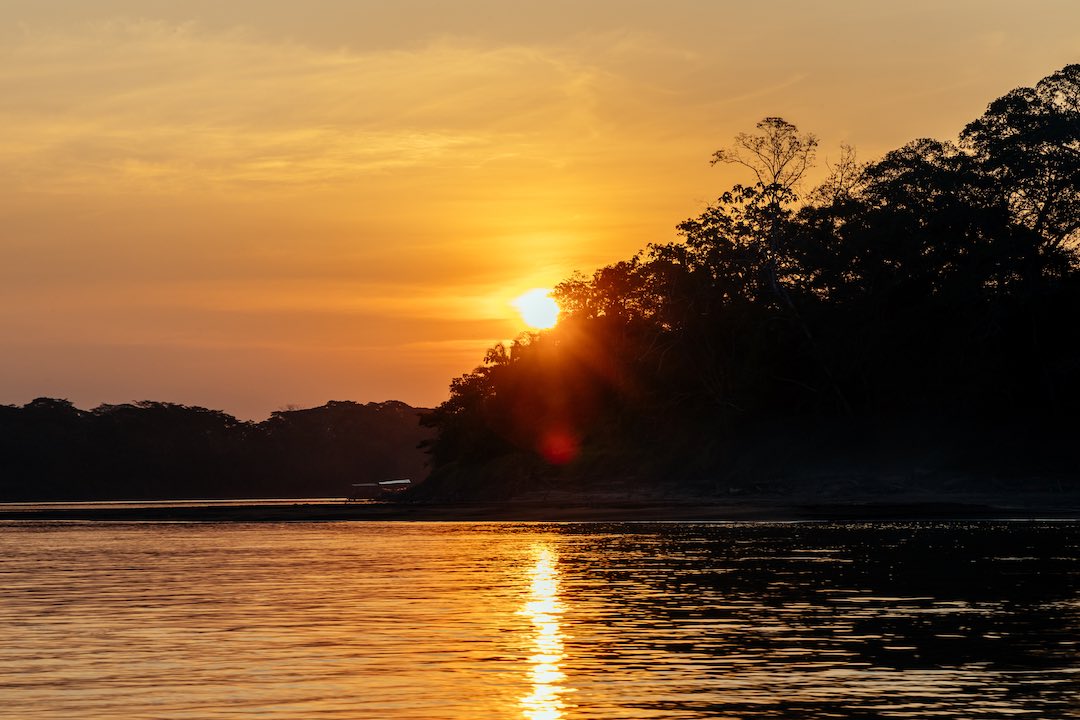 Look at this! The perfect way to end our Amazon adventure.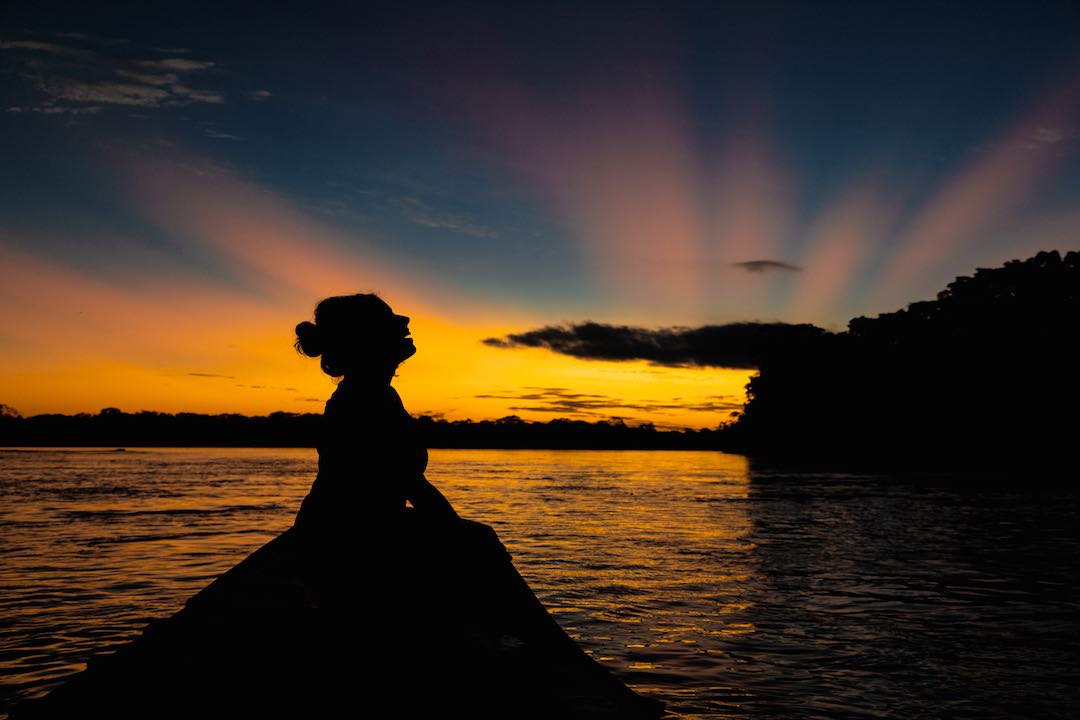 We only spend a short time in the Amazon because there's so much more for us to see and do during our 12-Day Peru Tour.
But it's such a surreal place and one of those experiences that will undoubtedly stick with you for the rest of your life.