An Immersive 2 Weeks in Colombia with Other Way Round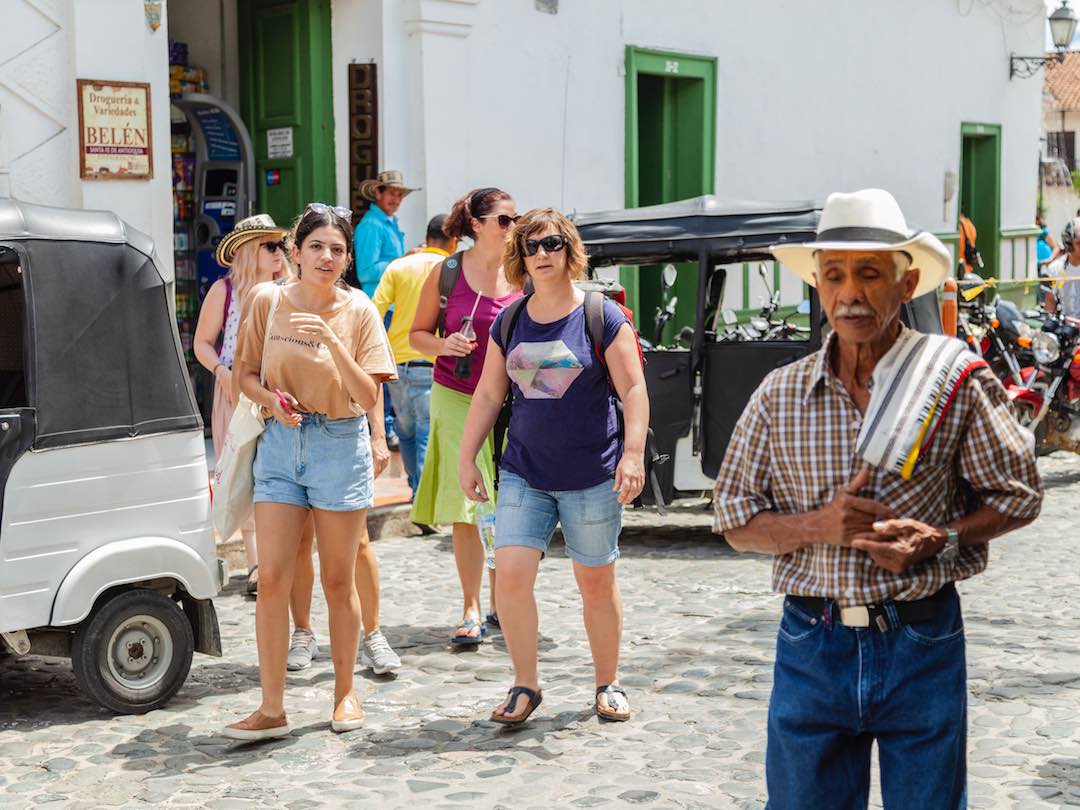 Planning to spend 2 weeks in Colombia but don't know where to start?
The diversity of Colombia is ridiculous. There is so much to see and do that you could easily spend months travelling it.
So how on earth do you cram it all into a 2 week Colombia itinerary?
Well, the good news for you is that we know Colombia inside out and know exactly what we would do if it was our first time visiting the country and we really wanted to get under its skin.
In this post we're going to recommend you some of the absolute best things to do if you really want to make the most of Colombia in 2 weeks and get to know the real and authentic Colombia.
But we're not going to do it by giving you some boring step-by-step Colombia 2 week itinerary – no sense in following someone else's exact footsteps.
Instead we're going to show you some of the actual things we did during a recent 2 week small group tour with Other Way Round in the hope that it will inspire you to create your own personal 2 week itinerary for travelling Colombia.
Feel the Buzz of Colombia's Cities
We just can't get enough of the vibrant cities of Colombia and it's no surprise then that our own Two Week Colombia Itinerary is designed around three of Colombia's most important, culturally rich and energetic cities – Medellin, Cartagena and Bogota.
Each one is so completely different that you will almost certainly get the feeling that you're visiting 3 completely different countries.
First up is Medellin – home to Other Way Round co-founder Marcela – and where our group learned that there is so much more to this pulsating city than being home to the notorious drug trafficker Pablo Escobar.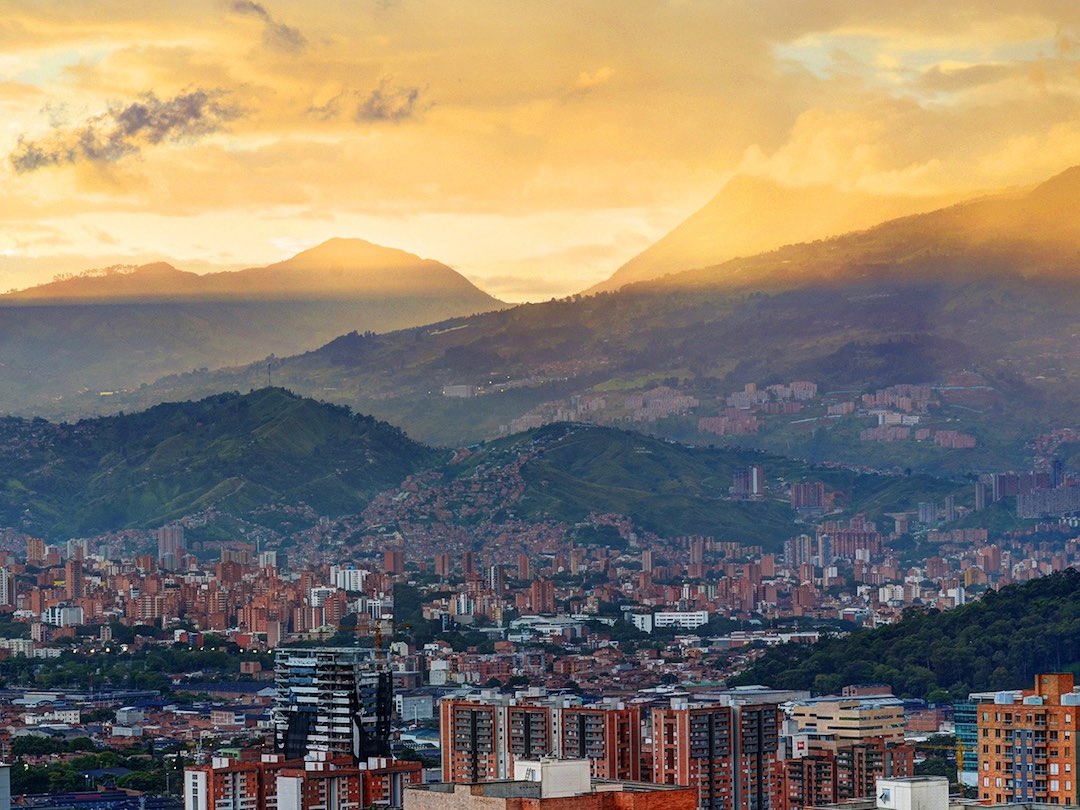 There are just so many things to do in Medellin and so we decided to jump in head first to experience the city from all angles – including the hip and trendy El Poblado, the rather hectic 'El Centro' and we even rode the metrocable high up into the mountains to learn about life in the Barrios Populares.
Then there's Cartagena, a hot, sultry port city absolutely exploding with colour and full of authentic Colombian charm.
The walled Old Town of Cartagena is a UNESCO world heritage site and it's very easy to see why – you can easily spend hours simply wandering through its cobbled streets, soaking up the atmosphere, and enjoying the delightfully colorful colonial architecture on display (and in fact that's what we did)!
We also explored Getsemani, the grittier, more boisterous part of Cartagena which is located outside of the city walls and an excellent place to get a genuine feel for how the locals live.
And last but not least there's Bogota, Colombia's cosmopolitan capital city: a big, bustling, sprawling city set at high altitude (2640m / 8660ft) in the Colombian Andes and home to more than 8 million inhabitants.
Bogota is set in the shadow of the rather imposing Monserrate mountain and so naturally the first thing we did was to climb this (ok, by climb I mean we took the cablecar) to check out the rather epic views over the city.
We then spent the rest of our time in Bogota wandering La Candelaria (the historical part of the city), passing through quaint little markets, checking out museums and enjoying the local hangout of Plaza Usaquen.
Explore the Many Colorful Little Towns
First up there was Guatape, located only a couple of hours outside of Medellin.
Possibly the most colourful little town in Colombia and home to the huge monolithic rock known as 'La Piedra del Peñol'.
We did the obligatory climb to the top of the rock (all 765 steps) and found ourselves the most awesome views over the stunning Guatape reservoir.
Afterwards there was of course a well deserved congratulatory beer!
We then lost ourselves wandering the town itself – taking in the colors, mingling with the locals and soaking up the well preserved Colombian culture.
Next up was Santa Fe de Antioquia, also located nearby Medellin but with a totally different look, feel and atmosphere.
The town is famous locally for being the original capital of Antioquia (the state where Medellin is now capital), for its delightful colonial architecture and also for its spectacular 'Puente Occidente' suspension bridge.
As the photos show, we had a brilliant time getting to know Santa Fe.
And then there was Zipaquira, located an hour outside of Bogota, famous throughout Colombia as home to 'La Catedral de Sal' (more on that later), and in itself an interesting little Colombian town which we thoroughly enjoyed meandering through.
Ride the Public Transport
What better way to really get to know a place than to join the locals and ride the public transport?
Not in some gimmicky, touristy type activity but as a genuine method to get around.
It's a great way to get a real feel for a place and gets you up close and personal to its inhabitants.
As we moved around Colombia there were taxis, metro, cable cars, mototaxis, horses and even some dancing on a (chiva) bus!
We believe that a great way to experience Colombia is to hike it and therefore our itinerary for 2 weeks in Colombia includes 2 beautiful hikes in scenic locations.
The first was a challenging but rewarding 4-hour hike where we scaled the Andes mountains surrounding Medellin and were treated to some really awesome views of the city along the way.
The second was in Parque National Tayrona.
This majestic Colombian national park has some some beautifully exotic beaches inside but the catch (or in our opinion the best part) is that you have to hike to get there!
The 'easy' hike is a 2.5 hour route (each way) which alternates between lush Colombian rainforest and rugged coastal trails.
The 'more challenging' route is definitely for the hardier hikers out there as it is a longer route with some steep climbs and descents.
But it is also very rewarding with some ridiculously beautiful views and includes a trail which passes directly through an inhabited indigenous village known as 'Pueblito'.
Our group decided to split in 2 and meet later in the afternoon at the delightfully exotic beach of Cabo San Juan.
Feel Colombia's Rhythm: Dance
If you don't already know, Colombia is all about the music – the sheer variety on offer is absolutely mind-blowing.
During your 2 weeks in Colombia you're likely to encounter Salsa, Vallenato, Cumbia, Reggaeton, Merengue, Porro, Champeta and Bachata – to name only a selection – with each having their own distinct flavor, rhythm and sound.
 (don't worry, if you join one of our trips we'll send you a curated playlist in advance to get you in the mood)!
And even if dancing isn't quite your thing – when in Colombia – we say do as the Colombians do.
And so we did.
We enjoyed a Salsa lesson in Medellin and a Champeta class in Cartagena with each throwing up some hilarious moments but ultimately proving a huge hit with our group.
And of course it was only right that we went to test out some of our new found moves in the local bars afterwards.
Taste the Awesome Colombian Food
One of the best ways to experience any country is through it's food and Colombia is certainly no exception.
The best part is that there is such rich variety of authentic Colombian dishes on offer which most travellers have never heard of making it a great experience to just work your way through them during your 2 weeks in Colombia.
During this trip we were treated to (to name only a few):-
Bandeja Paisa – a beast of a dish popular in Medellin complete with rice, beans, chicharrón, minced beef, chorizo, fried egg, plantain, avocado and arepa all one one plate! Think full English breakfast but better.
Pargo Rojo – local fish served fresh from the sea and served in the very Colombian deep fried style along with coconut rice and patacones.
Mondongo – a hearty Colombian soup containing pork, tripe and chorizo.
Ajiaco – the local dish of Bogota which is another hearty soup (do you sense a theme) this time filled with chicken, potato, corn and a herb called guascas.
Tropical fruit – some you've already heard of and some you likely haven't (you absolutely must try granadilla) but either way somehow the fruit in Colombia just tastes all that more sweeter.

Ice Cream – yes, there was a lot of ice cream on the go! When we weren't having dessert after dinner we were treating ourselves to the very unique and delightful Colombian popsicles!
Sample the Local Firewater
While this was definitely not a party holiday (who wants to hike with a hangover) for sure there were a few livilier nights out where the group sampled the local beverages (it would have been rude not too).
First up was Aguardiente – literally meaning 'fire water' – which is an aniseed flavoured drink derived from sugarcane and is the national drink of Colombia.
You'll see it being drank by the locals in just about every bar in Colombia.
Then there was the Rum.
And not just any rum. We enjoyed an awesome rum tasting session while in Cartagena at a bar containing every single rum in Colombia.
Now that's impressive.
And while we didn't quite make our way through the full list, we certainly gave it a good try!
Enjoy Some Fun Boat Rides
We took to the water.
In Guatape we weren't just content with seeing the magnificent reservoir from above, we also wanted to get up close and personal.
We took a fun and informative boat ride around the gigantic lake passing some interesting sights along the way including 'La Manuela' – the ruins of a former holiday home of Pablo Escobar.
There was also the 'Old Peñol' – literally sailing directly above the former town of Peñol which was flooded in the 70s to make way for the huge reservoir.
And then there were the Rosario Islands, an archipelago of (relatively) untouched, sun-drenched, picture postcard islands just off the coast of Cartagena.
We spent the day there in our own private chartered boat – sailing around the gorgeous tropical islands, snorkelling the crystal clear sea, stopping off at some white sandy beaches and soaking up the pleasant sunshine.
Colombia is a developing country, a large majority of the population live in poverty, and it has a very well documented chequered past.
This is the hard truth.
But things are changing.
While in Medellin our guests visited Comuna 13 – a neighbourhood once known as a 'no-go' zone (even for the locals of Medellin) – to witness the amazing social transformation now taking place there.
Our guide did an awesome job of educating us on the neighbourhood's heart wrenching violent past and the impact it had on residents.
But he also explained that how now, through a social project focused on art, music and hip-hop dance, that the things are changing for the better and that the community now has hope for a brighter future.
It's an important part of the Other Way Round philosophy – to bring visitors to places like this, to inform and educate, and to spend our money where we know it can make a difference to the individuals living in such communities.
Check Out the Awesome Graffiti 
Colombia is filled with outstanding graffiti, everywhere you look, no matter whether you are in Medellin, Cartagena or Bogota you will discover it all around as you make your way through the cities.
This is just a small selection of some of the ridiculously cool graffiti we stumbled upon during this trip.
Let's be clear on something.
Other Way Round trips are NOT resort holidays and are NOT about laying by a pool or beach all day long.
Our trips are designed for adventurous travellers. People who want to explore Colombia, to be active, to learn about the history and to immerse themselves in the local culture.
But…
That doesn't mean we don't like to have some downtime and a cheeky dip in the pool on occasion (and on this trip we certainly made sure there was plenty of opportunity to do so)!
If you're planning to spend two weeks in Colombia make sure you do the same – all that travelling around Colombia can get exhausting!
If you weren't already aware of the Colombian artist and sculptor Fernando Botero prior to coming to Colombia then we're certain you won't leave without becoming a massive fan.
The 'most Colombian of Colombian artists' has a distinctively unique style style known as 'Boterismo' where he depicts his subjects in large, voluminous figures often used as political criticism or telling the story of violence in Colombia.
He has donated a large part of his collection to the Botero Museum in Bogota and also the Museo de Antioquia in his hometown of Medellin where around 23 of his massive sculptures can be found in 'Plaza Botero'.
You simply can't avoid seeing the work of Botero in Colombia (we'd go as far as saying it's impossible to spend 2 weeks in Colombia without coming face to face with a Botero) – and you wouldn't want to!
This is only a small sample of some of his work we enjoyed during this trip.
Visit the Magnificent Underground Salt Cathedral
In the small Andean town of Zipaquira lives a huge underground salt cathedral – La Catedral de Sal – constructed within a salt mine and hailed as one of the modern architectural wonders of Colombia.
The current iteration was opened to the public back in 1995 but its history goes way prior to then when minors built a small sanctuary as a place to pray for their protection while working in the mines.
This roman catholic cathedral is 200 metres of underground tunnels and consists of 14 small chapels, each representing the different stations of the cross.
It is still used as a functioning church to this day, receives 3000 worshipers every Sunday, and is a fascinating place to visit.
Our group absolutely loved it.
For all its charm and natural beauty – Colombia is still one of the most unequal countries in the world and the levels of poverty are extremely high.
Why not use your trip to help support some good causes in the country?
For every OWR trip we do, we always partner with a local charity to donate a portion of every ticket sold.
In this instance we partnered with Fundacion Poder Joven in Medellin which is an organisation very close to the heart of our co-founder Steve.
He volunteered with this organisation back in 2017 and has seen first hand the great work that they do.
They care for some of the most vulnerable children in Colombia (and therefore the world) and the donation from this trip alone was able to cover food, education and healthcare for 6 kids for 1 month.
We know that this was very helpful to the foundation and equally very important for our guests.
(note – we didn't visit the foundation as part of our trip as both OWR and the charity feel that this is not in the best interest of the kids. Instead we simply donate the money and let the experts who know what they're doing do what they do best).
We are Steve and Marcela – a 30-something British / Colombian married couple and founders of Other Way Round. 
We specialise in bringing together small groups of adventurous travelers aged 25-45 to share with them an immersive and authentic experience of travelling Colombia while also using our trips to help support local communities in Colombia.
We currently offer 3 trips including 1 Week in Medellin, 8 Days in Cartagena and Bogotá and a Colombia All-In-One tour.
Interested in Joining us For 2 Weeks in Colombia? Take a Look at our Itineraries.
What did you think of our 2 week trip? Which are you most excited about doing on your 2 week trip to Colombia? We'd love to hear from you in the comments below.